Twelve-year-old March Madness bracket champion Sam Holtz has a philanthropic streak to match his preternatural basketball smarts.
Although a technicality prevented Sam from collecting ESPN's $20,000 grand prize, he used his consolation winnings to donate an Xbox to the Make-A-Wish Foundation.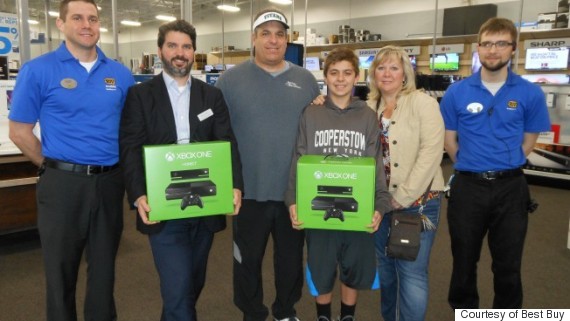 Sam tied for first place in ESPN's official March Madness Tournament Challenge, besting some 11.5 million other entrants. His victory would have qualified him for entry into ESPN's Grand Prize lottery for a trip to the 2015 Maui Invitational, along with a $20,000 Best Buy gift card.
But the sixth-grader from Lake Zurich, Illinois entered the competition with his father's email address, a violation of ESPN's rule that entrants must be 18 years of age.
Sam had told Chicago's WGNTV he hoped to buy an Xbox One if he won, and Best Buy awarded him a $1,000 gift card as a consolation prize. He used the card to purchase one Xbox One for himself, and another to donate to Make-A-Wish.
"I decided to donate one of the XBox One systems to Make-A-Wish because of my cousin Alec," Sam told the Chicago Tribune. "When he was real little, he was in Make-A-Wish, and [23 years ago], people granted his wish of going to Disney World."
According to the Tribune, Alec survived his illness.
"I think that Sam's a pretty admirable little kid," Josh deBerge, senior manager of national communications and public relations at Make-A-Wish, told The Huffington Post. He predicts they'll quickly find a home for the Xbox because gaming systems are popular wishes among sick children.
Make-A-Wish chapters around the country granted 259 wishes for electronics in 2014, he said, mostly for gaming systems and computers.
"What a wish is in general is a chance for a child to imagine something that takes them away from their illness," he explained. "And I think gaming systems and the games that kids are playing help do that. The great thing about a gaming system is that they can get immersed in their games anytime."
"All of us should be like Sam, and be thinking about how we can do something good for others today," he added.
— This feed and its contents are the property of The Huffington Post, and use is subject to our terms. It may be used for personal consumption, but may not be distributed on a website.
Source: Huff Post