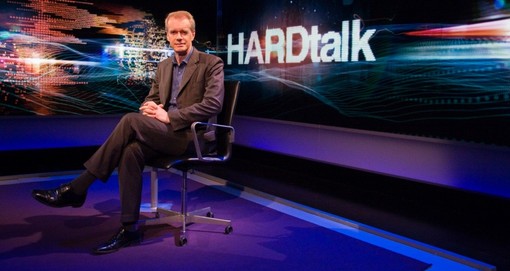 Backdrop
The General Assembly of the United Nations in its resolution 66/281 of 12 July 2012 proclaimed 20 March the International Day of Happiness recognizing the relevance of happiness and well-being as universal goals and aspirations in the lives of human beings around the world and the importance of their recognition in public policy objectives.
The United Nations invites Member States, international and regional organizations, as well as civil society, including non-governmental organizations and individuals, to observe the International Day of Happiness in an appropriate manner, including through education and public awareness-raising activities. [1]
My guest today, Stephen Sackur, is a journalist I really respect and admire. With close to 3 decades of media experience behind him, Stephen is currently the host of BBC's flagship television and radio programme, HARDtalk, which puts global leaders and public figures on the hot seat for in-depth one-on-one interviews about the issues that matter.
Luckily I was able to excuse Stephen from his busy schedule for this stroll, and we talked about his early years, HARDtalk, his experience as a BBC Foreign Correspondent, and much more. Here's my stroll with Stephen, I hope you enjoy it–like I did.
Ebenezar: Hello Mr Stephen, Thank you for making out time to stroll with me.
Stephen: You're welcome Ebenezar, I'm looking forward to taking this stroll with you.
Ebenezar: I read so much about you online in preparation for this, but I didn't see much about your early years. What was growing up like for you?
Stephen: Growing up was on a farm in the English countryside. My Dad wanted me to work the land, but I liked the idea of travelling the world, and learning about other people and cultures, so I left the tractor-driving behind! But I must thank my parents because they always encouraged me to think for myself, to argue my corner and always be curious – all very important attributes for HARDtalk.
Ebenezar: Interesting… So, you joined the BBC as a trainee in 1986 and you've had 15 years of experience as a foreign correspondent moving around the world covering major events. Can you tell us a bit about that experience and how it shaped you into the journalist you are today?
Stephen: I loved being a foreign correspondent for the BBC. I covered some massive news stories – the fall of the Berlin wall, the assassination of Rabin in Israel, 9-11 in the United States, the Clinton impeachment…. All these experiences gave me insight into the way politics works and the way politicians think. They taught me how to stay calm under intense pressure ,and they gave me a grounding in some of the important issues in the international arena–having lived in Cairo, Jerusalem, Washington DC and Brussels, and having travelled widely across all the continents covering wars and crises, I can draw on my experience when asking questions in the HARDtalk studio.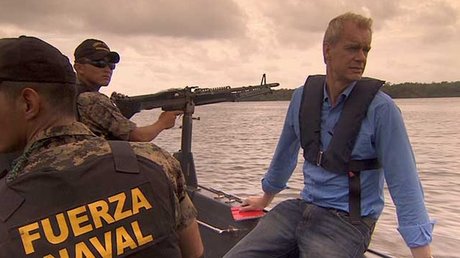 (Sackur joins a navy patrol crew in Honduras trying to stop the smuggling of Cocaine into the US)
Ebenezar: You became the host of HARDtalk in 2004, and over the past decade you've interviewed so many prominent international personalities on the show and it gets me really curios. Considering how "notorious" HARDtalk is for asking the really tough questions, how do you convince people to still get on the show?
Stephen: Good question, Ebenezar. There are some leaders and senior politicians who really don't want to go on HARDtalk; but thankfully there are many more who know the show has a strong reputation for being tough but fair, and are eager to make their case before an international audience of millions.
Ironically it's sometimes the politicians in Western democracies who seem to shy away from the grilling, while some more 'authoritarian' figures (from the late President Chavez in Venezuela, to President Teodoro Obiang in Equatorial Guinea) have embraced the challenge. I always say to my guests, there is no better platform in the international media–you have 25 minutes of serious, in-depth Q and A to make your case; I think that appeals to many powerful people in this sound-bite age.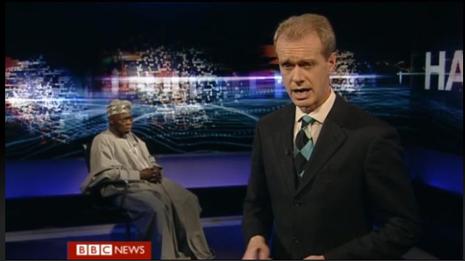 (Stephen and President Obasanjo in the HARDtalk Studio)
Ebenezar: I download a podcast of HARDtalk every 2 days, and in course of listening to different episodes, it's quite interesting how heated the conversation can get. I usually wonder, after such heated conversations, which sometimes run into arguments, how do you relate with guests after the show?
Stephen: Usually I have a cordial conversation with my guest when the microphones are switched off–but not always.
After a tough encounter with former President Obasanjo of Nigeria he said simply, "Mr Sackur, you will be hearing from my lawyers"… But I never did!
Ebenezar: (Hahaha!) I saw that episode, it was a heated one.
Stephen: Yes it was, and he has greeted me very cordially since then…
Ebenezar: Perhaps your wife, Zina, might be the best person to ask this next question. HARDtalk has created an image of Stephen Sackur as a firm, well grounded, tough guy who loves arguing with people. Is this really you behind the camera?
Stephen: No. I'm a softie when the cameras are off (unless I'm chastising my kids for not doing their homework). Seriously I love to have a laugh and a joke with my team at HARDtalk, and most of all I love to be with my family, relaxing with a movie, going on a camping trip, or watching my beloved but terrible football team (Leeds United).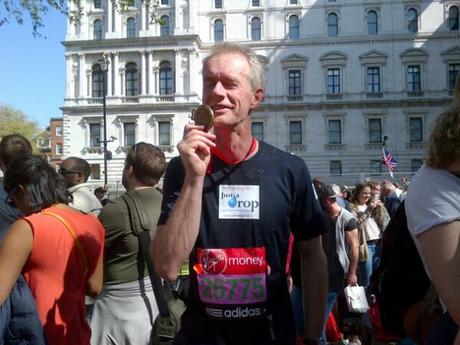 (Stephen, after completing the 2014 London Marathon)
Ebenezar: (Hahaha) I'm an Arsenal fan so I understand how you feel. Still talking sports, in 2010 you ran for Charity during the 30th London Marathon. What other activities do you engage in during your free time?
Stephen: Well, I actually ran the marathon last year too, and I'm doing it again in April 2015. My wife calls it my extended mid-life crisis.
Ebenezar: (Laughs) that's really cool. You're very sporty it seems…
Stephen: Yeah! I love exercise, I play tennis, I read and enjoy theatre and movies; and if I really want to relax I mess about in my garden (it's the farmer in me…)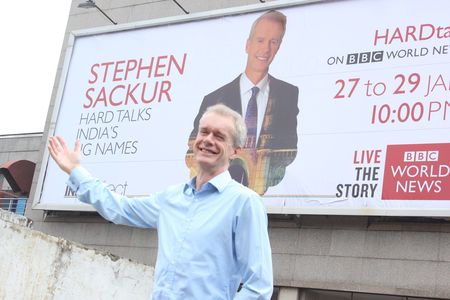 Ebenezar: So, related to things you do for fun, March 20th is International Day of Happiness on the UN list of Observances, and all around the world the conversation will be about how we can all live happy lives. What's your personal recipe for happiness?
Stephen: If you have your health, if your family are happy, and you have a job that fulfills you, then you are truly blessed. I count my blessings every day. I've lived long enough and traveled widely enough to know that love and friendship count for more than a mountain of money and material possessions.
Ebenezar: Very true, I totally agree with you on that one. By 2016 you'd have spent 3 decades at the BBC; that's a lot of experience and a really successful journalism career behind you. I wonder what the ideal retirement will be like for you. Will you, perhaps, consider lecturing at Cambridge or Harvard your Al ma mater?
Stephen: I do think I would like to teach. Sometimes, I talk to schools and journalism students and I get a real kick out of seeing the curiosity and hunger for knowledge and experience of a new generation. I think I will write as well. When I was young–before kids came along and filled my life!
I used to write quite a lot, and then I lost the habit. I need to find it again….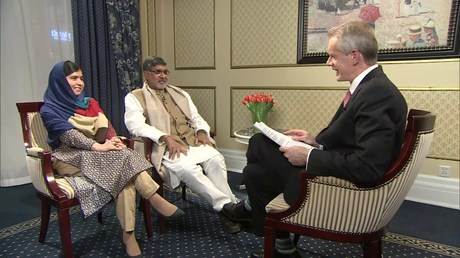 (Stephen interviewing Malala and Kailash, the 2014 Nobel Peace Prize recipients)
Ebenezar: I'm pretty sure you'd find it soon. On a final note, what's your advice to young journalists around the world who look up to you and wish to have the kind of career you've had so far?
Stephen: Hunger, determination, and motivation are vital ingredients. Journalism isn't a career where you pass exams and follow a set path. You need curiosity, courage and confidence. Thanks to the internet, camera phones, and social media, anyone can project their voice and communicate to a crowd. So go for it. And when you get lucky and find yourself in the thick of a story, seize that opportunity.
Ebenezar: Many thanks, once again, for you time, Mr Sackur, it was a huge pleasure having you on the stroll.
Stephen: Thank you too Ebenezar, I enjoyed it–much more relaxing than being in the HARDtalk studio.
______________________
Food for the Soul: "Always be glad because of the LORD! I will say it again: Be Glad!" (Philippians 4v4, CEV)
(Images Credit: Stephen Sackur, BBC)
Reference
1–United Nations, International Day of Happiness, http://www.un.org/en/events/happinessday/
This Stroll was done to #Observe International Day of Happiness, and my next stroll with world-renowned Garden Designer, Dan Pearson, will come up on March 21st, International Day of Forests and the Tree. See you then.
Source: Huff Post