RIO DE JANEIRO (AP) — Anti-government demonstrators began streaming into the streets of cities throughout Brazil on Sunday to demand the impeachment of President Dilma Rousseff.
It was the second such day of protests in less than a month and comes as polls show Rousseff entering the fourth month of her second term in office with historically low approval ratings amid a massive corruption scandal at the state-run oil company, Petrobras, as well as a spluttering economy, a rapidly depreciating currency and political infighting. Helicopter television images showed demonstrators, many of them dressed in the yellow and green colors of the Brazilian flag and brandishing placards reading "Dilma Out," congregating in the capital, Brasilia, in the northeastern cities of Salvador and Belem and in Belo Horizonte in central Brazil.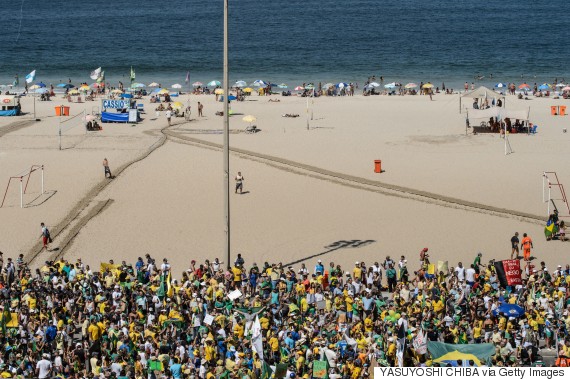 Demonstrators protest against the government of Brazilian President Dilma Rousseff at Copacabana beach in Rio de Janeiro, Brazil on April 12, 2015. (Photo: YASUYOSHI CHIBA/AFP/Getty Images)
In Rio de Janeiro, a protest along the golden sands of Copacabana drew several hundred people, a far cry from the several thousand-strong turnout here last month.
Demonstrations were expected later in Brazil's economic capital, Sao Paulo, where more than 200,000 people turned out for the last round of protests. The March 15 rally was among the biggest in Sao Paulo since demonstrations in 1984 demanding the end of the military dictatorship.
The protest movement has been organized, mostly via social media, by a motley assortment of groups. Most call for Rousseff's impeachment, but they are joined by others with demands ranging from a military coup to looser gun control laws. The groups say demonstrations were expected in as many as 400 towns and cities across this continent-sized nation.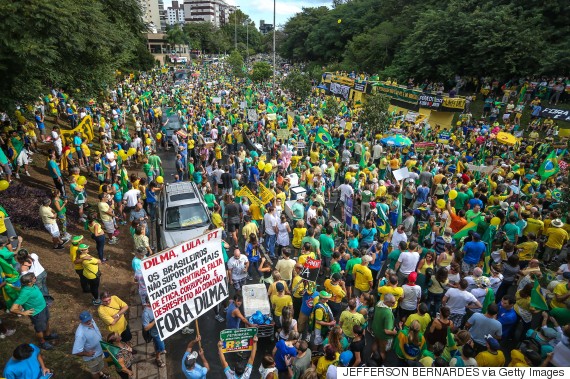 Demonstrators take part in a protest against the government of president Dilma Rousseff in Porto Alegre, Brazil on 12 April, 2015. (Photo credit: JEFFERSON BERNARDES/AFP/Getty Images)
The size of Sunday's turnout could determine the future of the campaign to impeach Rousseff, whose Workers' Party is embroiled in a massive corruption scandal at the state-run oil giant Petrobras. Many analysts say the movement could crumble if organizers fail to deliver crowds as big as last month's.
Carlos Lopes, a political risk analyst at Brasilia office of the Insituto Analise consultancy, said "Sunday's demonstration faces a big problem, which is one of comparison."
"If it doesn't (match the size of the March 15 protests), people will be less inclined take part in future demonstrations and the movement toward large-scale rallies will begin to fizzle out," he said in a telephone interview.
One Brazilian president, Fernando Collor de Mello, who was accused of corruption by his own brother, has been impeached since Brazil's return to democracy in 1985, but many legal experts have said that Rousseff could only be impeached if evidence emerges directly linking her to crimes committed during her second term, which began in January.
Still, a survey released Saturday by the Folha de S.Paulo daily found that 63 percent of Brazilians surveyed supported impeachment proceedings against Rousseff, while 33 percent opposed them. The same poll, by the respected Datafolha polling agency, showed Rousseff's approval ratings holding steady, with 13 percent of respondents giving her a great or good rating while 60 percent of respondents evaluated her performance as bad or terrible. The survey of 2,834 people in 171 municipalities was conducted on Thursday and Friday. It had a margin of error of plus or minus 2 percentage points.
Much of the ire of protesters on Sunday focused on the Petrobras scandal. Prosecutors say at least $800 million was paid in bribes and other funds by the nation's biggest construction and engineering firms in exchange for inflated Petrobras contracts.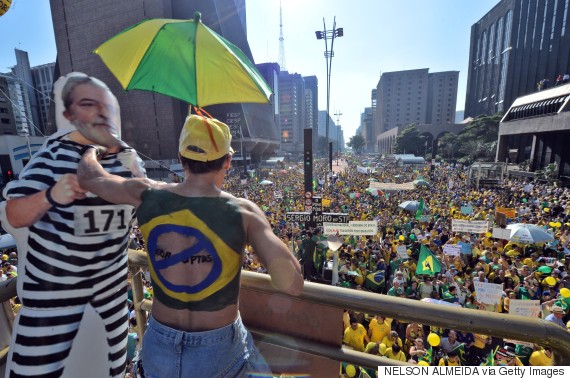 A dummy of former Brazilian President (2003-2011) Luiz Inacio Da Silva is punched by a demonstrator as other rally along Paulista Avenue against the government of Brazilian President Dilma Rousseff along Paulista Avenue in Sao Paulo, Brazil on April 12, 2015. (Photo credit: NELSON ALMEIDA/AFP/Getty Images)
Several top executives and former lawmakers have been detained and the attorney general is investigating dozens of other congressmen and officials for alleged connections to the scheme, which apparently began in 1997, before Rousseff's party took power in 2003.
Rousseff, a former chairwoman of Petrobras' board, has not been implicated and so far is not being investigated, though two of her former chiefs of staff are caught up in the inquiry.
In 2013, more than a million people took to the streets in a single day to protest against the high cost of living, poor public schools and hospitals and lavish government spending on sporting events like last year's World Cup soccer tournament and the 2016 Olympic games in Rio.
While the 2013 demonstrations were marred by widespread police violence against protesters, this year's demonstrations have been largely peaceful.
— This feed and its contents are the property of The Huffington Post, and use is subject to our terms. It may be used for personal consumption, but may not be distributed on a website.
Source: Huff Post