Six months after his first wedding, David Burtka is gearing up to take a second trip down the aisle. This time, however, the union is strictly theatrical.
The 39-year-old actor, who tied the knot with Neil Patrick Harris in September 2014, is altar-bound once more in Broadway's "It Shoulda Been You," which begins previews March 17 at New York's Brooks Atkinson Theatre. In the show, Burtka stars as Brian Howard, the Catholic husband-to-be of a Jewish bride (played by Sierra Boggess) who is "not so sure of who he is, but in the end, finds his place."
"I really love the story and the message," he said of the new musical comedy, which co-stars Tyne Daly and Harriet Harris and is directed by David Hyde Pierce. "I think everyone can relate to the story in some way or another — whether you're Jewish or you're Catholic, whether you're gay or you're straight — because everybody's been to a wedding or had one themselves."
Tyne Daly, Sierra Boggess, David Burtka and Harriet Harris
in "It Shoulda Been You."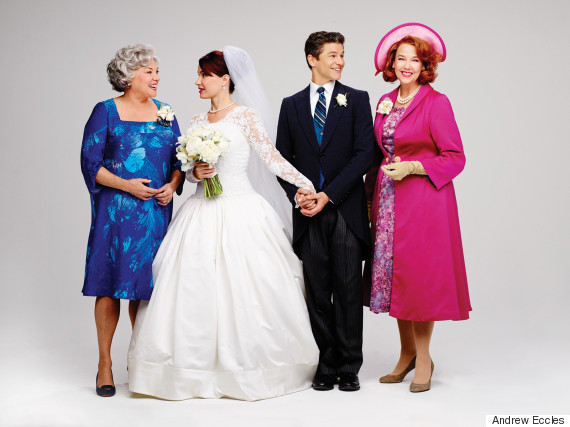 This latest role is significant on a personal level, too, given that it allows Burtka to get back to his Manhattan theater roots after nine years in Los Angeles and a 12-year absence from Broadway. (Along with their 4-year-old twins, he and Harris now reside in an impeccably-restored Harlem townhouse)
The re-minted Manhattanite took time off from rehearsals to share his New York favorites with The Huffington Post, and explained how he'd plan the perfect date night with his famous husband.
The best part about being back in New York after nearly a decade in L.A. is…
It's so hard to decide between the food, parks, architecture, seasons, people, entertainment and culture. However, I would have to say the best part is the overall energy of the city. I love the fast-paced lifestyle. Everyone is moving so fast, but the whole city is moving together at that speed. It makes you feel like you are part of it all together, and that's important to me. Even in the dead cold of winter, New Yorkers all seem to be miserable together. It's like everyone is part of a team.
My current New York-based obsession is…
Levain Bakery's cookies. They are insane! With a chewy and dough-like center plus a crispy outside, they are the perfect dessert. I try not to eat too many, however. I need to keep my girlish figure!
My go-to song written about New York City is…
Oh my God, that is a hard one. There are so many! "My Blue Manhattan" by Ryan Adams, "Empire State of Mind" by Jay-Z and Alicia Keys, "Mona Lisas and Mad Hatters" by Elton John. But I think it's "On Broadway" by George Benson that wins for me. I first arrived in NYC when I was 22. My first dance class was at Broadway Dance Center on the Upper West Side and we learned a combination to that song. When the music was playing and I was dancing, looking out on the big city lights, I thought, "This is it, the most incredible NYC experience a person could have."
In fall 2014, Burtka made his cabaret debut at New York's 54 Below.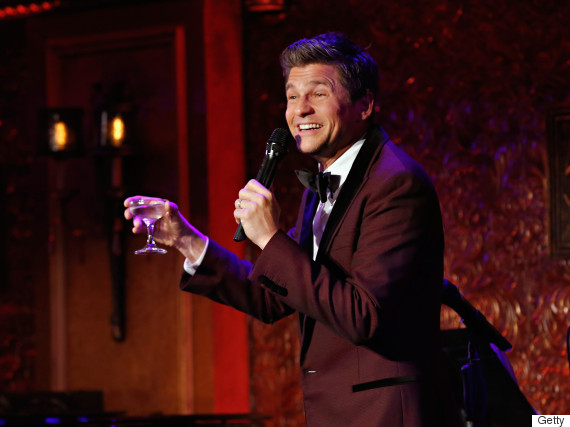 After a long day of rehearsing for "It Shoulda Been You," I like to…
Sleep! As I'm sure many families can attest to, raising two rambunctious children and working a full-time job can be really super exhausting. As a chef, it's also very important to me to make sure they are properly fed — often after they go to sleep I'll prepare their meals for the following day. So sleep comes at a premium!
Just before I step onto a stage, I like to…
Close my eyes and take three deep breaths. Lately I have been thinking about my late mom and how she is going to give me courage.
The thing that I love most about living in Harlem is…
The people! There is such an eclectic and diverse mix of cultures.
The one off-the-beaten-path restaurant that that I just love is:
It's a trek, but in the summer, the Red Hook Lobster Pound in Brooklyn is amazing, incredible and affordable. Lobster rolls, homemade potato chips and picnic tables with no fuss. Love it!
When I want to surprise my husband with the perfect New York date night, I like to…
Take care of everything! He makes so many decisions in his day that if I pick the restaurant, have a drink — usually bourbon-based — waiting and order the food, he is super content. It doesn't really matter as long as I am in a good mood. He is truly happy when I am happy, and vice versa.
Burtka and Harris with their son, Gideon Scott, and daughter, Harper Grace.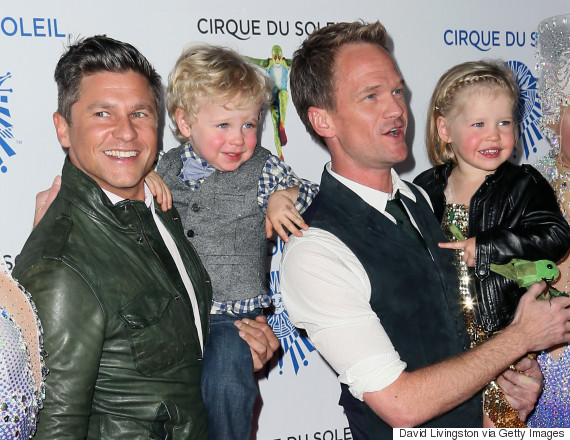 The background of my cell phone is…
Neil and I on our wedding night, right when we were saying our vows to each other.
The highlight of my perfect New York day is…
My family. My perfect day would be waking up with my kids, having a great breakfast and going for a walk with the dogs while the kids play in the park. Maybe do some shopping, a white wine lunch al fresco. Then putting the kids down for a nap as Neil and I nap, too. Having an early dinner with friends and maybe watching a movie with the kids with homemade popcorn. But it really does not matter, as long as my family is with me. To me, they make the most dreadful day perfect.
Featuring music and lyrics by Barbara Anselmi and Brian Hargrove, "It Shoulda Been You" begins previews March 17 at the Brooks Atkinson Theatre in New York, with an opening night set for April 14. For details and ticket information, head here.
The interview has been edited for clarity and length.
Source: Huff Post