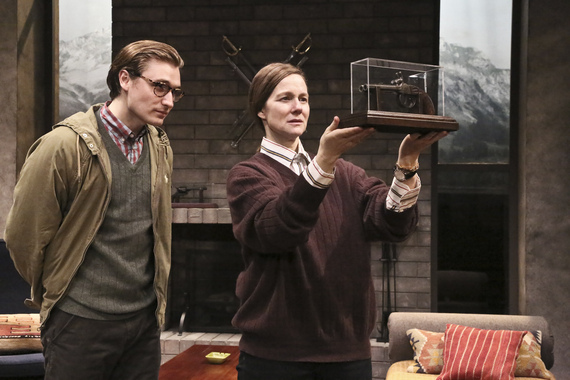 Photo by Michael Lamont
Crime novelist Patricia Highsmith was renowned for her intense psychological thrillers, particularly her series featuring the murderer Tom Ripley, but she was also known for her reclusive, abrasive and even hateful personality. Playwright Joanna Murray-Smith tackles the complexities of Ms. Highsmith's character in this production, a two-hander starring Laura Linney as the novelist and Seth Numrich as a young emissary from Highsmith's publishing company who hopes to sign her on for a next, and likely last novel.
The play is set in Highsmith's isolated home in Locarno, Switzerland, where she assiduously avoids the world in the company of her cats, drinks and smokes heavily and contemplates her rapidly approaching death. Needless to say, she is hardly welcoming to the eager young man who has great aspirations for a brilliant career in the publishing world. In fact, we suspect that Highsmith may even have murderous intentions toward this particular visitor.
Writing about writers is always a challenge, since their most impressive talents are about words on paper – or possibly clever conversation. Inevitably, a two-person play on a single set must be inhabited with dualing dialogue and perhaps a hint of mystery. Murray-Smith accomplishes both of these tasks admirably, as the characters jab and slice at each other with wit and veiled threats. While their battle occasionally seems slight and sags a bit too often, it never drags unduly.
On opening night, Linney — known for her portrayal of more likeable characters like Abigail Adams and the sister in Savages — seemed to be grasping a bit to find the right tone for the acerbic Highsmith. But as the evening went on she played the more tender and vulnerable side of the novelist to greater success. Numrich, as the young man swept into Highsmith's web, showed a dynamic range and versatility as he parried with Highsmith, quip for quip. Director Mark Brokaw's evidently light hand in the staging may have softened some of the sharpness of Murray-Smith's script, but did deliver a solidly engaging evening.
Source: Huff Post