Earlier this week, I was a guest blogger for the Children and Nature Network. The piece has been well received, so I thought I'd share it with my HuffPost readers here:
Environmental Education as we know it today began in the '60s-with the same energy that spawned the Endangered Species Act, the EPA, and the Clean Water and Air Acts. Schools started taking urban children on field trips to remote pristine areas to help them develop an appreciation for nature and better understand ecology. Fifty years later, we continue to take inner-city kids to the woods, mountains and beaches. It's easy to picture school buses loaded with duffels, sleeping bags, and excited students, driving many miles (and bathroom breaks) away from home to attend "Outdoor School."
This is important work. An independent evaluation of the organization I lead revealed that one of the benefits of our Environmental Education programs is a significant increase in children's comfort in nature. To put it simply, the kids we serve are often afraid of the woods before spending time with us, and afterwards, they are comfortable being outdoors. The researcher who conducted this study believes "comfort in nature" is an important precursor for children to eventually become stewards and conservationists.
After all, why would people want to protect something if they are afraid of it?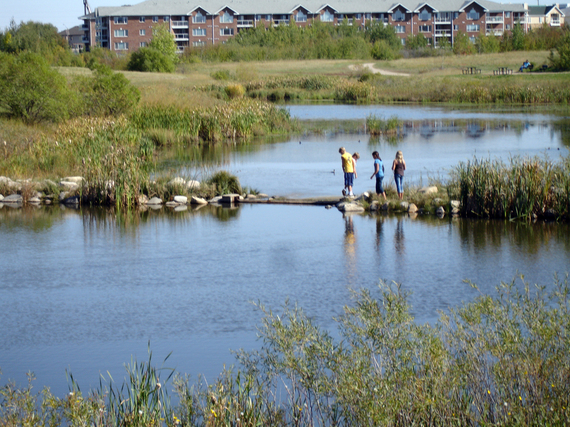 Photo by Daryl Mitchell
Bringing kids to wild places also helps them learn that public lands belong to every citizen. For this reason, I was pleased to see the recent White House announcement of the "Every Kid In a Park" initiative, an ambitious plan to get every fourth grader in the country out to a park next year. Every child should be able to experience the roar of crashing waves, the solitude of a forest, and the awe-inspiring views of ancient geological formations.
But despite Environmental Education's merits, it has also reinforced a false dichotomy that nature is good and cities are bad. As it turns out, urbanization is a modern way of sustaining people, and it has many environmental advantages. Cities can support sustainable living by reducing reliance on cars, and using smaller footprints for our homes. Cities can also be more efficient at delivering goods and services like water and fuel.
If the Environmental Education movement is going to continue to remain relevant, we must evolve with our rapidly changing world. According to the U.S. Census, 80 percent of the U.S. population already lives in urban areas.
As more children are being raised in paved ecosystems, we now have a generation of children with deep sympathies for polar bears but little awareness that nature surrounds them all the time. Even in the presence of gardens, parks, and urban streams, urban kids are likely to think of the environment as somewhere else.
This is the educational opportunity we must seize now. A week at a high-quality Environmental Education center can begin a transformation in kids, but it is not enough. We must expand the definition of environment to include the places where kids live, learn, and play. We must embrace the teachable moments that urban spaces offer. And we must train a diverse young cohort of leaders and educators from urban areas to do this critical work in cities.
Thankfully, there is a strong coalition of groups doing this important work right now in cities and communities around the world. Many of them are gathered at this week's 2015 Children & Nature Network Conference to explore the interplay between nature, technology, and vibrant cities. This is the conversation we need to have.
At their best, cities are as capable as remote areas at offering rich nature-based experiences. The fact that people are moving to cities is not a problem; it is an opportunity. Biological concepts that we teach in remote areas (e.g. producers vs. consumers; predator vs. prey; abiotic vs. biotic) can easily be translated to backyards, public parks, and schoolyards.
There will be consequences if we fail. How can we sustain a conservation movement led by an aging white population, in a world where the majority of us will be people of color living in cities? How can we convince a child that she has a right and responsibility to protect our natural resources if she is blind to the existence of nature in her own neighborhood? How will we answer a kid who hears about glaciers, rainforests, and disappearing islands, and then asks, "What does that have to do with me?"
Cities add a new set of environmental landscapes to study and discover, including built infrastructure, transformed waterways, paved surfaces, and urban parks. Educators prepared to employ environmental education methods in such settings can make classroom learning relevant, create meaningful science investigations, and help build a new generation of conservationists.
— This feed and its contents are the property of The Huffington Post, and use is subject to our terms. It may be used for personal consumption, but may not be distributed on a website.
Source: Huff Post