For many of us, the best part of our day is the magic moment that comes when we get to shove (or, delicately place with a fork and/or spoon) food into our mouths.
But you might want to set down your junk food and read this: According to data from The National Health and Nutrition Examination Survey, up to nine out of 10 Americans fall short in getting key nutrients — vitamin A (50 percent), C (40 percent), D (90 percent), E (90 percent) and calcium (50 percent) — from food alone.
Despite consuming a relatively 'healthy' diet, our everyday meals may lack key, essential nutrients that play a critical role for healthy growth and development. (And while it's important to look across a span of meals over time when evaluating your nutrient intake, every meal counts when ensuring you're getting necessary vitamins and minerals.)
The good news, though, according to Dr. Balz Frei, Director and Endowed Chair of Linus Pauling Institute, is that coupled with a healthy diet, taking daily dietary supplements can help close nutritional gaps in our diets.
To help you get key vitamins and minerals you may need, we've partnered with The Campaign for Essential Nutrients to call out important nutrients some of your favorite meals may lack.
Breakfast
The Easy Road: Cereal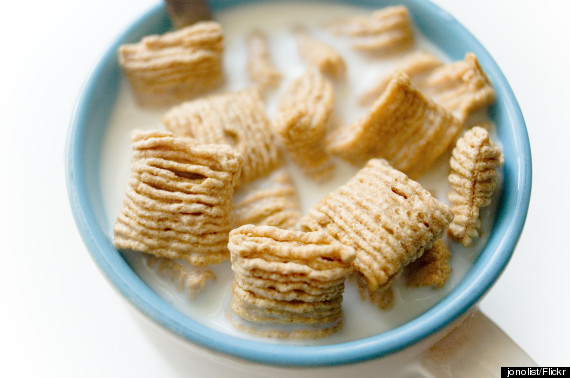 Not to be confused with the popular podcast, cereal is one of America's most common breakfast foods. And for good reason: Many popular brands are rich in fiber and iron and made with whole grains. Even though many offer these benefits, some cereals may lack essentials like calcium (though adding milk can grant you 30 percent of your daily dose).
To make your breakfast a more well-rounded meal, add fruit into the mix. Dietary supplements can also help by providing nutritional support. To remember to take one daily, leave the bottle on your kitchen counter or desk at work.
The Go-To: A Breakfast Sandwich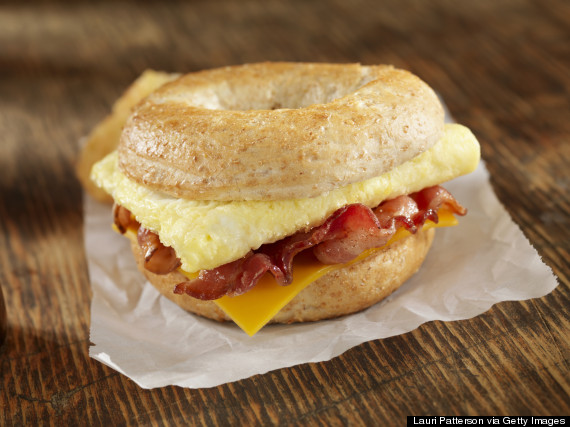 While we all know it's healthier to grab a green juice or smoothie for arguably our most important meal of the day, the truth of the matter is, it's hard to resist a tasty, greasy breakfast sandwich. Especially a bacon, egg and cheese on a bagel.
A popular version of this comforting creation contains 16 percent of your dietary fiber and 20 percent of your daily iron — but the meal is essentially "processed, refined carbohydrates," according to Jennifer Kass, a graduate of the Institute for Integrative Nutrition in New York City and expert in health and wellness.
Kass advises eaters to go for the green smoothie. But if you must go down the delicious sandwich route, remember to add fruits and veggies, since this particular meal lacks important nutrients. And consider taking a multivitamin daily — an addition to your daily routine which can be just as easy as grabbing breakfast on the go.
The Healthy Choice? A Yogurt And Banana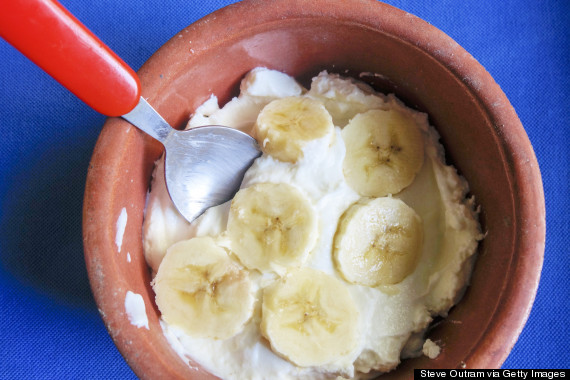 Bananas are known for being high in potassium, which is associated with lower blood pressure, and yogurt is filled with probiotics, which can help with digestive health. Yet even this "healthy" breakfast has some flaws — don't we all?
The seemingly-healthy combination is missing vitamin D, which helps regulate blood calcium levels and supports bone health.
Want to make up for the lack of vitamin D? Few foods naturally have it. So if you aren't munching on fish, egg or fortified dairy, you may want to consider taking a dietary supplement with a high level of vitamin D.
Lunch
The Easy Road: Turkey Sandwich on Wheat Bread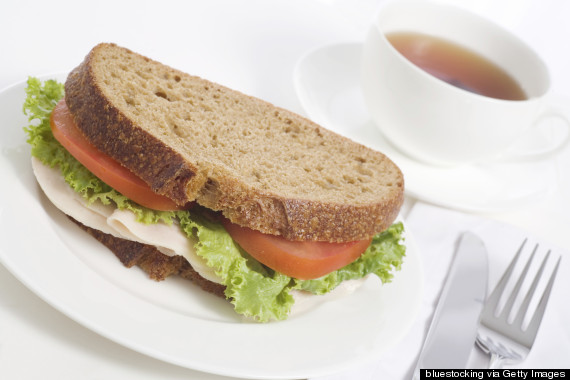 For those who work office jobs (or really, any job), packing a turkey sandwich to go is a simple solution to avoid overspending — and overeating! And while a turkey sandwich on wheat bread — a lean meat plus whole grains rich in protein and fiber — is a healthy choice (especially compared to the greasy deli or the food trucks outside your office) there are still some gaps, nutritionally speaking. Veggies like lettuce and tomato add vitamin A, but you won't get much calcium, which is essential for everyday muscle movement and hormone regulation.
Kass suggests incorporating more essential nutrients by swapping the carbs for greens, transforming the meal into a kale salad with turkey. And since population data shows that about 64 percent of Americans (including kids) don't get enough calcium from food alone, you may also consider taking a calcium supplement.
The Go-To: Grilled Cheese And Tomato Soup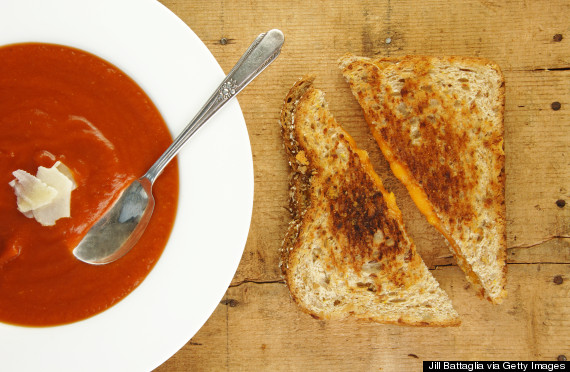 A classic combination, grilled cheese and tomato soup is actually full of nutrients like protein (containing 36 percent of the daily value), vitamin A (24 percent), vitamin C (20 percent) and calcium (a whopping 44 percent). There's also 20 percent of both iron and vitamin D. Not bad for a rainy day comfort food!
While vitamin E, which functions as an antioxidant that helps protect cells from the effects of free radicals, is low, you can add almonds or sunflower seeds, and make a supplement with Vitamin E part of your daily habit, to bridge the gap.
The Healthy Choice? Grilled Chicken Salad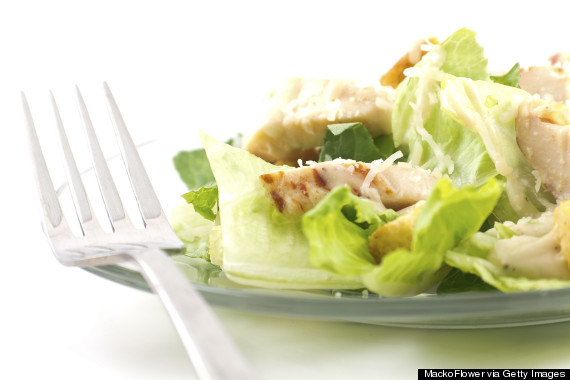 Many people assume salads are inherently good for us — and they're not necessarily wrong. This chicken-and-leafy-green mashup is low in calories and rich in protein. However, Kass warns that just eating salads may not be enough to get all of the nutrients your body needs.
Approximately 50 percent of Americans fall short in getting calcium from food alone, which, along with inactivity, are risk factors for osteoporosis. Ensure you don't fall short of your calcium quota with yogurt, milk, cheese and calcium supplements.
Dinner
The Easy Road: Pizza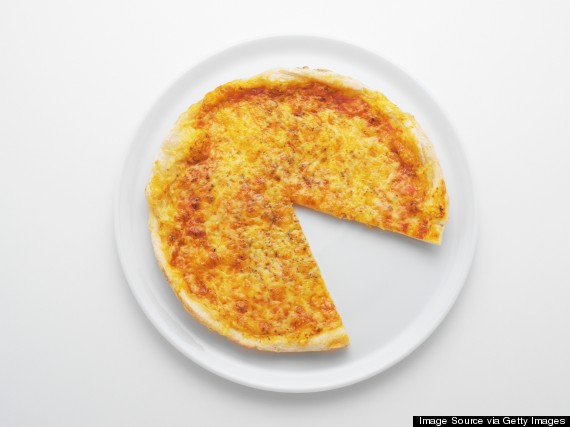 Despite the helpful amounts of calcium in a slice of pizza (nearly 20 percent of the daily recommended amount), there are also some hefty drawbacks, like 10 grams of fat and 18 milligrams of cholesterol. And you barely ever have just one slice.
Kass would prefer you ditch the dough and cheese …but since that's not always a valid option (because pizza is awesome), may we present an alternative: leafy pizza toppings, piled high. Coupled with a multivitamin, this is smart way to help you get key nutrients you may need.
The Go-To: Hamburger And Fries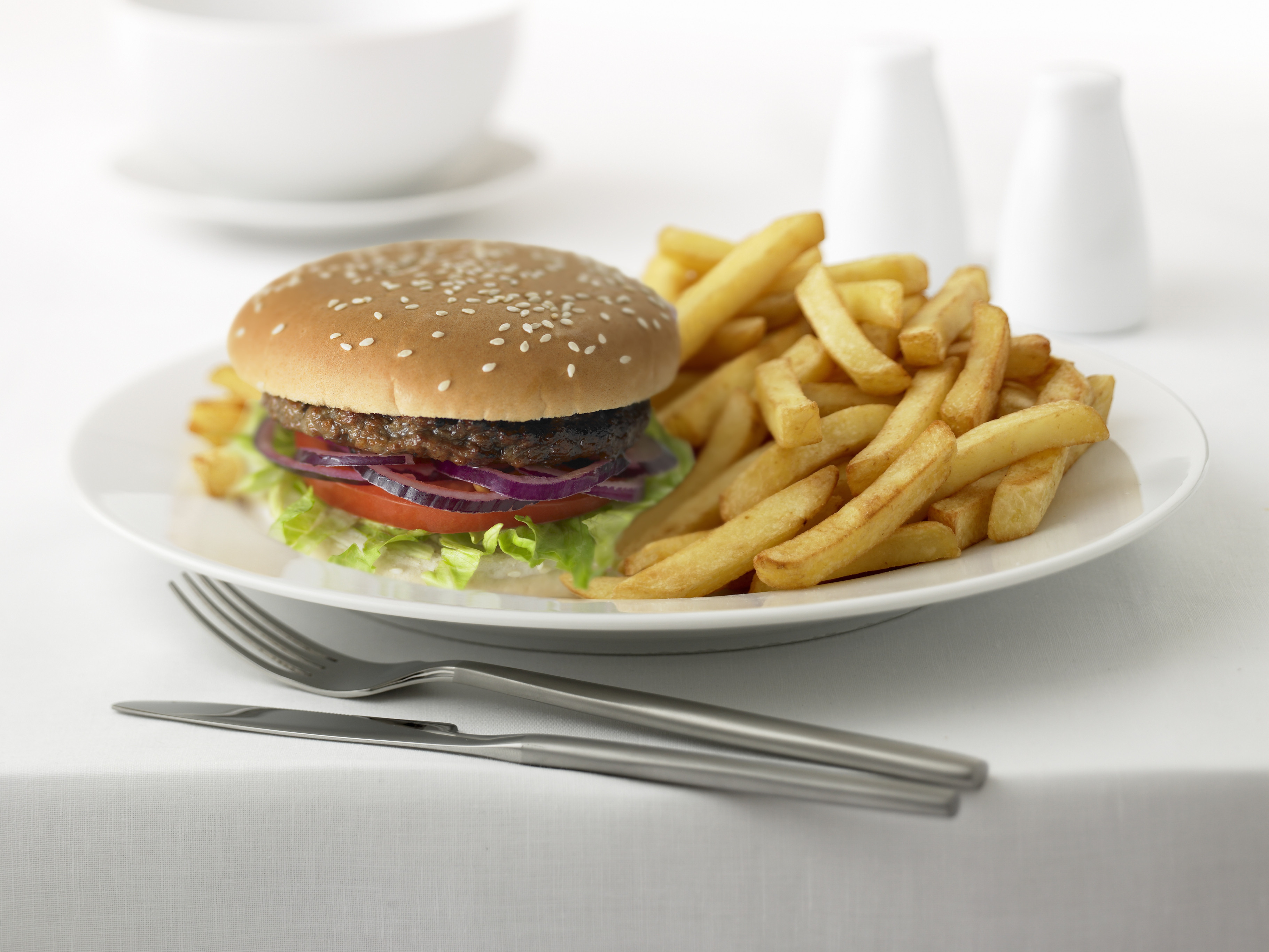 Who doesn't crave a burger and fries at times? While the nutritional info of a burger can vary vastly across different restaurants and cooking styles, the typical dish is high in protein, saturated fats and cholesterol. It even contains small amounts of fiber, vitamin C and calcium!
For a small meal improvement, Kass recommends switching greasy fries for a side salad to incorporate more essentials like vitamins A and E, which are both important for immune function — and cut out greasy fries. Other foods that naturally have vitamin E are peanut butter and almonds (if you're looking for a snack later). You can also add vitamin E easily through a multivitamin, chewable gummy or other supplement taken daily.
The Healthy Choice? Chili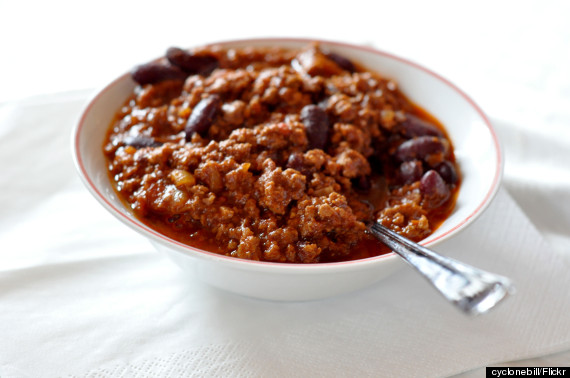 This combination of chili peppers, beans, meat and tomatoes is stacked with good-for-you proteins and vitamins. Providing 50 percent of protein, 33 percent of vitamin A and 28 percent of iron recommended per day, sitting down to a bowl of chili means covering the majority of your bases, nutrient-wise.
Sadly, there's one drawback: The meal completely lacks vitamin D. Quickly incorporate the essential vitamin by adding a dollop of Vitamin D-fortified Greek yogurt atop your meat and beans — and since research shows that up to 90 percent of Americans don't get enough vitamin D from food alone, taking a supplement daily would be a good idea too. (Not sure if you're part of the 90 percent? Ask a doctor to check your vitamin D level.)
So, what does this all mean?! Don't panic, or start cleaning out your pantry just yet.
According to Frei, it's nearly impossible for all meals to include every single nutrient your body needs. Take a note from Kass and make leafy greens the anchor of every plate — and consider taking a vitamin or mineral supplement daily for a convenient and simple way to help get key nutrients you may lack.
The Campaign for Essential Nutrients (CFEN) is committed to educating Americans about the essential role vitamin and mineral supplements can play in helping to fill their daily nutritional gaps. The Campaign for Essential Nutrients is sponsored by Bayer HealthCare LLC, DSM Nutritional Products, Pharmavite, LLC. and Pfizer Inc.
*Nutritional information, unless otherwise noted, is attributed to the United States Department of Agriculture and dependent on the Food and Drug Administration's recommendation of a 2,000 calorie-per-day diet.
**This material is for general informational purposes only. It is not meant to replace the advice, diagnosis or treatment by a physician or other health care professional.
Source: Huff Post