Facebook has always had "community standards" that govern what can and can't be posted and how it will deal with users that fail to follow its terms of service. Periodically the company updates these standards but, this week, Facebook decided to simply make them easier to understand.
In a blog post, Facebook's head of Global Policy Management Monika Bickert and Deputy General Counsel Chris Sonderby wrote that the company is providing "more detail and clarity on what is and is not allowed" in such areas nudity and hate speech. They stressed that the "policies and standards themselves are not changing."
The new standards page is broken into four sections Helping to keep you safe; Encouraging respectful behavior and Protecting your intellectual property and each section has a set of links on the side with explanations for each major issue.
Facebook has long gotten flack over its nudity and hate speech policies. Some people think they're too strict while others think they're too lax. As a member of Facebook's Safety Advisory Board, I can assure you that policy decisions in these two areas is not easy, but the company — with our help — has done its best to create nuanced policies that allow for artistic and political freedom while at the same time trying to maintain an environment that is respectful and inoffensive. Clearly, not everyone will be happy with where Facebook arrived on these issues but — with more than 1.3 billion people — they need to create policies that their support staff and enforce and they need to find a way to explain them to people so that users understand what the company does and doesn't allow.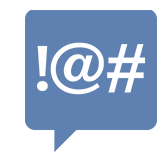 The icon for Facebook's Encouraging respectful behavior rules
On nudity, for example, Facebook explains that it removes photographs of "people displaying genitals or focusing in on fully exposed buttocks" and that, though they "restrict some images of female breasts if they include the nipple," they " always allow photos of women actively engaged in breastfeeding or showing breasts with post-mastectomy scarring," and artistic images that show nudity.
Facebook also bans hate speech including content that attacks people based on their: Race, ethnicity, national origin, religion, sexual orientation, sex or gender identity or serious disabilities and diseases and the company will sometimes allow people to share someone else's hate speech "for the purpose of raising awareness or educating others about that hate speech."
Disclosure: Larry Magid is CEO of ConnectSafely.org, a non-profit Internet safety organization that receives contributions from Facebook and other companies
Source: Huff Post