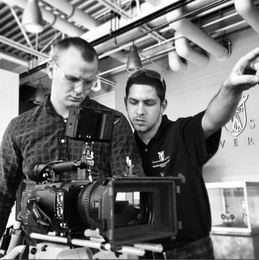 The best thing about the #MyMentalHealthStory campaign I launched in December of 2014 is I have had the opportunity to meet some amazing people. In this interview, get to know filmmaker, Jeff Holiday. Here Jeff shares what inspired him to become a storyteller and how his family's experience with mental illness and suicide has shaped the making of his short film, Boulevard.
Visit www.jeffholiday.com and www.boulevardthefilm.com to learn more about Jeff and his film.
Tell us about your background and film making experience.
My love for storytelling dates back to when I was very young. At age 12 my parents bought me my first video camera for Christmas. My friends and I would put together short little movies, commercials and stop motion videos, most of which are pretty embarrassing to watch now.
In 2005, right after my grandparents' death, while at Floyd Central High School, I always wondered what was happening inside the school's radio/TV room on my way to class. The following year I spent as much time as possible in that studio. Looking back, I was feeling lost and I used my ability to create things to deal with what was bothering me. This was just magnified after my grandparents' death.
My experience in high school was great and led to me to earn a Bachelor of Arts in Telecommunications at Ball State University (BSU) and by my senior year I became the Executive Producer on PBS's Connections Live, an Emmy Award winning news magazine show. I'm currently completing my Master of Arts in Digital Storytelling at BSU and I'll graduate this May.
Your latest film project, Boulevard, is set in the future where mental illness is a myth and suicide is a crime. The story is about a man named Nathan who loses of his wife to suicide and his journey to understand if he could have prevented her death. I have read this plot was inspired by the murder-suicide of your own grandparents, Wayne and Shelby Hinton, in May 2005. Do you feel the main character Nathan is patterned after you and your experiences?
Yes, the character Nathan is patterned after my life although Nathan's circumstances are different from mine and Boulevard is a different story from my own. For me, I knew making this film would emulate my past because so much creativity is driven by those experiences. And even though I've wanted to tell a story about suicide for a long time, I was hesitant because I was afraid of what people might think. But I stopped caring about others judgments and realized this type of story needed to be told.
Have you personally encountered stigma as it relates to the death of your grandparents?
I've encountered the stigma too many times to count, for a longtime I just avoided the conversation altogether. Most of my college friends didn't know about my grandparents' death until I started working on Boulevard. In getting Boulevard off the ground, I shared my story with those who were working on the film. It was difficult to tell colleagues my grandfather committed suicide, but even harder to share how he took my grandmother's life. I just didn't know how to approach it at first. But the more I told my story, the easier it got and I eventually shared my story with everyone who I worked with.
What does your family think about this film project?
At first I was worried about what my family might think, but they have been extremely supportive of my efforts. The reason I can so easily speak about my experience is because my family has encouraged me to talk about it. The subject of mental illness and my grandparents' death has never been a secret in my family. If a family member wishes to talk about it, they are not discouraged. When we get together, the topic always comes up because it is part of who we are now.
Your desire to fight the stigma around mental illness is admirable. With one million people who die annually by committing suicide, we still have much work to do. Can you discuss how this film will educate about mental illness?
My goal is to create a film that is entertaining but also educational and thought provoking. While Boulevard is just one perspective — my perspective — out of millions, I hope it can help start conversations about mental illness independent of whether a person is personally struggling or not. The message of Boulevard will be very clear; the stigma has gone on for too long and we must stop it. Start your own conversation.
Where are you in the process of producing and completing Boulevard?
We are currently in pre-production for Boulevard and have completed casting the main roles and we will start filming in April. Once the film is complete, I'll take Boulevard to the film festival circuit for the attention it deserves. As for distribution, I'm working on finding a place, but I can assure you I'll give it away for free if I have to. I didn't create this film to make money.
Why should people see this movie?
I think people should see Boulevard because it's a different take on the topic of mental illness. While I've worked extensively in documentary filmmaking, and believe in its ability to persuade and encourage social change, it does have its limitation in that the audience is often limited to those who are already aware of the stigma and the need for change. In other words, it is preaching to the choir. By creating a fictional film the audience begins to broaden, reaching those who are unaware of the stigma many face.
Is there anything else you want to share with readers?
People always ask me if I'd do anything to bring my grandparents back. Obviously yes, I'd give nearly anything to see them again. But as I've gotten older I've realized something; while I'd do anything to see them again — it's hard to ignore how much I've learned and grown from my experiences after their deaths. They gave me a lot while they were alive, and I feel they continue to do so even now.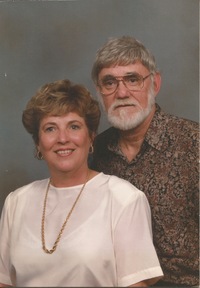 Jeff's Grandparents Wayne and Shelby Hinton


Source: Huff Post