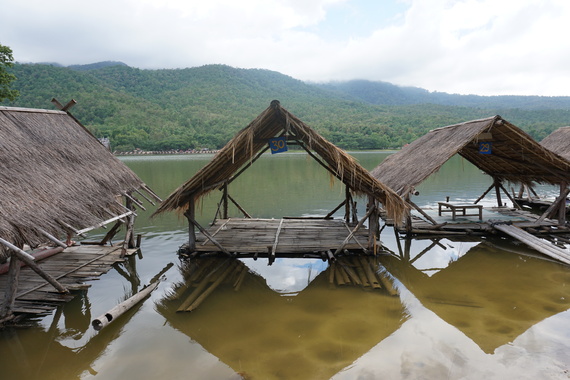 College Tourist – Author: Sam Corio, Cal Poly in San Luis Obispo, California.
Studying abroad is an amazing experience but we all know it can be hard on your wallet. Living in Chiang Mai, we found many ways to keep busy and get to know the town without spending too much baht. So here's what I came up with: 10 nearly free things to do in Chiang Mai.
1. Just wander – The town of Chiang Mai is perfectly rectangular, surrounded by a moat. The best way to get to know the area is to start at one of the four gates, pick a direction, and just walk! To get all the way around will only take a couple hours but you can check out shops and street stalls along the way. Some of my favorite places were found completely by accident!
2. Doi Suthep – to learn a little bit more about Buddhist history, take a trip up to Wat Phra That Doi Suthep. It is a must see holy temple but be prepared for the 300 step climb up the serpent staircase to the temple. Once reaching the top you will be amazed by the beautiful golden spire in the center of the temple. There are also many murals and shrines to see, the White Elephant being the most famous. If you are lucky, you may also be blessed by one of the Buddhist monks!
3. Go to the Lake – Swimming in Huay Tung Tao Lake is one of the best ways to cool off from the heat. Bamboo huts line the lake where you can sit and relax or even get a bite to eat. Away from the crowds, it is a great way to spend a peaceful afternoon.
4. Night Bazaar – Chiang Mai is known for the different markets whether it's fruit, flowers, or jewelry but the Night Bazaar is by far the biggest, especially on Sundays. There are rows and rows of stalls that include everything from hand crafted products to clothes to knockoff electronics. Even if you are not shopping, it is a lot of fun to walk around and people watch.
5. Visit Waterfalls – waterfalls are usually known for being extremely slippery, however the waterfalls at Bua Tong are the exact opposite. Known as the Sticky Waterfalls you can walk up and down the waterfall without any fear. Made out of Limestone, the surface feels like a harden sponge. You can spend hours playing in the water.
6. Cabaret – Located in the Night Bazaar, experiencing a Cabaret is a night full of lip-syncing, costumes and well-choreographed dance routines.
7. Go Hiking – there are several different hikes that lead to many beautiful destinations. Whether it's another waterfall or a 360 view on top of a mountain, hiking is a great way to take in the beautiful scenery of Thailand.
8. Art in Paradise – is the world's largest 3D art museum. Even though there is an entrance fee, it is well worth the couple extra dollars. All of the pieces of art are completely flat but look 100% realistic. With unique camera angles, you can fake many situations. Whether it's surfing massive waves, to riding a magic carpet, to falling into melting lava, you will have all of your friends fooled!
9. Listen to Jazz – The Old City Northgate Jazz Co-op is a great place to enjoy good music (some is even in English!). With no cover fee, you can stay for as long as you like, listening to both local and foreign musicians.
10. Visit Wats – Taking a tour of the various wats is a great way to learn the culture and traditions of Chiang Mai. From Wat Umong for meditation to Wat Chedi Luang known for their dogs, there are over 200 wats to choose from.
See more from student travel ambassadors on The College Tourist.com
— This feed and its contents are the property of The Huffington Post, and use is subject to our terms. It may be used for personal consumption, but may not be distributed on a website.
Source: Huff Post