My son, Andy, runs a successful tour company that offers American students doing a semester abroad educational, economical, and efficient three-day tours for around €200. Andy and his guides lead his "Weekend Student Adventures" in cities all over Europe. While working in Rome this Easter, I got to join his group for an evening. Click each of the photos to learn more about Andy, his enthusiastic customers, and our time together in Rome.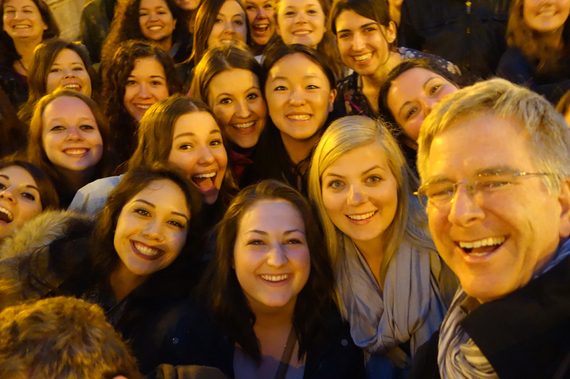 Here I am with one of Andy's typical tour groups: lots of energy…and lots of girls!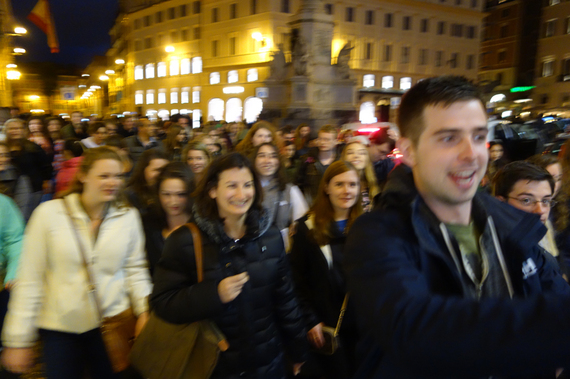 Andy's Easter tour is his biggest of the year: Three groups (two different weeklong tours, plus a three-day weekend tour) overlap so that everyone can be in Rome for the excitement of Easter.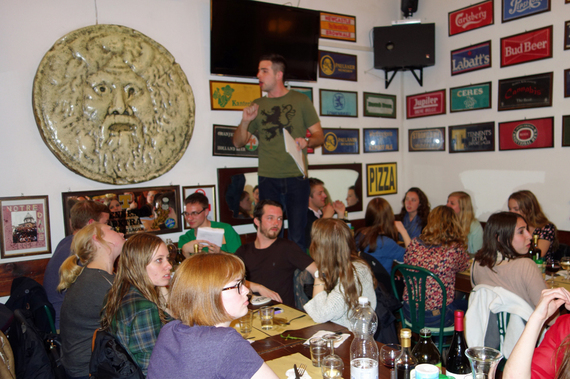 Andy has a favorite student-friendly restaurant in Rome (Miscellanea, just behind the Pantheon) where his tour members can enjoy an affordable yet quality Italian meal. With a happy gang this size, Andy needs to stand on a chair to make announcements.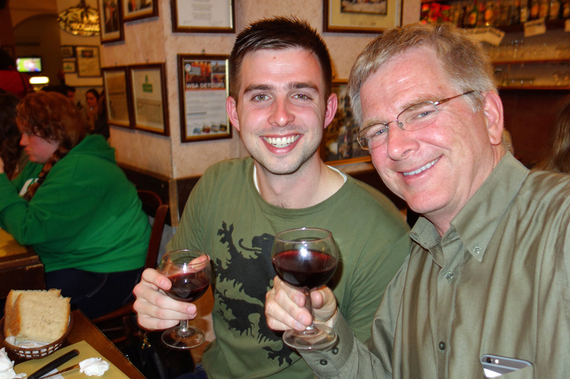 We took our kids to Europe every year for about 20 years. I didn't realize Andy was paying much attention. And now, as a 28-year-old entrepreneur, Andy is employing guides all over Europe, developing an amazing website, and giving literally thousands of American students great travel experiences. I am very proud of my son. And when I happen to cross paths with him in Europe and see the hard work and passion he puts into his Weekend Student Adventures, that pride swells.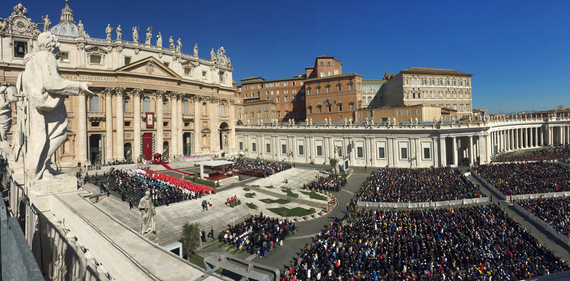 Andy's students (which, on this "Easter in Rome" tour, are mostly from Catholic universities) got up at 6:00 a.m. to line up for the best seats at St. Peter's Square and see Papa Francesco. This photo was from Palm Sunday (shot from our press vantage point atop the colonnade). Sadly, Easter Sunday in Rome was a morning of pouring rain. And, while our TV crew was completely rained out, being there was a lifelong memory for Andy's tour members.
— This feed and its contents are the property of The Huffington Post, and use is subject to our terms. It may be used for personal consumption, but may not be distributed on a website.
Source: Huff Post