Armory Arts week is over, leaving New York a bit of time to recover until, well, May rolls around and Frieze comes to town. While we relish these moments of solitude, it seems as good a time as ever to look at ahead at a new season of shows, exhibitions, and emerging art.



So, in the wake of our Armory Show enthusiasm, we've rounded up our favorite artists from last week's festivities, most of whom are planning big things this year. Whether the artist is relatively new to the scene or fairly established, they're touring the globe with solo projects and group shows worth checking out. From the Iraq-born painter Hayv Kahraman to the moving image master Brian Bress to the sculptural oddities of William J. O'Brien, behold: our guide to the artists you should watch out for this spring.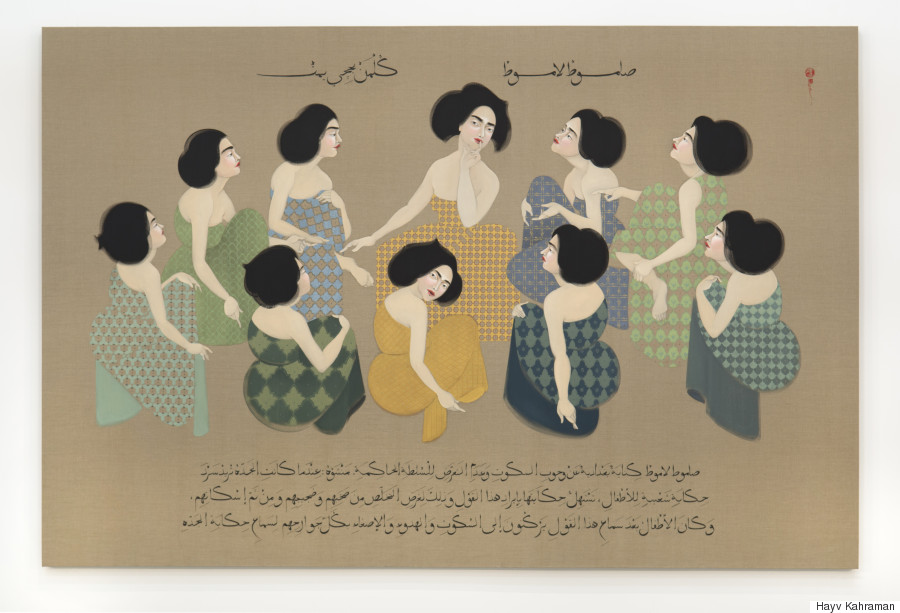 Wattania. This image recreates a scene from Kahraman's childhood Wattania, or History, class. Photo courtesy of the artist and Jack Shainman Gallery, New York.
1. Hayv Kahraman
The Baghdad-born artist
explores her Middle Eastern ancestry in a project aptly titled "How Iraqi Are You?" In the series of paintings, Kahraman physically inserts her face into art history, creating figures that resemble Renaissance paintings, ukiyo-e imagery and Persian calligraphic manuscripts. Past projects have focused on the floor plans of domestic homes in Iraq, the intrinsic beauty of a dodecahedron, and women rendered as marionettes.
Her work is on view at the
Kemper Museum of Art in Kansas City, Missouri
this year, as well as
Jack Shaiman Gallery
in New York.
2. Brian Bress
Brian Bress
is a Los Angeles-based artist whose portraits, often moving images staged on flat-screen monitors, are like the contemporary lovechild of Monty Python, Nick Cave and claymation magic. A favorite of his on view during the Armory Show presented what appeared to be a cartoonish, buck-toothed man slowly erasing a chalkboard — except that board was the fourth wall between the mop-headed stranger and the viewer.
You can
check him out
at the Utah Museum of Fine Arts in 2015, in an exhibition that will travel to the to Museum of Contemporary Art, Denver the next year. Bonus: he'll also be on view during the Palm Springs Art Museum group exhibition, "
Personalities: Fantasy and Identity in Photography and New Media
."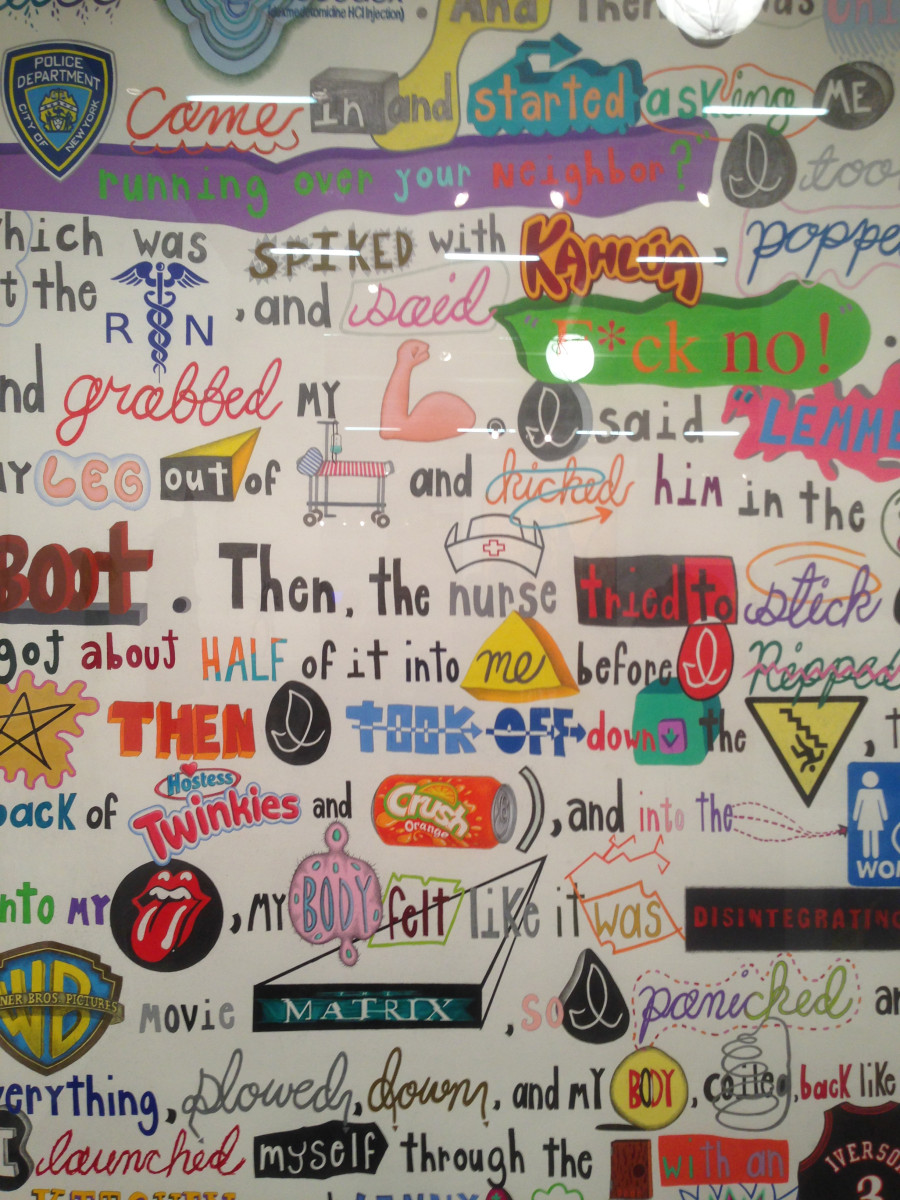 Photo taken during Armory Week courtesy of Katherine Brooks
3. John O'Connor
John Jerome O'Connor's
works are multicolored streams of text, including a diptych called "Love Letters" in which the artist recalls a spam email he received from someone named Beyonce stationed next to a modified version of a letter Napoleon wrote his wife Josephine. Above you can see
one of a series of 26 canvases
meant to document "the narrative account of an individual's passage through time."
O'Connor is due for a show at the
Arts and Leisure Gallery in New York
. Stay tuned for details.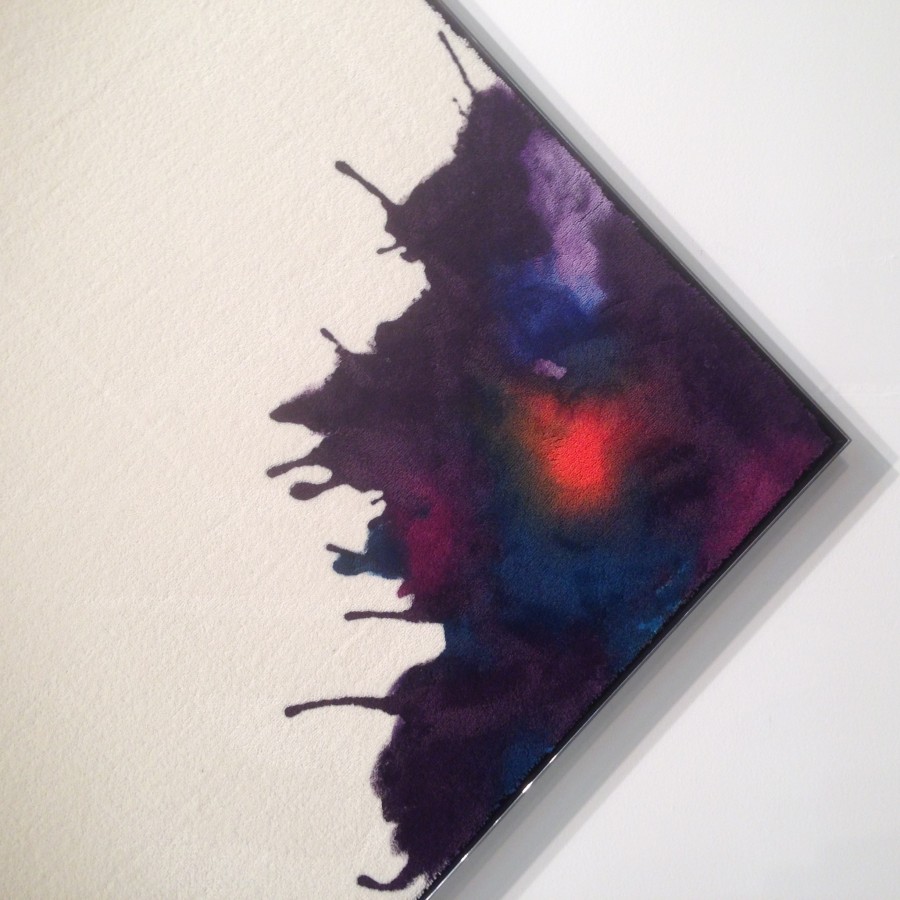 Andisheh Avini, Untitled, Ink on carpet, 2014. Photo taken during Armory Week courtesy of Katherine Brooks
4. Andisheh Avini
Iranian-American artist Andisheh Avini is known for his silk-screened visions and Persian carpet-inspired fiber works that resemble Rorschach inkblots that eerily bleed, bunch and creep. He has a thing for skulls as well, but we are particularly fascinated with his ink and marquetry on wood — pieces that mimic portals to another world, portals holding back masses that are attempting to burst forth with each stroke of color.
Avini was previously on view as part of the Marianne Boesky booth at the Armory Show. He doesn't have any 2015 shows in the books yet (read:
posted to his gallery's website
), so he's definitely one to watch out for.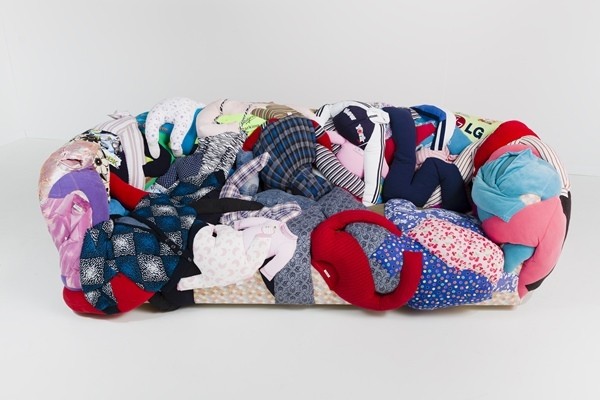 Aiko Hachisuka, Couch (2011). Photo via Artnet courtesy of Eleven Rivington Gallery.
5. Aiko Hachisuka
Japan-born and Los Angeles-based, Aiko Hachisuka wound her way into
post-Armory Show coverage once again
(last year, her "
Sugar Mates
" series grabbed attention too). Her fabric sculpture, a couch fused from multicolored clothing, garnered comparisons to everyone from Mike Kelly to Yayoi Kusama to John Chamberlain.
Her work will be on view at
Eleven Rivington
in New York City from April 12 to May 17, 2015.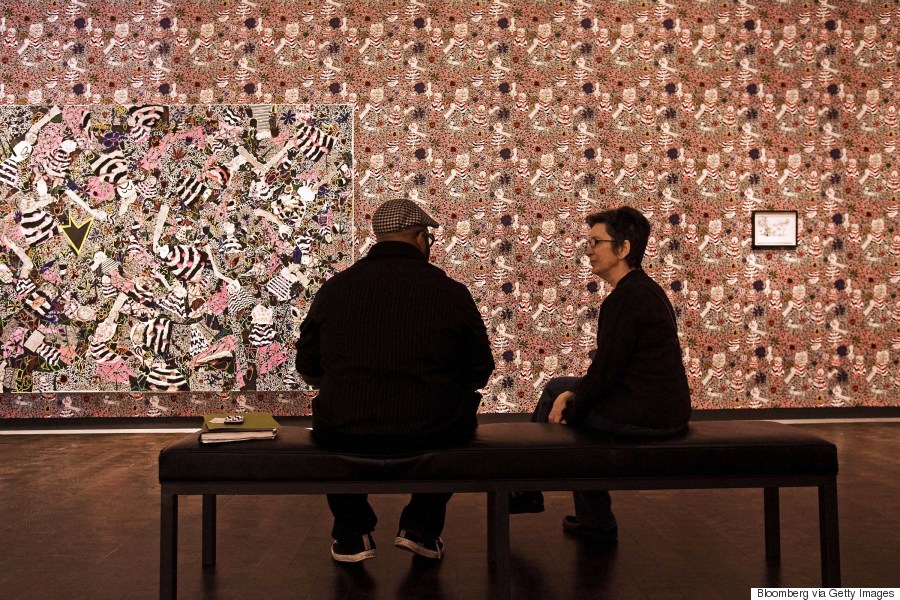 Artist Trenton Doyle Hancocktalks about his painting "Flower Bed II, a Prelude to Damnation," on display, with artist Kate Rosen during a preview for the Contemporary Jewish Museum in San Francisco, California, U.S., on Wednesday, June 4, 2008. (Photo by Chip Chipman/Bloomberg via Getty Images)
6. Trenton Doyle Hancock
The Oklahoma-born, Texas-raised artist Trenton Doyle Hancock is taking over the Studio Museum in Harlem this year, showcasing "
Skin and Bones, 20 Years of Drawing
" from March 26 to June 28, 2015. The exhibition will put on view two decades worth of his drawings, which span from comic-ready portraits of monsters to sprawling landscapes presumably plucked straight from his own nightmares.
He's by no means a new artist, but his 2010 acrylic handmade paper piece, "He," caught our attention at the Armory Show and we couldn't be more excited to see his work once more in New York.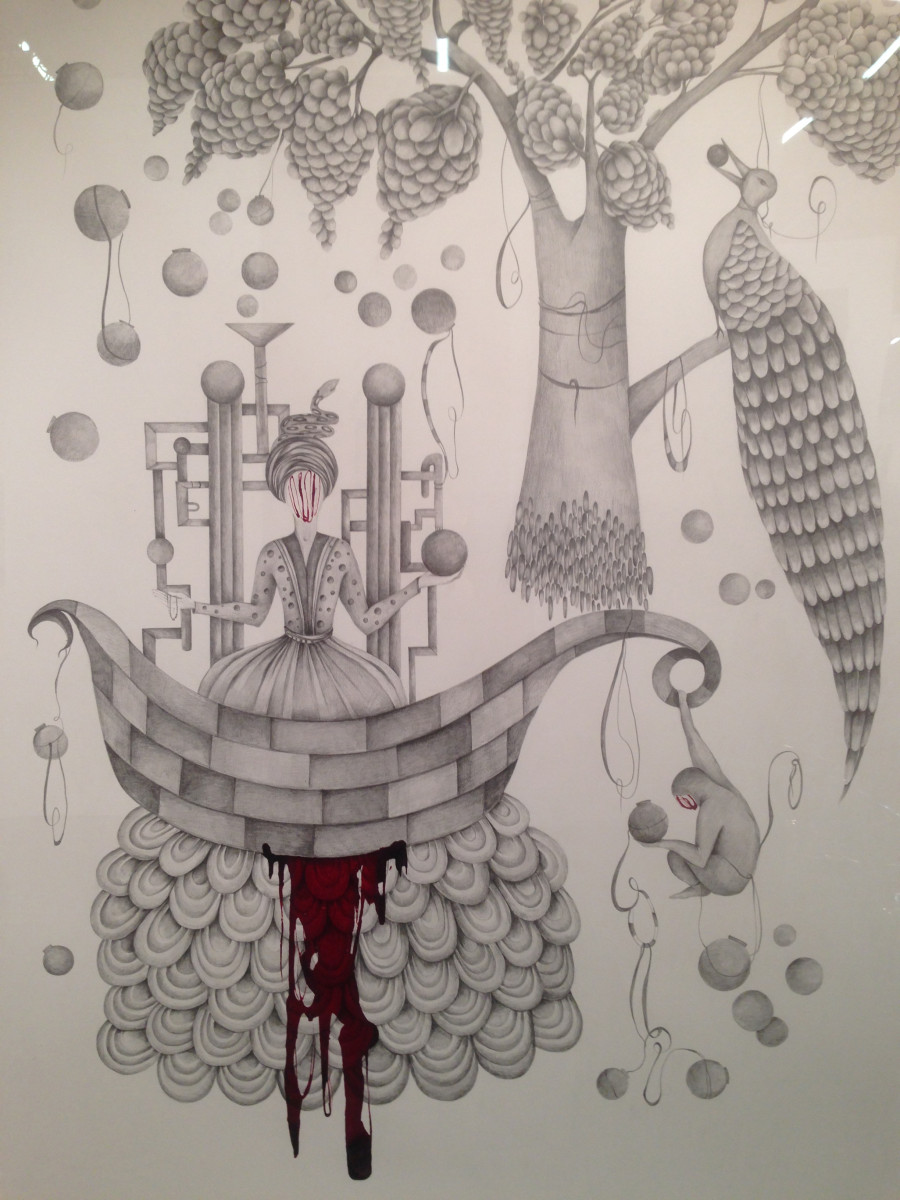 Shiva Ahmadi, Boat, 2015, graphite, pencil and ink on paper. Photo taken during Armory Week courtesy of Katherine Brooks.
7. Shiva Ahmadi
Born and raised in Tehran, Iran, Shiva Ahmadi creates fantastical worlds — painted and drawn — that reside somewhere between Hieronymus Bosch's fictional hell and a monochromatic fairy tale filled with peacocks and primates. In her untitled work shown above, a graphite drawing of a faceless woman is made all the more poignant by what appears to be a pool of blood seeping out below her.
The Metropolitan Museum of Arts recently acquired two of Ahmadi's works. Beyond that, you'll have to
follow her website for more updates
.
8. William J. O'Brien
Whether William J. O'Brien is working in felt, ink, coated steel, colored pencil or glazed ceramic, the artist has a consistent flair for saturated color and kid-friendly forms. His sculptures, also on view at the Marianne Boesky Gallery booth at the Armory Show, were a big hit, almost constantly the focal point of an Instagram by intrigued fair goers.
You can see more of O'Brien in a solo show at
Susanne Hilberry Gallery
in Michigan from March 21 to May 9, 2015.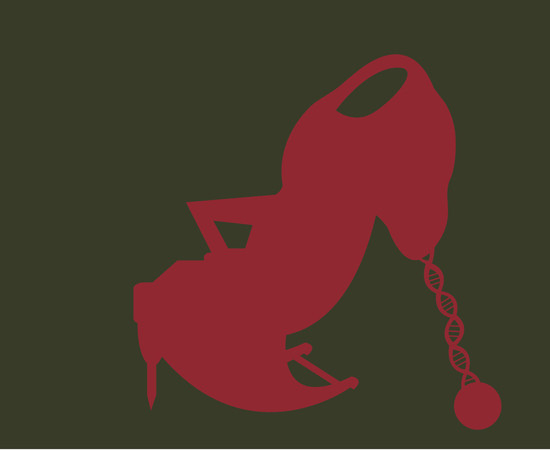 Mona Marzouk, Trayvon #5, 2014. Photo taken during Armory Week courtesy of Katherine Brooks.
9. Mona Marzouk
Born and based in Alexandria, Egypt,
Mona Marzouk
tends to work in sparse colors. Her massive paintings place a few minimalist images, often political in nature, at the center of their frames, surrounded by a cloud of a single-hued pigment. Her sculptures are large-scale, echoing her interest in architectural histories. "Through imaginative studies of objects such as flags and helmets," Gypsum Gallery adds, "Marzouk tackles politically loaded themes such as war, sports, nationhood, space technology and oil industry and how they habitually manifest themselves in our daily life."
During Armory week, two of her selected works, titled "
Trayvon #5
" and "Trayvon #3," reflected on the courtroom as a space for "unfolding narratives," just as it is meant to be a space for the "implementation of justice."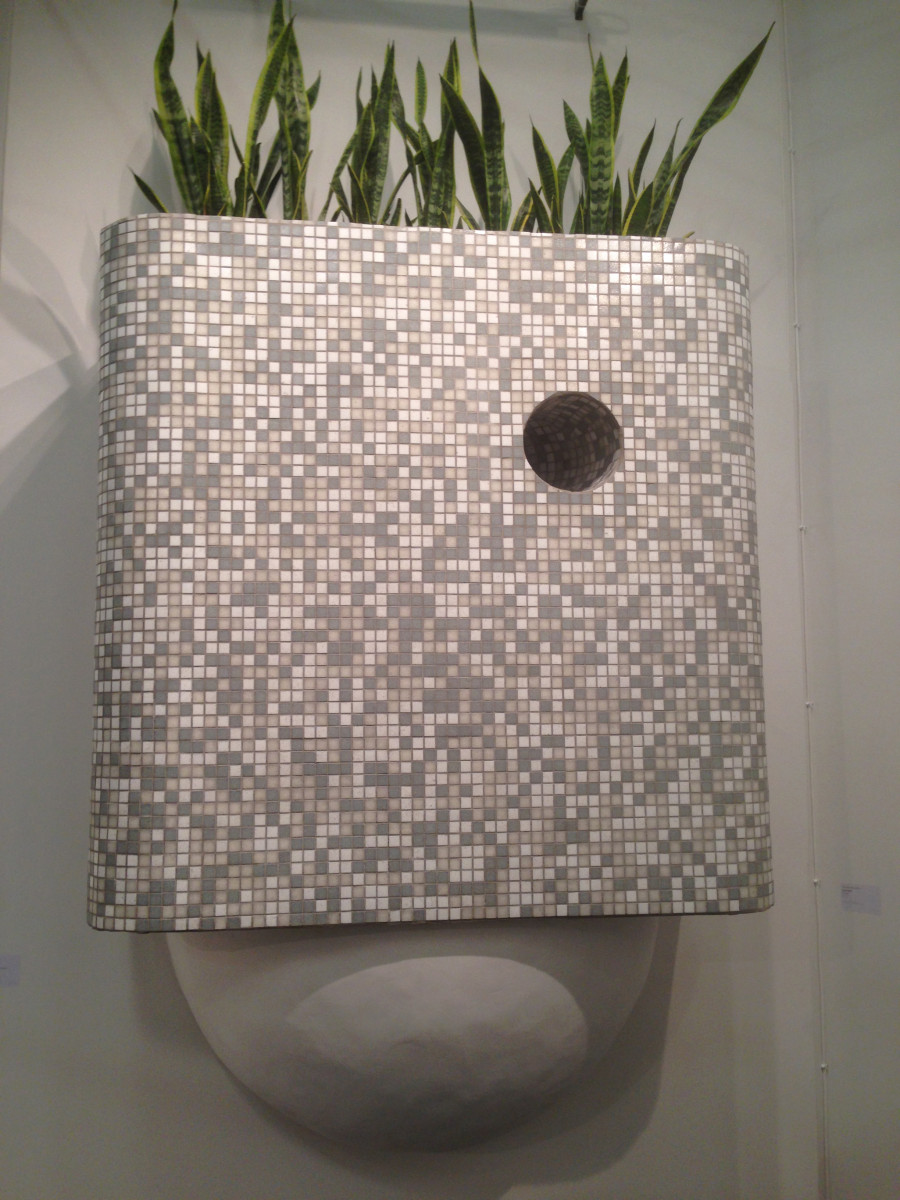 Rachael Champion, "Mountain Flattening Initiative." Photo taken during Armory Week courtesy of Katherine Brooks.
10. Rachael Champion
New York-born artist Rachael Champion uses sculpture to investigate the relationship between humanity and nature, often in a way that results in site-specific, ecologically-mindful works that could be mistaken for an eccentric piece of interior design. A few of her favorite materials include found objects, steel, timber, wheat, barley, buckwheat grass, mosaic tiles, rigging hardware, and tarpaulin.
Her "Mountain Flattening Initiative" was on view this month during the Armory Show, and she'll be at
Art Basel Hong Kong
from March 15 to March 17, 2015 if you happen to be in the neighborhood.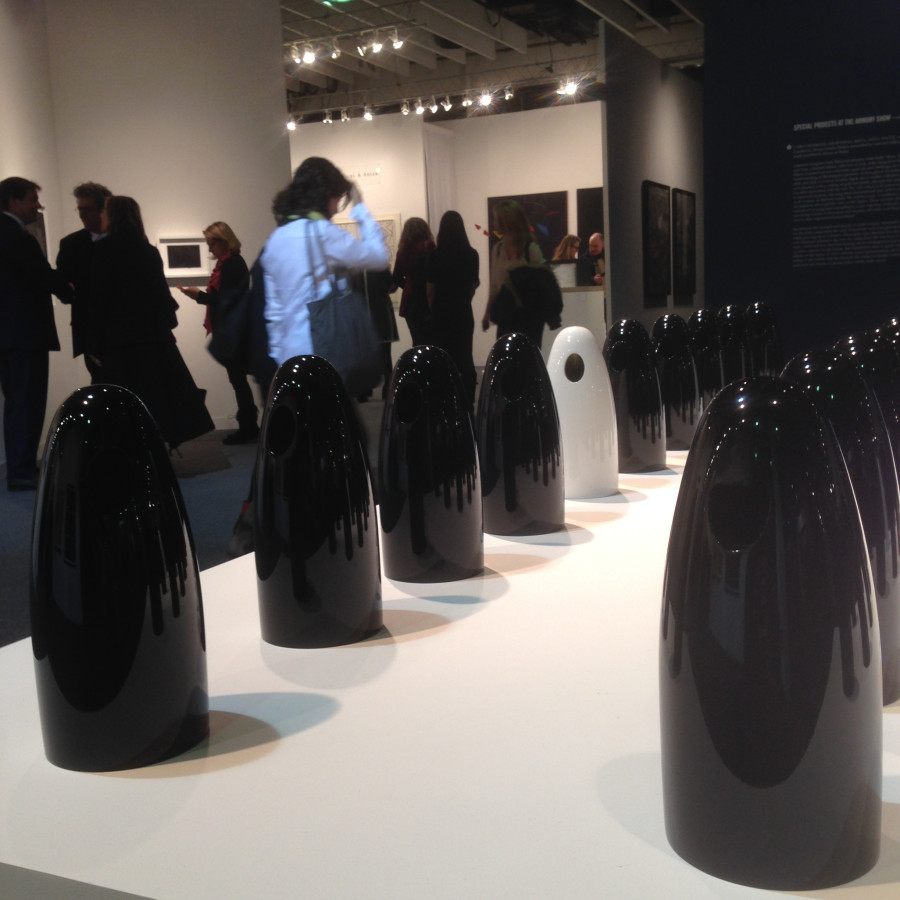 Carlo Massoud, "Arab Dolls: Maya, Zeina, Racha and Yara." Photo taken during Armory Week courtesy of Katherine Brooks.
11. Carlo Massoud
Lebanese designer
Carlo Massoud
showcased the first design project featured at the Armory Show, a work titled "Arab Dolls: Maya, Zeina, Racha and Yara." The piece consisted of 40 black and white lacquered forms lined up on a stark white platform, meant to symbolize the various veils worn by Arab Women. "People tell me that they look like bullets, but I wanted to show that women are getting more power in the Middle East," Massoud
told The Observer
. "They look like an elegant female army rising in strength while gaining more rights."
You can follow Massoud's upcoming events
on Twitter
.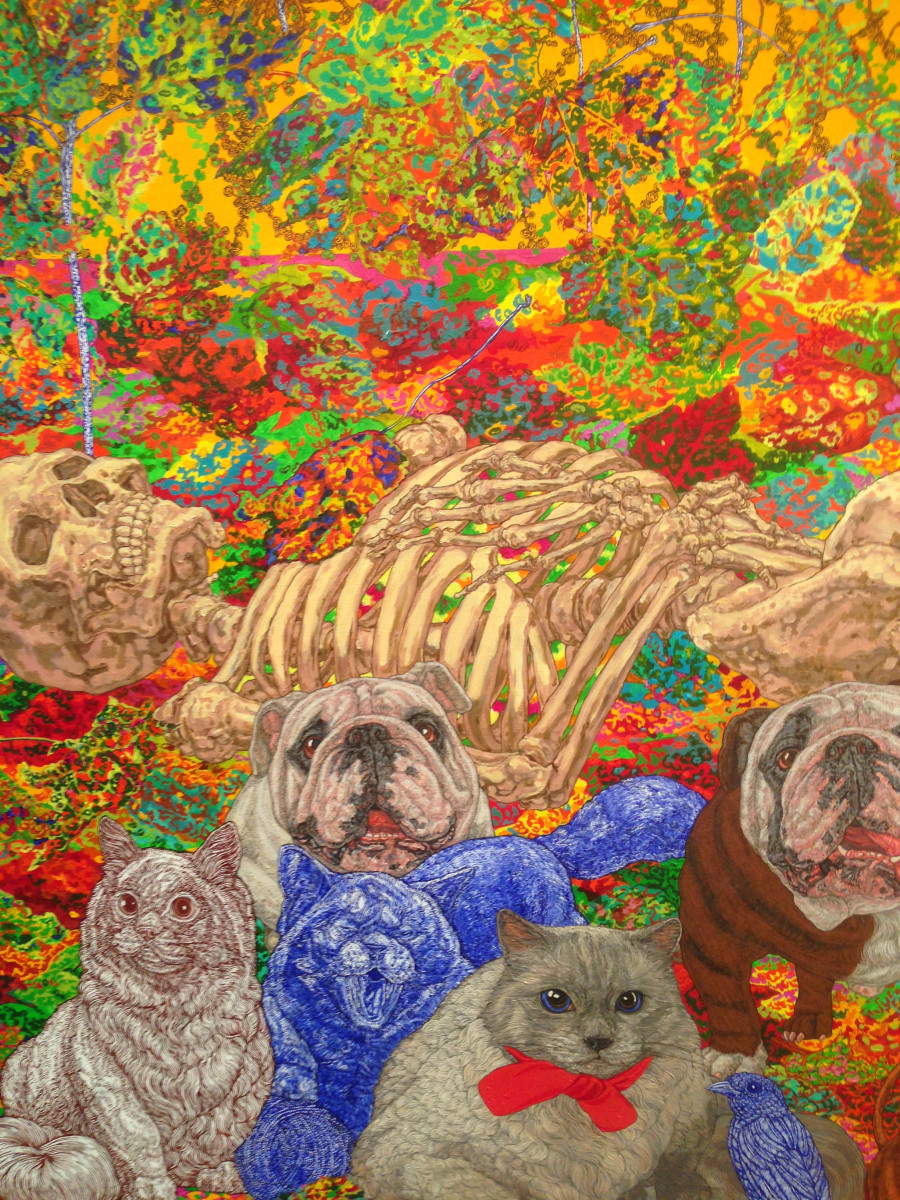 Katharine Kuharic, "The Nipple I Never Knew," 2015, oil on canvas. Photo taken during Armory Week courtesy of Katherine Brooks.
12. Katharine Kuharic
A native of South Bend, Indiana,
Katharine Kuharic
makes incredibly intricate contemporary allegorical paintings populated not by Aesop's hares or Dr. Seuss's turtles, but instead with psychedelic skeletons and well dressed bulldogs. To drink in one her painted universes is to sit and stare, inch by inch, attempting to make sense of the neon chaos.
You can see her available work, at PPOW Gallery in New York,
here
.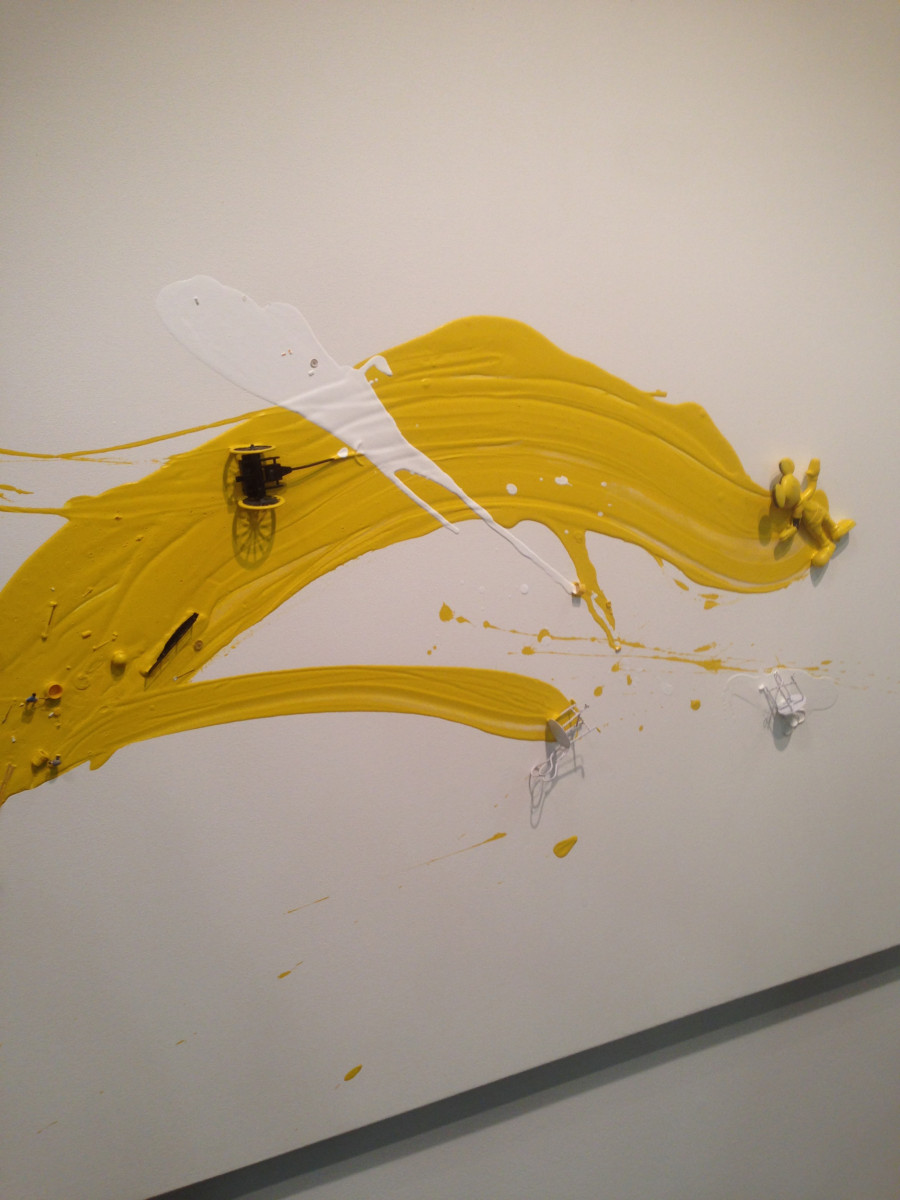 Liliana Porter, "Untitled with Fallen Things," 2013, acrylic and assemblage on canvas. Photo taken during Armory Week courtesy of Katherine Brooks.
13. Liliana Porter
Buenos Aires-born artist
Liliana Porter
has been working avidly in photography, printmaking, installation and video since the 1960s. "
My work is
… like watching a movie with the lights on," she once proclaimed.
Her 2013 assemblage-on-canvas creation, "Untitled with Fallen Things," pictured above, was a beacon of yellow light at the Armory Show, a piece that prompted us to see what Porter is up to in 2015. Luckily, she'll be on view at the Miami, Florida's Cisneros Fontanals Art Foundation in a group exhibition titled "
Impulse, Reason, Sense, Conflict
" until March 29, 2015, as well as in "
Tchotchke: Mass-Produced Sentimental Objects in Contemporary Art
" at the Gund Gallery of Kenyon College until May 31, 2015.
.articleBody div.feature-section, .entry div.feature-section{width:55%;margin-left:auto;margin-right:auto;} .articleBody span.feature-dropcap, .entry span.feature-dropcap{float:left;font-size:72px;line-height:59px;padding-top:4px;padding-right:8px;padding-left:3px;} div.feature-caption{font-size:90%;margin-top:0px;}
Source: Huff Post