Tuesday January 13, 2015
This morning our driver Mr. Singh pulled up with a spiffy new bus loaded with deluxe features: the seats recline, the windows are large, and there's even a flat screen TV at the front so we can watch a Bollywood movie on our long journey tomorrow from Jodhpur to Jaipur!
As we departed from the walled grounds of the hotel and through the narrow streets of Deogarh, we saw a number of children on their way to school, and further out of town, many groups of kids in uniforms waited to be picked up. It's heartwarming to see so many girls going to school, and Adil said this shows the progress India is making in the lives of women.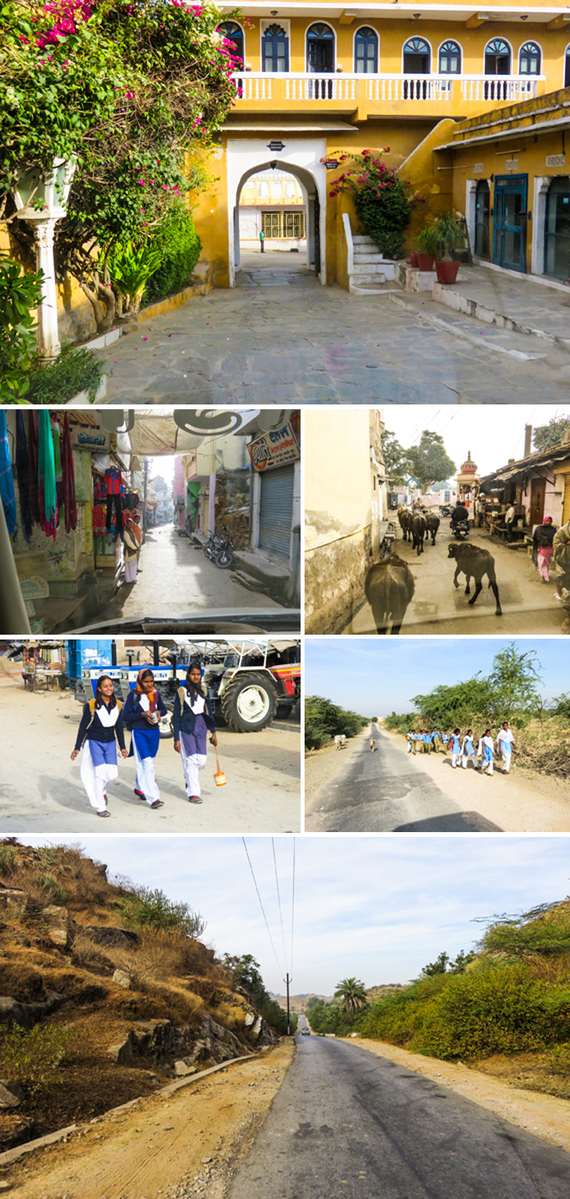 We were on narrow desolate roads for a long while, the landscape was flat with no outstanding features. As we got closer to Jodhpur, we merged with a large "super highway" with many sections under road construction. It was stunning to see women in bright saris and sparkling bracelets down on their hands and knees with brushes, doing some kind of work on the roadbed. Adil said they were most likely part of the government works program which employs anyone who wants a job for 100 days. (Some people think this is a concept our government should consider as an alternative to welfare! Couldn't help but think of House of Cards and "America Works"!)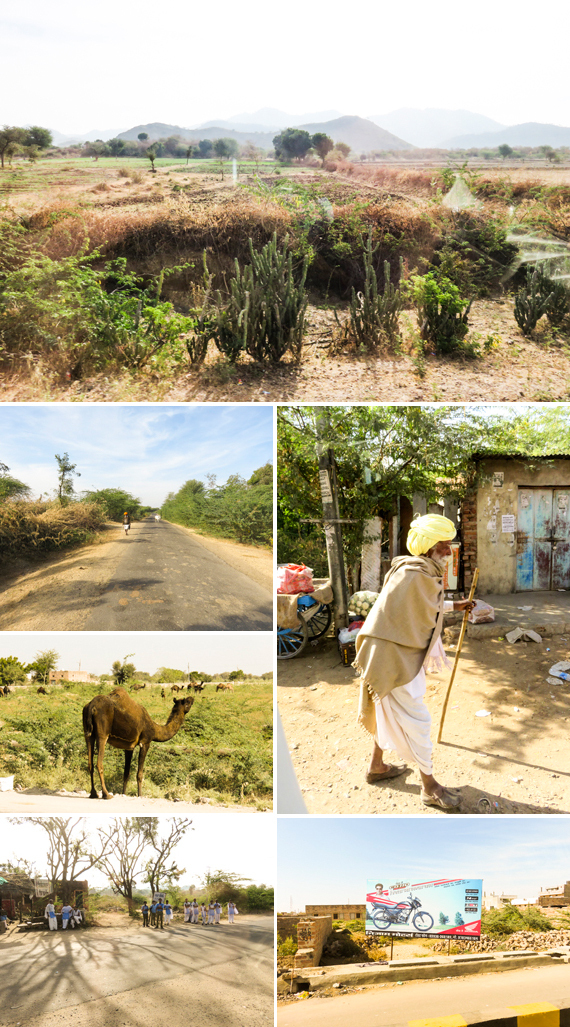 We arrived at our hotel, Ratan Vilas, by 1:00 and enjoyed a sunny lunch on the lawn. They have excellent food here! I've given up documenting the dishes we've been eating, as we're sharing everything, so by the time I've put a spoonful or two of each dish on my plate, it's not particularly photogenic.
After lunch, Adil took us to Maharani Textiles, an enormous warehouse full of amazing everything! At first we weren't impressed with the small objects and statues near the entrance, but as we explored further, we saw huge carved doors, tables, chairs, benches, and statues. We were shuttled downstairs through tunnels of fabrics stacked from floor to ceiling, led into a small room and invited to sit on cloth-clad benches against walls of stacked fabrics. One of the six sons that runs the business proceeded to give us his full on sales pitch while pulling out examples of their king size duvet covers, quilts, and bedspreads with intricate handiwork and detailing. Each one was more amazing than the next and the prices were incredibly low by U.S. standards. How could we resist? And then came the scarf presentation (as if we hadn't already accumulated quite a few gorgeous scarves – we were about to get more – "because these are even more beautiful than any we've seen before"!)

Thank goodness our traveling companion, Leonard Levitan got a few pictures here, because I was too captivated by the merchandise to photograph anything! Needless to say, they are shipping home a beautiful "patchwork" bedspread, and some gorgeous Pashmina scarves that I couldn't live without.
And just in case we hadn't had enough opportunities to shop, we drove into the heart of the city to the bazaar which was in full force with throngs of people shopping for their dinner, getting their shoes repaired, and picking up various odds and ends needed for daily life! We loved the spice shop M.V. Spices where our host prepared a special Masala tea for us, and of course we all bought some great curry spice blends and teas to take home.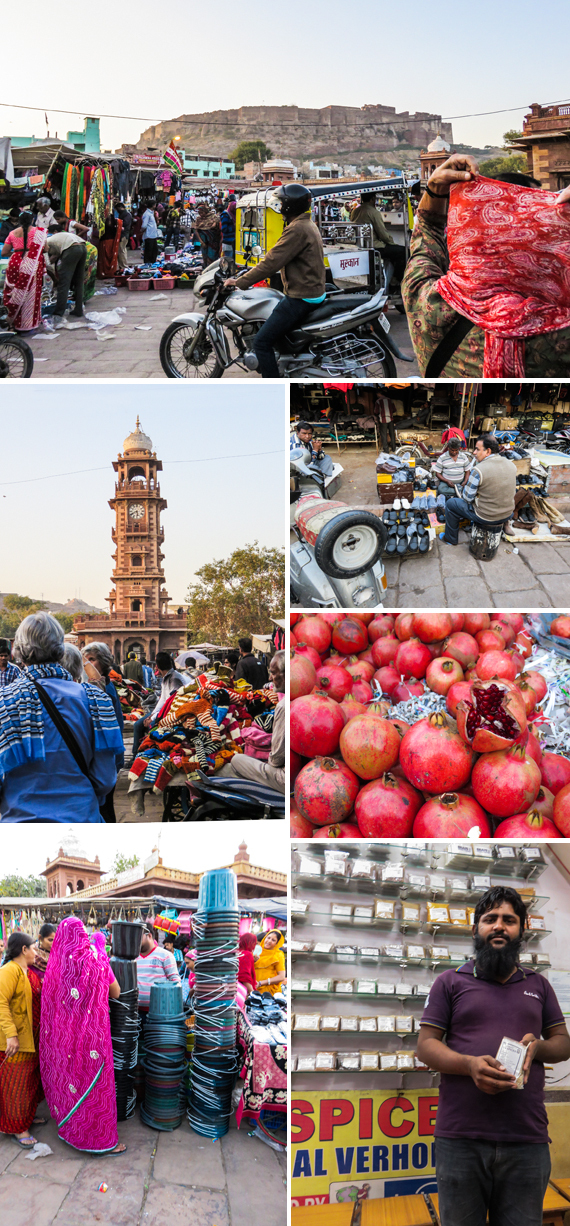 Between the driving, the bazaar, and shopping, we were bushed and opted to dine at the hotel enjoying another great meal amidst the three large fire pits spread around the lawn. Tomorrow we will explore the impressive Mehrangarh Fort, so come along with me for another day of adventure!
Mary Anne Erickson is an artist who has been documenting the demise of the American roadside culture for over 30 years in paintings and photography. Her work can be seen at www.vanishingroadside.com
Source: Huff Post