By Cecilia Alvear and George Lewis
New problems were reported Wednesday as salvage crews try to deal with the freighter Floreana six weeks after it ran aground in Shipwreck Bay on San Cristóbal Island. Efforts to pump contaminated water to a barge on Wednesday, March 11 failed, according to Carlos Mena Páez of Radio Encantada.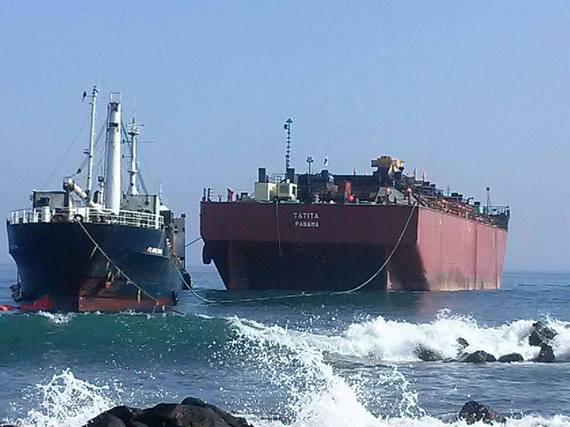 Carlos Mena Páez/Radio Encantada
A barge attempts to pump polluted water off the grounded freighter Floreana
Posting on his Facebook account, Mena reported that due to high waves, a cable between the freighter and the barge broke and the pumping had to be halted. The Floreana still poses major concerns for officials worried about the fragile habitat of the Galápagos and interruption of supplies to the islands.
In the past nine months, two other ships that ply this route have been lost: The Galapaface I that also ran aground in the same area in May 2014 and the San Cristóbal that sank off the Ecuadorian mainland in November 2014.
In a press release dated March 5, the Galápagos Emergency Operations Committee (COE) expressed "its concern at the delay of actions both for the owner of the stricken ship and the salvage company." After all this time, the statement said the owner "has not yet been able to remove all the garbage and polluted water remaining in the ship's hold."
.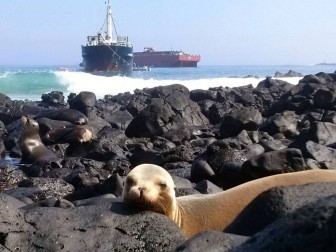 Carlos Mena Páez / Radio Encantada
A sea lion on the rocks enjoys the sun as the failed pumping effort plays out in the background.
Since the grounding of the Floreana on January 28, people in Baquerizo Moreno on San Cristóbal have complained of foul odors emanating from the oceanfront in the area. Some speculated that it was due to the poor condition of the city's drainage and sewer system but the press release explained that the cause is "the presence of hydrogen sulfide as a result of the decomposition of organic matter" on board the Floreana.
After the failed pumping effort, people took to Facebook to complain:
"INTERNATIONAL EMBARASSMENT," wrote one user. "WE ONLY PRAY THAT THE WAVES DON'T BREAK UP THE SHIP AND THE PUTRID WATERS WE HAVE HAD TO SMELL FOR DAYS DON'T FOUL OUR BEACHES!!!"
Another user wrote: "Don't the crews know that it is possible to predict strong waves and high tides?"
A third comment: "There is only one word to describe this: INEPTITUDE!"
The crews have to wait for the tide to recede in the coming days before the pumping can resume. According to a statement from the COE, the fetid gas is concentrated in the hold of the Floreana and poses practically no risk to human health.
Among other measures, the Emergency Operations Committee threatened the operator of the Floreana and legal representatives of the company Galapagueña Corp. with legal action if they don't move forward with the salvage effort, being handled by the company T & T Salvage.
The COE is also ordering the owner of the Floreana to appoint a permanent legal representative in Galápagos to take responsibility to attend to citizen complaints and to properly administer the salvage process.
Source: Huff Post