It's been a long time since 1980. I remember it well. It was the year when the Phillies won the World Series for the first time in their 97 year history. Me and my third grade friends had to walk the streets with garbage bags and pick up empty cans littering the streets. It was also the year that began the millennial generation, according to Time Magazine.
It's hard to believe, but the first millennials turn 35 this year this year, old enough to lead companies, departments, and movements. The youngest millennials, placed between 15 and 20 years of age, are rapidly finishing their schooling and entering the workforce.
Yet for some reason, we like to minimize the children born in the millennial generation. "Oh those millennials, they all want access and transparency and responsibilities that they don't deserve. And God forbid if you give them something to do that is not wired on the Internet."
This kind of attitude is everywhere in real life, and in the media. This attitude proliferates the workplace, too. For example, you hear executives complaining about millennial attitudes, that we need to teach millennials how to work.
Yet, I remember needing to be broken in as well. I am sure everyone who moved from academia to the workforce had to learn the ropes.
Adapt Rather than Push Away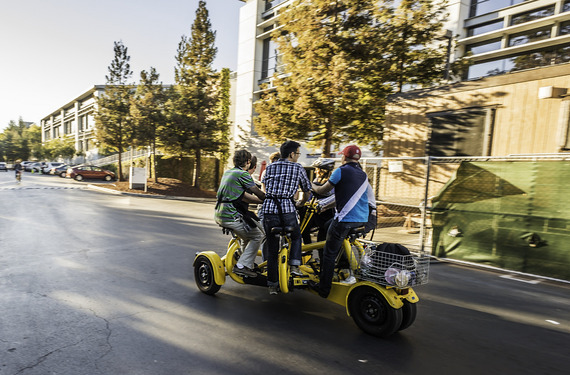 Most millennials don't expect Google-like workplaces, they just want open, fast, fluid and digital cultures, say authors Jamie Notter and Maddie Grant.
The us-versus-them attitude achieves nothing more than separation. And that in turn creates a turning away from traditional corporate culture.
We need to embrace millennials and their not-so-new digital views if the workforce will adapt successfully to the 21st century. That means businesses must evolve to embrace millennial ethics if they want to successfully recruit the youngest and brightest talent, which now represents 1/3 of the non-retirement age workforce.
For example, corporate social responsibility (CSR) programs are often the make or break point for many millennials. According to the Case Foundation, 55% of millennials are influenced by cause work when making a decision to join a company.
Jamie Notter and Maddie Grant just published a new book Millennials Take Over that details the processes and culture that businesses need to adapt. According to the authors, successful companies, on the other hand, are shifting to embrace four key capacities that will drive the future of business: digital, clear (transparency), fluid, and fast. The book goes into great detail on how businesses transform themselves, and it comes at a critical time.
Most companies I deal with don't have this attitude of change. But as more Baby Boomers retire, and Generation X takes an increased role in the executive suite it will become apparent that competitiveness will demand evolution. The time is now to stop chiding millennials, and start embracing them and the digital ethos they bring.
What do you think?
All photos by Geoff Livingston.
Source: Huff Post