Sharing really is caring — just ask the patients involved in this eight-person kidney swap.
On Thursday, the donors and recipients of an eight-patient kidney exchange came together at Yale-New Haven Hospital (YNHH) to all meet for the first time in person, NBC Connecticut reports.
The surgeries took place at YNHH on March 3, and is the largest organ transplant of this scale ever to take place in Connecticut in such a short amount of time, the hospital said.
"All eight surgeries occurred on the same day and all procedures were deemed a success," Dr. David Mulligan, director of Yale-New Haven Transplantation Center, said in a press release.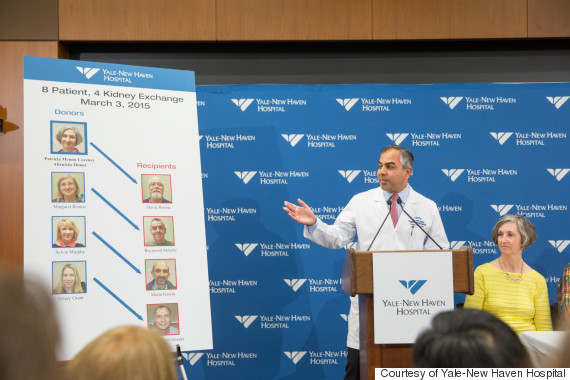 What makes this surgery unique is not just the amount of time and number of people involved in the exchange, but how the donors and recipients are connected. Six of the eight patients are married couples, all of whom donated to or received a kidney from another's spouse.
"It's kind of surreal, kind of like we're related now," one of the transplant recipients, David Rennie, told NBC Connecticut.
The chain of transplants began with 61-year-old Patricia Menno-Coveney, whom the hospital refers to as the "altruistic donor." Menno-Coveney donated one of her kidneys to David Rennie, of Shelton, Connecticut. Rennie's wife, Margaret, then donated one of her organs to Old Saybrook, Connecticut, resident Raymond Murphy, whose wife, Sylvia, gave a kidney to Mario Garcia, of New Haven. Garcia's wife, Hilary Grant, completed the exchange by donating a kidney to Edward Brakoniecki, of Stamford, Connecticut.
Initially, Margaret Rennie had offered to be her husband's donor. But when her kidney proved to be incompatible for David, a computer system at the hospital found her organ to be a match for Raymond Murphy. David then received Menno-Coveney's kidney. The same system found matches for the other patients, the Hartford Courant reports, thus began the intricate exchange of transplants.
The surgeries took place at the start of National Kidney Month. As of September 2014, there were 123,175 people waiting for lifesaving organ transplants — 101,170 of them for kidneys, according to the National Kidney Foundation. Until March 3, Brakoniecki was one of those people, waiting five years before finding a donor. Now, less than two weeks after surgery, Brakoniecki and the other seven patients are feeling healthy and on the way to recovery, he told the Hartford Courant.
"Every day I'm stronger and stronger," he said.
Like Us On Facebook

Follow Us On Twitter
Source: Huff Post