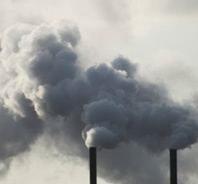 As the 34 member countries of the Organization for Economic Cooperation and Development (OECD) met in Paris last week, Oil Change International released a new report with a shocking revelation. Not only has export credit agency (ECA) financing for coal by OECD countries increased, these ECAs financed nearly one-quarter of all new coal development outside of China between 2005 and 2012.
What is an ECA? ECAs are government agencies that support domestic business overseas. For example, an ECA like the U.S. Export-Import Bank (Ex-Im) uses taxpayer dollars to support overseas projects that then purchase goods and services from U.S. companies.
And Ex-Im has used a lot of our tax dollars to support overseas coal. In fact, the report reveals that the United States — together with South Korea, Japan, France and Germany — account for 92 percent of OECD ECA financing for coal power plants in the last five years. Sadly, the inclusion of the United States in this list is not a surprise to those who have been following Ex-Im's actions. The Bank embarked on a coal binge under current Chairman Fred Hochberg, with support for fossil fuel projects increasing exponentially.
But all that changed in June 2013 when President Obama announced an end to financing for overseas coal power plants in his Climate Action Plan. While some entrenched forces at Ex-Im continue to look for loopholes in the ban that would allow them to siphon money to coal interests, the historic action taken by President Obama has already changed the way Ex-Im operates, starting with the Bank's decision to reject a coal project in Vietnam.
The decision to end financing for overseas coal came after years of dedicated work to expose the devastating human rights violations at Ex-Im-backed fossil fuel projects, as well as damning evidence on the financial viability of coal. It also was the first domino in an ongoing series of countries and financial institutions committing to ending support for overseas coal, including the World Bank, the European Investment Bank, the European Bank for Reconstruction and Development, the Nordic countries, the United Kingdom, the Netherlands, and most recently, France.
With both the United States and France committed to ending ECA support for coal, two of the five top OECD ECA coal financiers are out of the game. Now it's time for the laggards, South Korea, Germany, and Japan to step up – and they know it. Japan's ECA, the Japanese Bank for International Cooperation (JIBC), has been bogged down by its support for the Batang coal plant in Central Java, Indonesia, which has been delayed for years due to locals refusing to sell their land to make way for the project.
Coal is deadly. Coal is outdated. And coal is a bad investment. A very small number of ECAs support the vast majority of projects worldwide and even that number is dwindling. It's time for the remaining nations — South Korea, Germany and Japan — to get with the times and get out of coal.
Source: Huff Post