If you love to hate bad movies, you're likely already on the beam with How Did This Get Made? Hosted by Paul Scheer, Jason Mantzoukis, and June Diane Raphael. This podcast set the standard for bashing crappy cinema. Usually, the episodes happen in the dank depths of an Earwolf Productions studio but occasionally, like this week, it's a LIVE event and the derision rises to new levels with the live audience to cheer it on.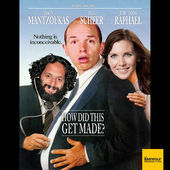 Regular Raphael is off this show but is amply replaced by guests Paul F. Tompkins (The Paul F. Tompkast, Superego, zillions of podcast guest appearances…) and Nate Corddry, host of the Reading Aloud podcast.
The movie is 1999's Lake Placid, a laughless (and horror-less) send-up of the horror movie genre. Scheer and the others have a raucous heyday ripping the movie to shreds. Starting with the emotionless delivery by star Bill Pullman and the reading of stage directions-as-lines by co-star Brendan Gleeson, to Bridget Fonda's know-nothing scientist and Oliver Platt's puka-shelled "monster sighting collector", the cast can't catch a break from the crew of sharp-shooting comic snipers.
Each remembered horrible moment sends everybody scrambling to pile on with their take on the misery that is this film, with extra-special focus being reserved for Betty White's foul-mouthed-giant-crocodile-feeding recluse.
If you're a fan of Lake Placid, I dare you to mount a sensible defense against this show's hilarious onslaught. And yet, I am strangely driven to see it again…
—
Podcasts I'm also listening to this week: Bill Burr's Monday Morning Podcast and The World of Mindshaft – Story #2: A Grave Mistake
—
This review originally posted as part of This Week In Comedy Podcasts on Splitsider.com.
— This feed and its contents are the property of The Huffington Post, and use is subject to our terms. It may be used for personal consumption, but may not be distributed on a website.
Source: Huff Post