The "hot new" streaming video app Meerkat took the social media and digital world by storm last week. Whether or not it continues to take hold, its success offers insights on what works and why.
Meerkat is a mobile and social media app first, and this separates it from many earlier streaming video sites. Ustream, Livestream and even giant YouTube never leveraged the power of social networks and social media engagement. Matt Mazzzeo calls the Meerkat experience "concurrency."
"Meerkat is really cool. Maybe we'll use it again. We'll see." — Streamcaster Tim Pool @Timcast
Meerkat is different. It took the strength of mature Twitter social connections and moved the conversations into what some are calling "intimate" and user-defined spaces. Thought leaders, Internet celebrities, and media companies are falling over each other to race to Meerkat and rank on its enticing leader board.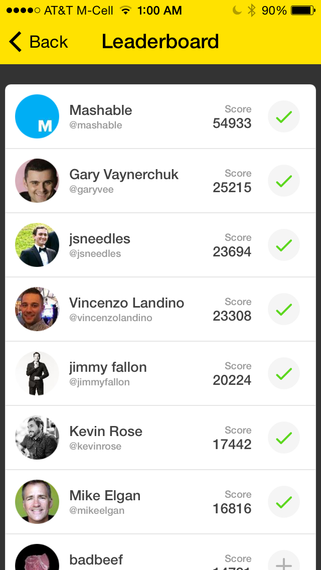 Marketer Gary Vaynerchuk's March 2 tweets and streaming from his New York office first alerted me to Meerkat soon after its launch. The influencer had 285 viewers. I downloaded the app and did my own Meerkat the next day at our monthly PRSA Nebraska luncheon. Five viewers watched some of our speaker's presentation.
By March 6, Brian Stelter of CNN and David Armano of Edelman PR were among those on my Twitter feed trying Meerkat.
Meerkat says its rules are simple: Comments, re-streams and likes (hearts) appear on a user's Twitter feed. Re-streaming a live video to followers happens in real-time as a tweet, and only the user may save the video. Meerkat says, "Your own streams can be kept locally on your phone (or tablet), but never on the cloud."
By Saturday, March 7, I used Meerkat to stream the University of Nebraska at Omaha's first hockey goal of a game that night. I was home in time to see a Meerkat stream of a user watching Saturday Night Live and commenting on it. The next night, I happened upon the Secret Penguin account at a New York dinner showing Meerkat to someone and noting that I was one of three in the audience.
At the same time across the country, Musa Tariq's San Francisco dinner party attracted 80 Meerkat viewers, in part because of some nice live music.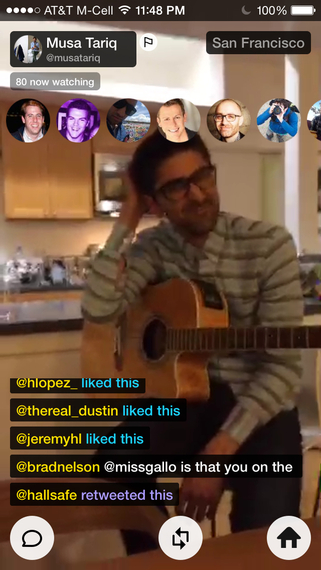 Along the way, our UNO Social Media Lab and the Social Media Research Foundation's NodeXL social network analysis tool allowed us to visualize the growth of the Meerkat app and the influencers behind it.
On Monday, March 9, I found Brian Stelter playing a violent video game in front of 115 Meerkat viewers. The next night, I was one of 11 Meerkat viewers, as local TV news anchor Amy Wood offered viewers a behind-the-scenes look at the late evening news. That same night, David Armano was back, as 15 of us watched date night with his wife.
That same night, I started to see streams from Austin, as people convened for the annual South-by-Southwest (SXSW). As Twitter had done years earlier, Meerkat was about to win the week.
Meanwhile, Gary Vaynerchuk attracted 354 Meerkat viewers, as he waited for a flight from Los Angeles back to New York. He flipped his phone camera and commented on people at LAX and on the airplane.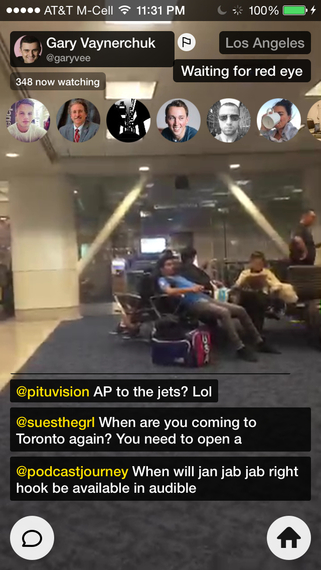 David Armano was at SXSW by March 12 with streaming interviews from a bar. At the same time, the BBC was the first news organization to stream an important event — the Ferguson, Missouri prayer vigil and rally in front of police headquarters. I grabbed a screen shot and tweeted a photo of a "Black Lives Matter" sign and the protesters, and this was extensively re-tweeted and then mentioned in a Meerkat "15 Days In" post on Medium.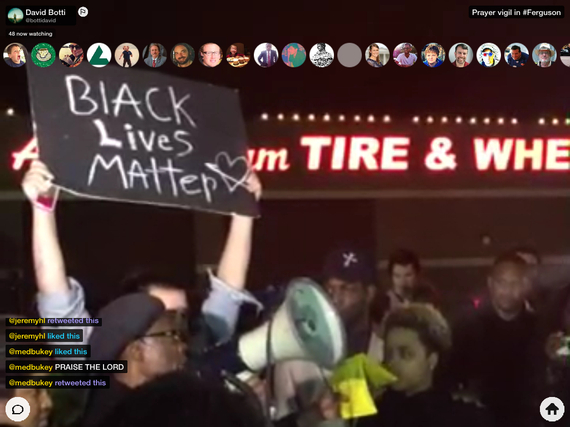 Since the early days of the app, I've seen individuals in their homes, an Uber driver, streams from parties and SXSW panels, an artist streaming while he worked, a young couple talking about their marriage, a business talk show (Jeff Needles was third and rising Wednesday on the leader board!), and a pizza parlor owner and his friend in Toronto.
By far, the SXSW Meerkat winner was Mashable, which hosted a #Mashbash party and featured extensive interviews with fans. Meerkat had another boost when late night TV host Jimmy Kimmel used the app from SXSW.
In what may have been the most informative Meerkat to date, platinum and Grammy Award winning recording artist and start-up angel investor Chamillionaire joined venture capitalist Mark Suster for a conversation that lasted more than one hour.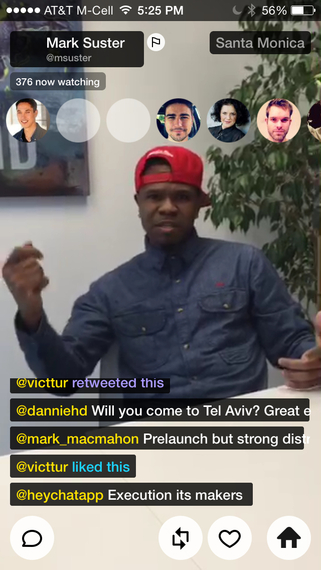 Meerkat is barely three weeks old now, but there are some key lessons:
• Think mobile and social first because these devices are ubiquitous and always with us.
• Start with influencers, thought leaders and celebrities to gain traction.
• Engagement happens around events because social media is about being social and interesting. Audience size is no longer as important as social network structure and long-term relationships.
• Entertainment drives interest. Music, comedy and engaging conversation all may attract audiences, but watch for video privacy and ethics issues.
• Social media works best in real-time with unique personalities and content. Interactive micro-broadcasting video has a future in building engagement.
No one can know if Meerkat will be adopted as a massive and sustainable social network, but the lessons from its launch and growth are worth learning.
Source: Huff Post