It's finally Spring! Parents of young children can finally get out of the house with their kids and their strollers. As a Mom of four, I've owned an embarrassingly large number of strollers to suit the different phases of motherhood and different needs. I've listed below what I learned to look for in different strollers with examples of each type in an effort to simplify the process and to save time and money.
All-In-One: For many parents, the smart move is to go with a stroller that can last from birth through toddlerhood and is a jack-of-all trades. Strollers in this category won't be the biggest or the lightest, but going in-between will serve you well. The Armadillo Flip is one of the many Mamas & Papas Armadillo strollers that do this job well. The Armadillo Flip has many features found in larger strollers, such as a lie-flat option for newborns and naps and reversible seat, but is narrow enough to take shopping or on the subway and is tall enough to take you through the toddler years.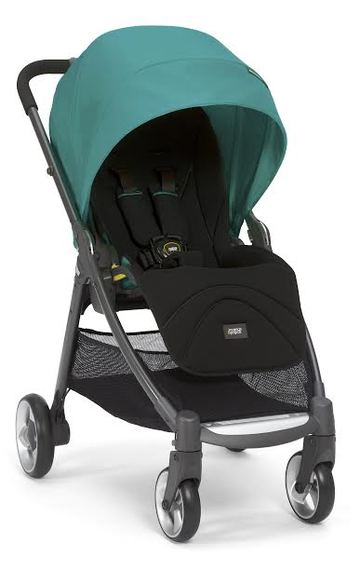 The Armadillo Flip, one of the Armadillo strollers that are good all-in-one options
Quick Trips with Baby: If you spend a lot of time getting in and out of the car a standalone infant car seat frame is an affordable and smart investment. Infant seat frames are incredibly lightweight and most have a large basket plus parent-friendly features like cup holders and a spot for a cell phone. BabyTrend is a good choice since it fits nearly every infant seat available.
Double: If you have twins, two children or are considering having a second sometime, you want to consider a stroller that can be converted to a double. An inline double stroller is a great choice for maximum adaptability as side-by-sides are difficult to maneuver. City Select is an example of a stroller that can easily be used as a single or double and that has multiple seating options. Thinking ahead can save a lot of money in the long-run.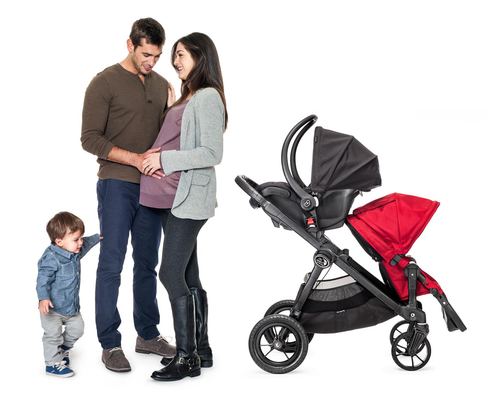 The City Select is a great choice that can easily be used as a single or double

Add-On: If you have an older child that doesn't always need to ride in a stroller, but occasionally needs to hitch a ride an inexpensive option is a ride-on board that attaches to the back of your stroller and folds-up out of the way. The Joovy Bumprider is a great solution that comes in different colors and is universal to fit most strollers.
Jogging: Sometimes Mom needs to do what it takes to stay fit, and that means taking baby along on her runs. To make sure you can run anywhere look for a model designed specifically for jogging. It's essential to find a stroller that is not too big to double as an everyday stroller and that you know will keep you baby safe, such as the Bob Revolution Pro, that has a handlebar break to prevent a runaway stroller on an incline, an ultra-padded seat to keep baby safe when there are bumps on road (or trail), and an adjustable handle to make sure you always have a good grip.
Lightweight: Eventually, it happens to everyone. The stroller you love with the combined weight of your growing child becomes a pain. An ultralight stroller is the perfect solution to the problem of what to do when you no longer need a large stroller, but your child still can't (or won't) walk everywhere you need to go. The Joovy Groove Ultralight is a great combination of a super-lightweight stroller that still has features you love about your bigger stroller, such as the ability to recline for naps on the go.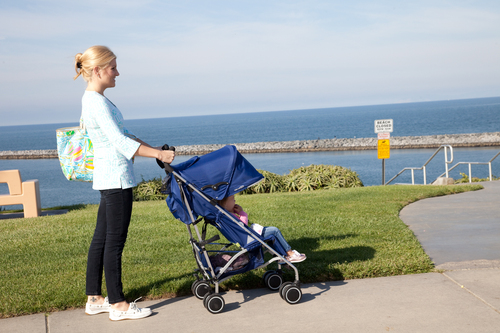 A lightweight stroller like the Groove Ultralight usually finds its way into every family's life.
Luxury: Sometimes baby has to have it all. Luxury strollers have come down in price in recent years, so they are not just for celebrity babies anymore. One of the hallmarks of luxury strollers is that the seats have the ability to move to adult-level, making it possible for baby to interact with Mom when she's pushing and for Mom to see the same thing as baby when baby is facing out. They are usually also packed with features that make life easy for parents, such as the Mylo 2, with one-handed steering, one-handed fold, a large basket and integrated sun and insect shades to help keep baby asleep.
Travel: When it comes to travel, it's important to look for a stroller that has a good combination of sturdiness and features to keep baby happy in a lightweight package. It's also helpful to have the ability to wheel it easily through an airport or train station. If you have an infant, look for a stroller that also has car seat adapters available. A good example is the Babyhome Emoticon, since it can recline, has shock absorbers and even a custom travel bag if you want to be extra cautious. This also fits the bill for a price point where you won't mind a ding or two.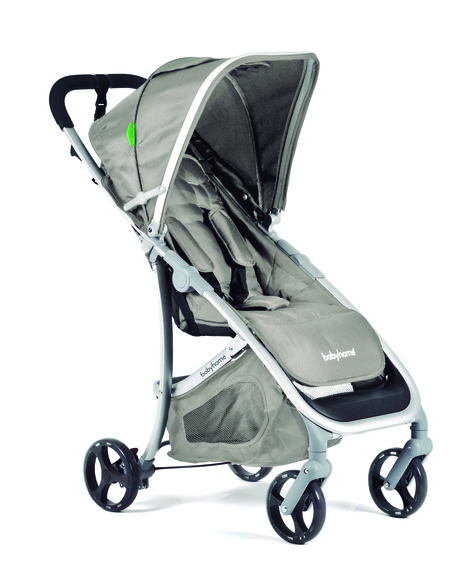 A good stroller for travel, such as the Babyhome Emoticon, is a must for getting around easily with baby
City Stroller: City families need a stroller that can handle long walks and uneven sidewalks, but isn't too big or bulky to fit through narrow aisles or withstand a few trips on the metro. City dwellers tend to need quick everything so a stroller that easily converts to an infant seat frame or has a quick release for napping is essential. A stroller like the Britax Affinity is a nice choice that doesn't require adapters for car seats making change-outs of seats easy. It also has air-filled tires that city families should look for to handle curbs, uneven sidewalks and the inevitable need to haul the stroller up stairs and an add-on stroller board so can add-on another child.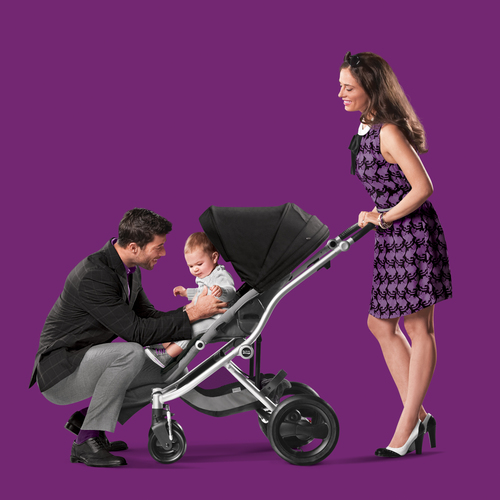 The Affinity is a great city stroller
All-Terrain: Anyone who has lived through a snowstorm with a baby or who has tried to push a stroller on a hike will appreciate a true all-terrain stroller. A good all-terrain stroller will not be small or light, but will have a sturdy chassis and three large air-filled tires. The ability to lock the front wheel is a must to prevent swerving over uneven terrain. Mountain Buggy's Urban Jungle is great choice that has stood the test of time. It can also easily function as a day-to-day stroller since it has features, like a deep recline, that you need when heading back to everyday life.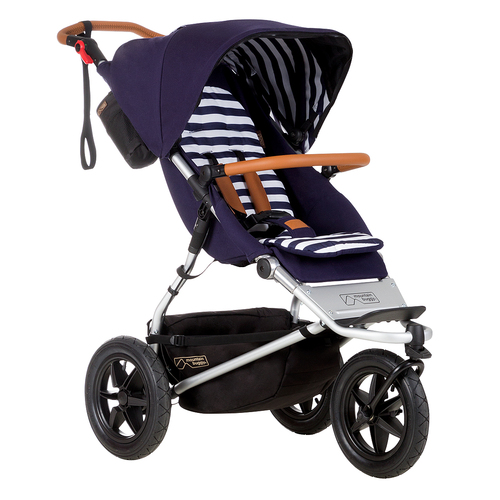 An all terrain stroller like the Urban Jungle will have large wheels with a front wheel that can lock. Some are cute enough to also use as an everyday stroller.
Value: Who doesn't love a bargain? For the best value, look for a travel system that includes a stroller with multiple seating options and a car seat. These systems are a good bet for families who may not need the sturdiest stroller around, but who will still use their stroller frequently and for a number of years. The Baby Jogger Vue Lite is a fantastic all-in-one system that has an umbrella fold, can be front or rear-facing and includes a car seat and adapter. This is also a great option for public transit, especially if you go from metro to taxi.
Source: Huff Post