<img alt="2015-03-16-1426532122-2723979-Nevermore.jpg" src="http://images.huffingtonpost.com/2015-03-16-1426532122-2723979-Nevermore-thumb.jpg" width="190" height="250" style="float: right; margin:10px"
Edgar Allan Poe, the early 19th century poet and author, was a tragic, but gifted figure. His literature channeled the macabre. "The Raven," a poem about a distraught lover's descent into madness, made him a household name. He also created the first detective story, while penning dark tales like "The Tell-tale Heart" and "The Fall of the House of Usher."
Murder and revenge were his province — terror and anxiety his forte. Nevermore – The Imaginary Life and Mysterious Death of Edgar Allan Poe, an off-Broadway musical at New World Stages, is a wonderfully creepy and mesmerizing look at Poe's life, revealing the sad inspirations for his work.
Expertly written, directed and composed by Jonathan Christenson, with incredibly imaginative production design by Bretta Gerecke and sound design by Wade Staples, this is a must-see before its March 29 closing. It's a bit like watching a Tim Burton movie come alive — a stylized production with an in-sync cast that elevates Poe's tragedies to an eerie art form.
Beth Graham and Garrett Ross were terrific in several key roles, so is Gaelan Beatty, Shannon Blanchet, Ryan Parker, Lindsie VanWinkle and Scott Shpeley. (Rob Morrison was aces as Edgar in the production I saw.)
Born in 1809, Poe's life is marked by loss. His father deserts the family, his mother dies young and he is separated from his beloved siblings. The Allans take the orphan in, but it's not long before hardship ensues. It's fair to say that Poe, who strove to earn a living as a writer at a time when wages were pitifully low and copyright laws nonexistent, was cursed by ill fortune.
What's striking about Nevermore is that it captures Poe in Poe-like fashion. It pays tribute to his tormented life, explains the genesis of his most beloved works, while delivering an original, riveting set piece.
Separately, the revival of the Broadway madcap musical On the Twentieth Century is just great fun. The 1932 screwball comedy is augmented by art deco-divine costumes by William Ivey Long and sets by David Rockwell. And you can't beat book and lyrics by the always-sassy Comden & Green, who highlight a wonderful score by Cy Coleman.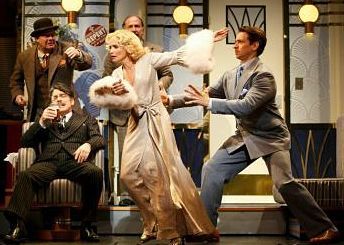 The story concerns a down-on-his luck theater impresario Oscar Jaffee (Peter Gallagher) on the train from Chicago to New York. Financially imperiled and desperate for a hit, he schemes to lure Lily Garland (Kristin Chenoweth), his former protégé turned Hollywood star, back to Broadway.
The fact they aren't speaking doesn't faze the indefatigable Jaffee, though it often exhausts his press agent (Mark Linn-Baker) and general manager (Michael McGrath). Lily, accompanied by her boy toy (a cute Andy Karl), is a starlet with vanity but street smarts. Jaffee, in a series of fast-paced, think-on-your feet escapades, has to woo Lily back.
Happily, the chemistry, like the splashy slapstick, clicks.
Throw in a kooky religious publisher (Mary Louise Wilson), some zippy dancers, coupled with Gallagher's crazed energy and Chenoweth's gift for both comedy and song, and director Scott Ellis delivers a fun, old-fashioned, adorable show.
Photo: Joan Marcus, On the Twentieth Century
Source: Huff Post