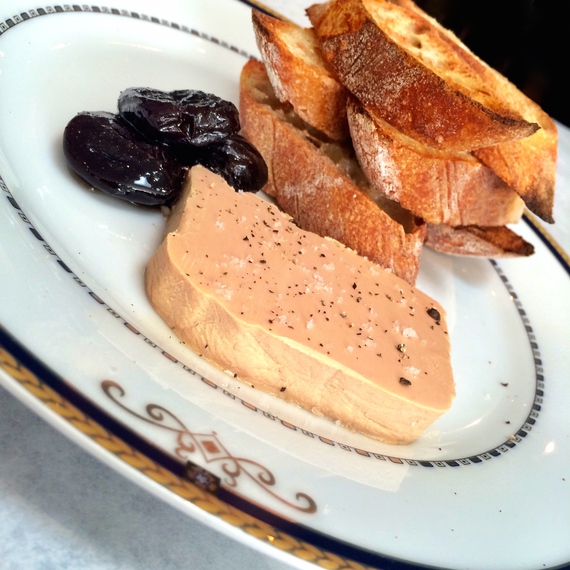 Ritualistic in Los Angeles, Sunday brunch inspires us to find quality midday meals across the city… preferably al fresco. Rarely returning to a spot more than once, we eagerly secured ressies at Terrine after they recently announced weekend brunch. The restaurant acts as the first solo enterprise of Bombet Hospitality Group, a partnership between restaurateur and local celeb Stephane Bombet and So-Cal Chef Kris Morningstar. Influencers continue to buzz about it, since its opening at the end of 2014. Upon our arrival, the buzz-factor was confirmed at an all time high when we spotted cocktail reviewer Caroline on Crack seated at the bar sipping drinks.
We also found Bombet present at Terrine the morning we brunched. He breezed in and out of the indoor-outdoor floor plan pouring water, clearing glasses, chit-chatting with diners. It was apparent he feels right at home in the restaurant he designed with managing partner Francois Renaud, formerly of Tasting Kitchen. Perched on Beverly Boulevard near the Beverly Center, the self-described brasserie boasts an airy ambiance complementing its California-inspired cuisine.
Brunch highlights were first ignited by barkeep Ryan Wainwright's refreshing cocktails; the "Gordon's Cup" balanced Plymouth Gin, lime and cucumber perfectly. With California's foie gras ban lifted, Terrine presents a signature smooth-as-butter Terrine de Foie Gras with sour prunes, and a baguette. That hors d'oeuvre alone will have us returning to the restaurant for dinner in the near future.
— This feed and its contents are the property of The Huffington Post, and use is subject to our terms. It may be used for personal consumption, but may not be distributed on a website.
Source: Huff Post