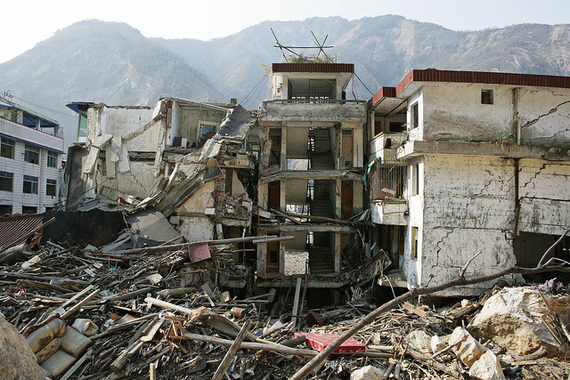 Photo: World Bank/Wu Zhiyi
By Margareta Wahlström*
The world owes a debt of gratitude to Japan for hosting a world conference on disaster risk reduction (www.wcdrr.org) for a third time.
Japan occupies a special place in the recent history of human development because of its early support for the idea that reducing disaster risk is essential if we are to make progress on sustainable development.
This principle has been central to Japan's own social progress and economic development despite being exposed to all the major natural hazards that one can think of including floods, storms, earthquakes, tsunamis and volcanic eruptions.
Japan's legacy is obvious in the titles of ground-breaking texts such as the 1994 Yokohama Strategy for a Safer World, and the Hyogo Framework for Action adopted ten years ago in Kobe, less than 600 kms from Sendai, where thousands will gather this weekend to debate its successor.
The Yokohama and Hyogo agreements were milestones in catalyzing national and local efforts to reduce disaster risk and their guidance has saved many thousands of lives.
This has been thanks to better preparedness, early warning systems and weather forecasting, as advocated for in the Hyogo Framework for Action. Just in this last year we have seen countries like India and the Philippines bring millions of people to safety from major storm systems.
Again now in Sendai, a city recognized as a role model for resilience by the UN Office for Disaster Risk Reduction, Japan is helping to give birth to a new framework on disaster risk reduction.
The Sendai agreement will guide our efforts to reduce mortality and economic losses over the next ten to 15 years.
It captures the learning of the last ten years since the Indian Ocean Tsunami which claimed over 227,000 lives.
Since then the world has lived through two more mega disasters each claiming over 100,000 lives, Cyclone Nargis in Myanmar and the Haitian earthquake.
What these events tell us is that disasters always have the possibility to take us by surprise. While it is a good thing that we improve our capacity to manage disaster events, it is much better if we can eliminate the underlying drivers of disaster risk.
That is also why the agreement adopted in Sendai is so important for the entire post-2015 development agenda.
This new framework for disaster risk reduction will recognize clearly that low- and middle-income countries suffer enormous setbacks from climate and geophysical disaster events.
It will put the spotlight on making progress in reducing the drivers of risk, which include climate change, poverty, inequality, poorly planned urbanization, the decline of protective eco-systems and a lack of risk governance.
Hopefully, it will also contain clear and measurable targets which can be important drivers of change.
Sendai is set to provide us with a platform from which we can make real progress on the other mutually supportive elements of the post-2015 development agenda including development financing, new sustainable development goals and climate.
Japan's own learning and shared experience has inspired much of the debate which has led to this World Conference where we anticipate the adoption of this new framework for disaster risk reduction.
_________________
*Margareta Wahlstrom is the head of the UN Office for Disaster Risk Reduction (UNISDR) and the UN Secretary-General's Special Representative for Disaster Risk Reduction
Source: Huff Post