Speaking on a panel at indie game convention PAX East in 2012, Jenny Haniver recalled what happened one time when she tried to tell a male gamer about a nearby adversary. "Shut up, bitch," he said over and over again.
Haniver runs Not in the Kitchen Anymore, "a website which documents and examines her experiences as a female gamer through a collection of transcribed audio clips recorded while she games online." Like many other women, she's frequently harassed by male gamers because of her gender and has been for years.
That's the arena Shannon Sun-Higginson steps into with "GTFO," which is set to debut at this year's South By Southwest Film Festival. Put into development long before Gamergate brought the issue of misogyny in gaming into the national conversation, the film details the casual abuse perpetrated by, in Sun-Higginson's words, a "vocal minority" of predominantly white male gamers who are fearful of losing their place within the industry.
"Gamergate is just one example of something that's just a much bigger and, unfortunately, common and systemic problem," Sun-Higginson said in an interview with The Huffington Post. "I think a lot of outsiders saw Gamergate as this weird, crazy thing that happened. But for people who are experiencing it daily, it doesn't seem like a fluke incident."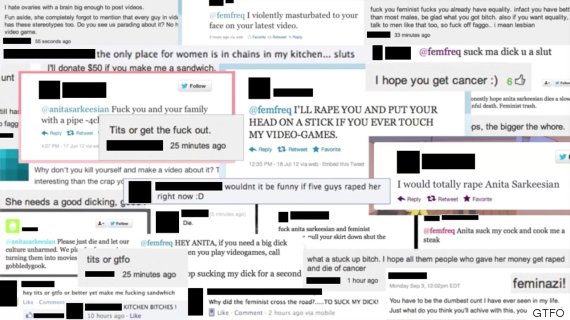 An example of the harassment as captured in "GTFO."
Using some funds raised on Kickstarter and her own camera, Sun-Higginson was inspired to make "GTFO" after watching a 2012 video of gamer Miranda Pakozdi taking abuse from Aris Bakhtanians during a Capcom sponsored reality show.
"You can see it getting progressively worse and worse," Sun-Higginson said of the video. "I'm not a gamer, so when he sent that to me I was just shocked — like a lot of people would be. I wanted other people like me, who are not gamers, to know that this is happening."
For those non-gamers, or those who haven't followed Gamergate, much of the abuse shown in "GTFO" — including threats of rape and death — is appalling. It's a world many don't know exists, which is why Sun-Higginson's film, one of a few that will tackle the issue in the coming year, is so important.
"I hope 'GTFO' is the start of that conversation," Sun-Higginson said. "I just hope some gamers who watch this movie can come away and say that maybe the next time they see this happen, they'll stand up for someone else. I'll tell my friend I won't play with them he if yells hate speech at everyone who sounds different from him on xBox Live. Other than wanting non-gamers to see this problem exists, I think another really important goal for me is to have people thinking about this in a deeper way. Rather than just looking at it like a freak show."
More on "GTFO" can be found at the film's website. This year's South By Southwest Film Festival runs from March 13-21.
Source: Huff Post