The Irish Pub is a sacred institution, found the world round. From Nepal to Honolulu, this Celtic drinkery diaspora is Ireland's gift to the world. From shamrocks to beef stew, leprechauns to limericks, modern America has long been enchanted with Celtic customs and Irish culture. Therefore, it's no surprise that the U.S. has quite the offering of Irish pubs. We poured our heart and soul (and lots of Jameson) into narrowing down our list of the very best Irish pubs in America. So, without further ado, I present "The Fighting Irish: The Ultimate Irish Pub Face-Off":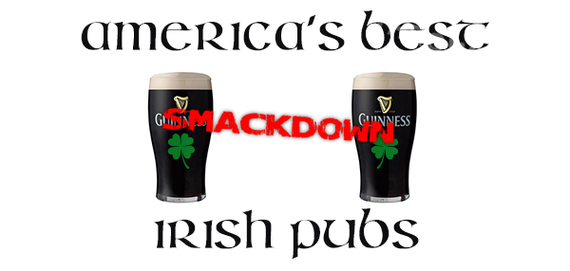 NOTE: If we're missing your favorite please sound off in the comments. And we'll discuss adding it to the list over several pints of Guinness.
West Coast Showdown
The Napper Tandy vs. The Plough and Stars (San Francisco)
The Napper Tandy lies in the heart of SF's Mission District and has everything you'd expect in a traditional Irish pub: Football matches, weekly trivia and all the Jameson your heart desires. They also have 2 for 1 margarita Tuesdays!
The Plough and Stars boasts being a "world-famous Irish Pub serving San Francisco since 1975…voted best Guinness in town!" What makes this Irish pub rock is they have live music almost every night of the week, from Irish fiddle to bluegrass, country to rock. What say you San Francisco? Did we leave out your favorite local? Let us know in the comments!
Tom Bergin's (Los Angeles)
A Los Angeles staple since 1935. Tom Bergin was a lawyer who decided he wanted to own a bar. So, he bought a liquor license (the second oldest in L.A.) and 80 years later the joint's still going strong. Hey, that would make a great sitcom.
Murphy's (Seattle)
One year after the eruption of Mt. St. Helen's, Seattle got her first Irish bar, Murphy Irish Pub. Some might say the volcano was an omen, preparing Seattlers(?) Seattlites(?) for its imminent arrival. Opened for nearly 30 years, Murphy's has since become a Seattle institution. The stage at Murphy's was used for the nationally-syndicated radio show, Sandy Bradley's Potluck, which featured blues, ragtime and traditional old-timey tunes. If you're heading there for St. Paddy's Day, you better get there early. Lines start to form around 10 a.m.
Kells Irish Restaurant and Pub (Portland)
Kells Portland is consistently ranked as the number 1 Irish restaurant and pub in all of America. It's been serving up delicious pub grub for about 25 years. They offer live music every night of the week, and during St. Patrick's Day they're known for their "Oregon vs. Ireland" boxing match. C'mon, that's pretty badass.
Midwest Mayhem
Galvin's Public House vs. Emmit's Irish Pub (Chicago)
Galvin's Public House is considered the Windy City's premiere Irish pub. Paul and Kathy Galvin opened Galvin's Public House in 2000. They hail from a long line of County Tipperary bar owners, and searched high and low along County Kerry's countryside for each item that adorns their pub. "The bar's black and yellow exterior colors were copied from the Galvin's Pub owned by Paul's uncle Aiden Galvin in County Clare. Adding to the familial tradition of the Irish pub, the fireplace was built by Kathy's uncle who is a master stone mason. The smaller stones set into the fireplace are from Kathy's parent's home in Ireland."
In contrast, we have Emmit's Irish Pub, which was opened in 1996 by a couple sexy firemen. What's cool about this property is that there are loads of secret escape tunnels underneath that were used by Chicago's gangsters of yesteryear. Not as family-friendly as Galvin's but pretty badass nonetheless. Plus, did I mention "sexy firemen"?
O'Malley's Pub (Weston)
O'Malleys is a bar, but it's a little different. You see, when you enter you proceed down a series of ramps that takes you into a massive limestone cellar. This cavern dates back to the Civil War. So, you're basically getting drunk 55 feet below ground. O'Malleys brews their own beer and offers live music. The one thing they don't offer is cell phone service.
Bubs Irish Pub (Germantown)
IrishBeerFinder.com has voted this the "Best Irish Bar in Wisconsin." They've got live music, dancing, food and, of course, beer. There are, in fact, over 15,000 square feet of space in this pub for you to get your Irish groove on.
John D. McGurk's (St. Louis)
McGurks' began as a humble, one-room pub, way back in 1978, also known as "The Disco Era" (around my apartment). Now, McGurks is 20,000 square feet of Irish goodness. There's nightly music and food that includes Irish favorites such as corend beef, bangers and mash, and bangers. There are four bars on site, and a 15,000 square foot outdoor garden.
The Old Shillelagh (Detroit)
A Dublin-raised retired Detroit police officer opened this popular local joint in the mid-70s. It's now entering its third generation as a family-run Motor City pub. During St. Patrick's Day it's become renowned for its epic tented party.
East Coast Rogues
McSorley's Old Ale House (New York City)
Meet New York City's oldest "Irish" tavern. Established in 1854, the East Village pub was one of the New York's last "men's only pubs." It finally admitted women after 1970. "No piece of memorabilia has been removed from the walls since 1910, and there are many items of "historical" paraphernalia in the bar, such as Houdini's handcuffs, which are connected to the bar rail."
Brian Boru Public House (Portland)
Maine's Brian Boru house was established in 1993, and is known for its delicious Atlantic cuisine, and as a frequent dining spot of the governor of Maine.
Patrick's of Pratt Street (Baltimore)
Patrick's of Pratt Street is considered America's oldest Irish pub. It's been continuously owned and operated since 1847. When the current owners took over the pub in 1999, they found a weathered photograph of the pub's interior dating to the mid-19th century. They then meticulously attempted to recreate the original interior. In the past decade this pub has accumulated loads of accolades, such as "Baltimore's Best Crab Cakes", "Baltimore's Best Irish Pub" and has been referred to by the New York Times as a "Jewel of the City."
Moriarty's Restaurant and Irish Pub & McGillin's Olde Ale House (Philadelphia)
Moriarty's Restaurant not only prides itself as "the perfect place to enjoy a beer in Philly", but they also have a menu that fuses traditional Irish fare with the deliciously diverse flavors of Philadelphia. I recommend hitting it upfor karaoke night. After a few Jamesons you'll be rocking out like your Axel Rose. But probably not as sexy.
McGillin's Olde Ale House is Philadelphia's oldest continuously-operated pub. It was first opened way back in 1860 and celebrated their 150th anniversary in 2010.
Monterey Pub (Pittsburgh)
This non-descript pub, tucked away in Pittsburgh's Northside, is as traditional as they come. Mahogany booths, locals, and as much Irish food as you can stuff your face with. What's cool is that this pub actually takes a lot of pride in their menu and have enhanced the traditional pub grub with a more modern take on Irish fare. For foodies, this joint is a diamond in the rough.
Doyle's Cafe and Brendan Behan Pub (Jamaica Plain)
Doyle's has been a popular local pub since 1882. Many illustrious Boston politicians have called Doyle's their "local" over the years. They offer everything from Irish beers to local craft brews, and since they're right next to Sam Adams Brewery, they frequently offer special styles of Sam Adams you can get elsewhere.
The Behan is Doyle's counterpart in Jamaica Plain. Be warned, there are no TVs here, so you're either gonna have to engage in some polite conversation and witty banter or drink your Guinness in silence. They do frequently have live Irish music, so at least you can go and not feel too awkward getting hammered by yourself.
Dixie Dubliners
McNamara's Irish Pub (Nashville)
McNamara's was established in 2010 by Sean McNamara. The pub is popular amongst locals and visitors. They have everything you're looking for in a pub, Irish food, music, booze and traditional decor. What makes McNamara's stand out is the emphasis they place on music. Being situated in Nashville, it's no surprise that live music is an important facet to most bars.
Johnnie Maccracken's (Atlanta)
Built in an old fire station, MacCracken's is most notable for its fire water.
Hibernian Restaurant & Pub (Raleigh)
This North Raleigh pub opened in 2013 and features a dark, woody interior and fireplaces where you can cozy up for a pint with friends or family. There's also an outdoor patio for an afternoon in the sun.
Dubliner (Dallas)
The Dubliner is an Irish-Texas bar owned by Peter Kenney, an actual Dublin native! The Dubliner is unique in that it not only serves up your typical Irish pub grub, but it also features tapas and Texas BBQ. During warm weather days enjoy a cold pint of Smithwick's outside in the beer garden.
Finn McCool's (New Orleans)
So, you're in NOLA, it's only customary to enjoy a libation in a rowdy pub, and Finn McCool's is just the place. A couple from Belfast moved to Orleans and opened this popular local bar.
Alright, your turn! What pubs did we miss? Leave your favorite in the comments and let us know why it deserves a spot on our list!
Source: Huff Post