By Kyle Edelman (PA)
EF Student Journalist
Without a stable environment, there is no life. Because of how much we take advantage of nature and its resources, the lasting effects of our actions will hurt us in the long run. Mankind is frequently unaware of the damages we are causing to the wildlife around us. With air pollution causing acidic clouds to mass removal of rainforests, the public is uninformed of the long-term effects our decisions have on the global environment.
While others ignore the threats of our environment, I am taking a stand. I hope not to solve all the wrongdoings of humans, but to help inform and educate teens of the madness that is looming. Our next generation of adults must pay attention to what is happening to our natural surroundings.
The EF Global Student Leaders Summit is magnifying my claims. I am currently writing to you from the beautiful country of Costa Rica, where the conference is being held this weekend. The knowledge of the prestigious speakers like Severn Cullis-Suzuki and Jane Goodall will help inform the new leaders of tomorrow in creating a safer and healthier environment.
Dr. Jane Goodall is a world renowned primatologist, UN Messenger of Peace, and international conservationist. Mostly known for her extensive research with the wild chimpanzees of Gombe Stream National Park in Tanzania, Goodall has also spent relentless decades promoting global conservation efforts along with animal welfare issues.
Severn Cullis-Suzuki is an environmental activist who is most well-known for her speech later dubbed "The Girl Who Silenced the World for 5 Minutes." At the young age of 12, Cullis-Suzuki spoke to an audience at the United Nations Conference on Environment and Development's Earth Summit in Rio de Janeiro. Her young voice and strong opinions on saving the planet for future generations truly captivated delegates from the UN.
At EF's Global Student Leaders Summit in Costa Rica, not only will students be fighting for change, they will also be meeting new people from all over the United States and Costa Rica. Nancy Weinheimer, another student attending the conference, said, "I believe everyone is truly united on Earth despite cultural and geographic differences. Therefore, it is important to understand and care for each other physically and environmentally."
Before this journey, students were invited to create a 90-second video challenge that identified local issues from their local communities. For instance, environmental concerns like the effects of road salt and fracking were addressed in my WeShare Video project. This assignment helped open my eyes by showing me the global significance of these regional problems.
A fellow student fighting for change, Azure Fernsler, a sophomore from Wilson High School in Pennsylvania told me, "It will be extraordinary to learn how we can help preserve our beautiful environment." She also remarked, "This conference will bring students together with one common goal: to help our environment."
As devastating as pollution is for our environment, it is worse for other living creatures like animals and plants. Constant trash dumping can lead to the extinction of species. Soda bottles and caps can cause internal bleeding for animals like sea turtles, dolphins, and other sea creatures. In the late 20th century, the population of wildlife dropped to an all-time low. This occurred because the citizens of the world were less educated about water pollution and ocean dumping. With more awareness from organizations, animals in the ocean and on land are thankfully growing in numbers. Costa Rica is the mecca for environmental change. With an influx of recycling and increased awareness of pollution, Costa Rica is highly developed when it comes to "going green."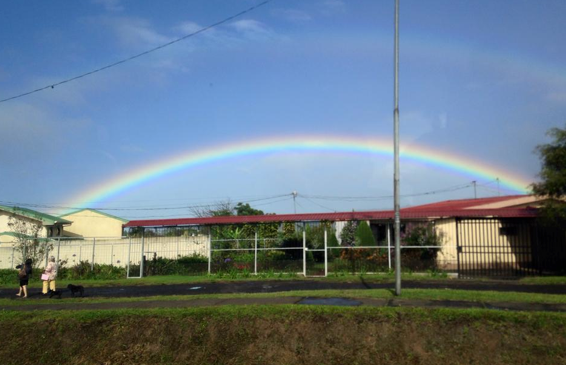 A natural rainbow being shown in the highlands of Costa Rica
In the small town of Tortuguero, Costa Rica, I witnessed a leatherback turtle laying eggs. As excited and extremely lucky as I felt, I couldn't help but notice how much the community rallied around this turtles life. Over 200 people showed up on the sandy beaches of Tortuguero to witness this life-changing event. Before the 21st century, sea turtles became almost extinct due to poaching and pollution. Like the sea turtle on the beach, this community came together to support wildlife and save the turtles for good.
We need more communities like Tortuguero in small towns around the world. Mankind could learn so much from such an unrecognized village. Respecting wildlife, following by example, and enjoying nature are just some of things our society can incorporate into its customs. I believe the EF Summit, WeShare projects, and the guest speakers are all striving to reach the same end goal– a world where our environment is valued and people are informed.
About the Global Student Leaders Summit Series
This post is part of a series produced by The Huffington Post and EF Education First, in recognition of the 2015 EF Global Student Leaders Summit in Costa Rica.
Throughout the next two weeks, you will hear from EF Student Journalism Interns detailing their experiences before, during and after the Summit. The internship offers a way for students traveling to Costa Rica to become even more engaged with their journey and gain real-time, deadline driven writing experience. During the Summit these students will be covering stories as they unfold and sharing their experiences through their writing!
For more information on EF Education First, click here.
Source: Huff Post