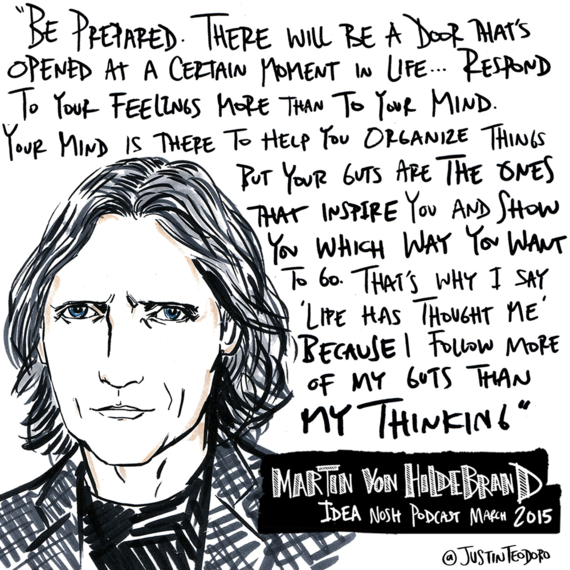 "You should meet Martin," my friend Randy said, motioning his head to the opposite end of the table from where we were sitting. "He's the real deal."
The day was December 14th, 2009 and a dozen or so of us came together at the dinner table to celebrate the birthday of anthropologist Wade Davis. It was unusual for all of us to be in one place, but the conversations and energy of the COP15 Climate Summit compelled us to come together in chilly Copenhagen. Martin von Hildebrand — a brawny man with a strong jaw and a wave of graying hair sat with a herculean quietude at the end of a long table opposite from where I was sitting. It wouldn't be until 4½ years later that I would get to spend some time with Martin in his home in Colombia to hear his story.
The promise of adventure and excitement first led Martin to the Amazon in 1972. In an interview with IDEA NOSH, he recounts that when he met many of the indigenous peoples, they had very little rights and were more or less indentured servants on rubber farms throughout the Amazon. Martin recalls when he first arrived in the small town of Mitú he met the Monsignor — or the head of the church. "I spoke to him about rights and the rights of the indigenous people to be themselves. Therefore I thought we had to respect indigenous cultures," says Martin. The Monsignor said, "Martin, the indigenous people are going to be assimilated into Western culture–you are simply going against history." Martin calmly replied back to the Monsignor and said, "I can't go against history because history is not yet written. We make history."
Martin's unconventional ideas and feelings drove him to go deeper into the forest and meet more indigenous groups. It was unusual for white people to travel to the Amazon — aside for the occasional missionary like the Monsignor or hard-nosed rubber baron — so when the elders of some of the indigenous groups asked as to what he was doing there, Martin said, "to listen to your stories." This, he says, is how the relationship with the 26,000 indigenous peoples he works with today was started.
It may be safe to say that over the past 40 years — since his first trip down the Amazon River basin, Martin hasn't had much time to reflect upon the significance of his work — or how his worked has changed the course of history. Even now having stepped back from Fundacion Gaia Amazonas — an organization he set up 25 years ago to protect the biological and cultural diversity of the Amazon rainforest — he finds little time for personal reflection. "The President of Colombia has expressed great enthusiasm for an idea I have been working on with my Brazilian colleagues," he says to me. "We would like to create a biological and cultural corridor right across the north of the Amazon Basin — from the Andes to the Atlantic."
This was the vision he presented to me when I went to Colombia this past March. As the sun started to wane on the horizon, he and his son, Francisco (Pacho) von Hildebrand, the new Executive Director of Gaia rolled out a giant map of South America on a table. "These are areas recognized by the government as indigenously-owned," Martin said pointing to some shaded regions — many of which were in his home country of Colombia. "And these green territories are ones set aside for conservation — like National Parks."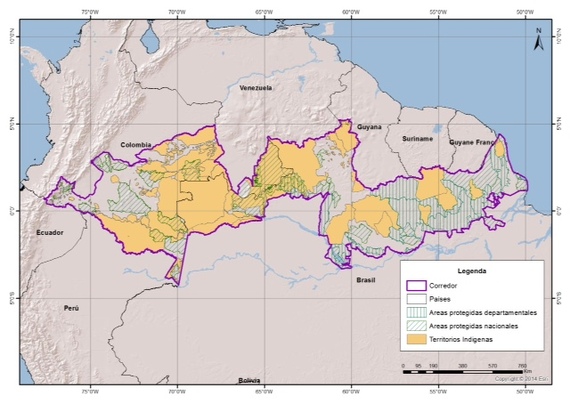 The proposed indigenously-owned corridor spanning across the Amazon Rainforest from the Andes in Ecuador and Peru to the Atlantic. Colombia already has 55 percent of the Amazon Rainforest under indigenous ownership. Map provided by: Fundacion Gaia Amazonas
Under Martin's quiet and confident leadership, Gaia — together with the indigenous people of the area — have secured 55 percent of the Colombian Amazon as indigenously owned (not including national reserves, which make it closer to 65 percent). As a result, Colombia now has the largest contiguous indigenous territory in the world — a total of 260,000 square kilometers–an area larger than the United Kingdom.
This 260,000 square kilometers in Colombia will contribute to 19 percent of the proposed indigenously-owned corridor of the Amazon, which spans over 135 million hectares. What is striking, however, when looking at the map, is how much of this land is already under indigenous leadership. "It's 80 percent done," assures Martin. "Thanks to a mosaic of indigenous territories and protected areas that we have been pulling together with our Brazilian partners during the last two decades." Colombia's current President–Juan Manuel Santos–who has been a staunch advocate for environmental and human rights in the country recently released that he will talk to his counterparts in Brasil and Venezuela in hopes to sign an agreement to create the corridor at COP21 in Paris this December.
I asked Martin why he and the country of Colombia — out of all countries — has had such political success when it has come to securing land, rights and the ability for indigenous people to live their own lives as they see fit. In his own quiet, considerate manner Martin pauses. "I ask myself the same question. I am sure there is an answer, but I can't see it clearly. Is it because Colombia has had so much violence and to counterbalance this we have put in place good laws and made good use of them — at least in the Amazon? Is it because I happened to be in the right place at the right moment? Is it because I started from the bottom in the maloca with the elders and worked my way up? Or perhaps it's because I am the son of an Irish Republican mother and an anti-Nazi German father that compels me to fight for the underdog. I don't know. I guess it's a little of everything and much more."
Martin attests that there isn't really a blueprint to follow, but "there are always chances" so when they open, seize the moment and be ready. Though he, Gaia and his Brazilian counterparts have been successful in helping secure so much land and rights for Amazon's indigenous people — it is not — what he says is their biggest accomplishment to date. "Our greatest success," he shares, "is how the indigenous people have recuperated their dignity and their pride to be themselves… I think that is the greatest achievement over these 40 years."
To be one of the million+ people to sign the petition in support of the Amazon corridor, click here.
To listen to more of the interview with Martin, listen on iTunes, IDEA NOSH or view below.
— This feed and its contents are the property of The Huffington Post, and use is subject to our terms. It may be used for personal consumption, but may not be distributed on a website.
Source: Huff Post