Nyasia is 8. My daughters are 6 and 7.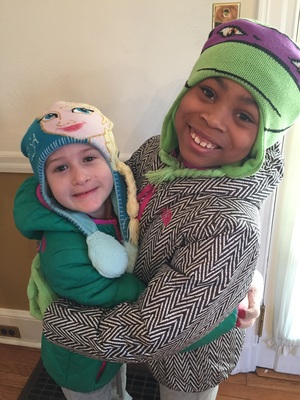 Most mornings after they wake up to my kisses and a silly morning song, Mia, Lily and I take the dog for a long walk while they ride their scooters. Together, we eat breakfast, maybe dance to some Taylor Swift, pick out snacks to pack for the school day and then, as a family (dogs, dad and all) we walk down our long, lovely driveway to get the school bus. We all hug and kiss and off they go.
For the past year, Nyasia has been waking up in a group home for children who have experienced the worst kind of trauma; sexual or physical abuse. If she has siblings, chances are they are not there with her. She probably doesn't get to pick out her favorite snack for the school day. Maybe she doesn't even get a hug before she heads off. I've never met this little girl but my heart aches for her.
Today when I came into the office and did my usual scan of the wishes on our website, her wish stood out to me. Not because it was for anything overly unique or spectacular; moreso because it wasn't. Right now on our website, Nyasia is wishing for a pair of warm, fuzzy boots. Boots that both of my daughters have at least two pairs of. Boots my daughters definitely didn't wish for.
I imagine Nyasia is probably a lot like my daughters in other ways too; full of energy, full of life and full of possibilities. She likes to ride bikes. She loves to draw and color.
Nyasia shouldn't have to wish for warm, fuzzy boots. But she does. And every day I am reminded that there are thousands of other kids in foster care and group homes around our country that are just like her. Their wishes are so simple it can break your heart.
I hope that someone reading this grants her wish. And I hope that after they do that they challenge someone else to grant a wish. Maybe they will make a video and tell the world how easy it was and how good it felt. Maybe then Nyasia, and the thousands of kids like her, won't have to wait so long for these painfully simple wishes to come true.
Here's Nyasia's wish.
And don't worry if it's granted by the time you click the link. There are tons of others just like it at here.
Source: Huff Post