Andrew Retallick explores 10 key events affecting China in 2014.

10. The American Music Awards

This was the first year that the American Music awards gave awards for Best International Single and Best International Artist. On November 23, 2014, Chinese artists took both titles with the Chopstick Brothers taking the award for Best International Single with their hit song "Little Apple" and Chinese artist Zhang Jie taking the award for best International Artist. This event marks the increased exportation of Chinese culture to the West. Many Chinese people are familiar with Western music to the point where a sizeable percentage of the Chinese population lists Western pop music among their favorite musical styles. However, Western markets are not as familiar with Chinese music, as is evidenced by the fact that the music video for "Little Apple" (a social phenomenon of a song with tens of millions of views across various Chinese Internet sites and that has been used in an army recruitment video) has only received a few million views on Youtube. The American Music Awards show that popular Chinese music is starting to get more international attention, and it can only be hoped that the West gradually sees more of the music scene from China.
9. GDP (Adjusted for Purchasing Power Parity) Surpassed the U.S

China's GDP adjusted for purchasing power parity surpassed that of the U.S. in October 2014. Some economists and reporters tried to downplay this incident, arguing that the purchasing power parity model used to demonstrate China's higher GDP does not reflect real GDP. However, the purchasing power parity model is a useful tool in determining long-term economic trends. This milestone for the Chinese economy was significant for both Eastern and Western markets: the Chinese had clear demonstration of the results of their rapid economic growth; and Western markets were put on notice for planning the future of their economies and their future interaction with China. In the end, this event provides clear evidence of China's continued growth and portends a great likelihood that China will overtake the U.S in real GDP in the future.
8. Finalizing Deals with Russia to Construct Natural Gas Pipelines

In May 2014, Moscow and Beijing signed a $400 billion deal, agreeing that Russia will supply China with 38 billion cubic meters of natural gas annually for 30 years through pipelines into China from fields in Eastern Russia. Following this, a preliminary natural-gas deal between Russia and China was signed in the APEC Summit in November, which could open up a second major supply conduit between the two countries. This event is something that the West should watch carefully, as the development of the relationship with Russia, combined with the popular Chinese website Baidu's recent expansion into Brazil, show a move by China to further improve its relations with BRIC countries. As this event stands, it is a landmark event that has the potential to advance the relationship between both countries and aid both parties involved.
7. Malaysia Airline Flight 370 / Kunming Train Station Attacks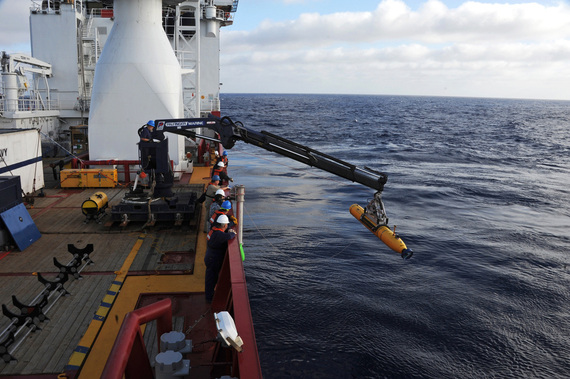 These two tragic events represent a tie for impact: the lost Malaysia Airlines flight 370 and the terrorist attacks by Xinjiang separatists on a train station in Kunming. Both were tragedies of such material scale that they greatly alarmed the Chinese people and garnered international media attention and social response. In response to the lost Malaysia Airlines flight, as over half of the passengers on the plane were Chinese, Chinese officials expressed dissatisfaction with efforts by the Malaysian Government to locate the flight. Xi Jinping even sent a special envoy to Kuala Lumpur to retrieve accurate information about the flight and many Chinese citizens boycotted Malaysia airlines and all things Malaysian as a result. In response to reports by the Xinhua News Agency that the Kunming attacks were carried out by separatists from Xinjiang, social reactions (some from officials in Kunming) denounced the attacks as planned terrorism by the separatists, equivalent to a "Chinese 9-11." Both these events were indeed tragedies for China that will remain in the Chinese consciousness for years to come.
6. Reform of the One-Child Policy

In November 2013, China reformed the "One Child Policy" allowing couples to have two children if one of the parents is an only child. This policy change is aimed at curbing the negative effects of China's aging population and resolving the issue of gender imbalance (as many sources show that China has a noticeably larger number of males than females). The legislation has gradually been implemented in regions throughout China starting with Zhejiang Province in January 2014. While this new legislation does not allow full freedom in family planning, it is a step toward more traditional Chinese family values. The role of children in Chinese families is broad. In traditional Chinese societies, adult children bear the responsibility to care for the older generations of the family. While people in China have carried on this tradition even with the One Child Policy, it is a significant burden under the one-child system, as a couple's responsibility could potentially include caring for four parents and eight grandparents in addition to a couple's own children. In addition, as traditional Chinese societies value boys over girls (as boys can carry on the family name) the number of female children has significantly reduced. Allowing a second child would not only alleviate the children's responsibility, but also help even out China's gender imbalance.
5. South-North Water Transport Canal

China's South-North Water Transport Canal officially opened this year after being completed on December 12, 2014. Much of China's population is concentrated in the country's relatively dry Northern provinces, while a number of rivers flow plentifully in the Central and Southern regions. This water project, according to state-run Global Times, is a series of canals stretching over 890 miles across Northeastern China that will annually transport an estimated 9.5 billion cubic meters of water from central China's rivers and reservoirs to major cities in the North, including Beijing and Tianjin. The canal deals with the issue of water scarcity as China has nearly one fifth of the planet's population but only seven percent of its freshwater resources. This canal will redirect water for public works and utilities in China's Northern urban areas. In addition, the success of this pipeline could serve as a model for other nations around the world. In fact, the Indian government appears to be reviving an old plan for its own National River Linking Project.
4. Alibaba joining the New York Stock Exchange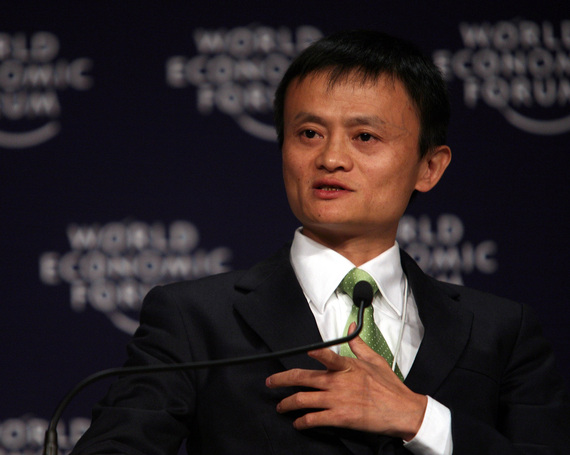 Alibaba is China's largest e-commerce website. Its three main sites – Taobao, Tmall and Alibaba.com – have hundreds of millions of users. In September 2014, the company started trading on the NYSE under the ticker BABA. Investment in the company rose shortly afterwards, sending the value of its U.S. IPO to $25 billion, making it the largest IPO in history. In addition to its size and scope, this event was interesting because it demonstrated that Chinese companies have the potential to perform incredibly well in international stock markets. It will be interesting to see how Alibaba fares in the long run in international markets, as this IPO is a landmark for both businesses and the Chinese government in expanding business and economic relations with the West.
3. APEC China 2014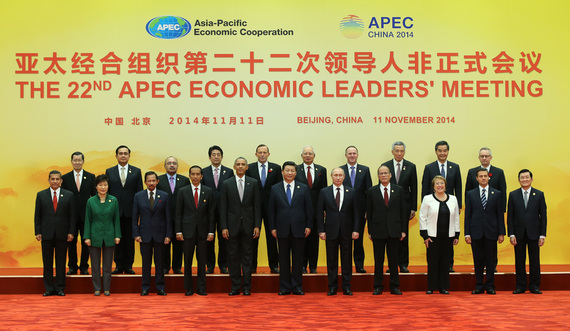 The APEC China Summit 2014 was the 26th annual gathering of Asia-Pacific Economic Cooperation (APEC) leaders, held in Beijing in November of 2014. The goal of last year's conference was to establish plans to allow free trade among the nations, promote regional connectivity to create a cross-border law enforcement network for transnational anti-corruption cooperation, promote cross-national initiatives for business and innovation, and draw up plans to address environmental concerns. In this summit, Xi Jinping and Barack Obama made a mutual agreement to reduce greenhouse gas emissions. (The United States agreed to cut their 2005 carbon emissions by 26% to 28% by 2025, while China would peak their carbon emissions by 2030 and strive to achieve 20% of its energy from sources that do not produce carbon emissions.) The APEC Summit also resulted in the creation of a few new Chinese Internet slang terms: "APEC Blue" referring to the transitory blue skies that resulted from China's efforts to curb air pollution issues in the area around the conference (e.g., "His love is only APEC blue"); and "face diplomacy" referring to the observation that the Xi Jinping's relationship with world leaders could be discerned from his facial expressions in photos with world leaders at the conference.
2. Hong Kong's Umbrella Revolution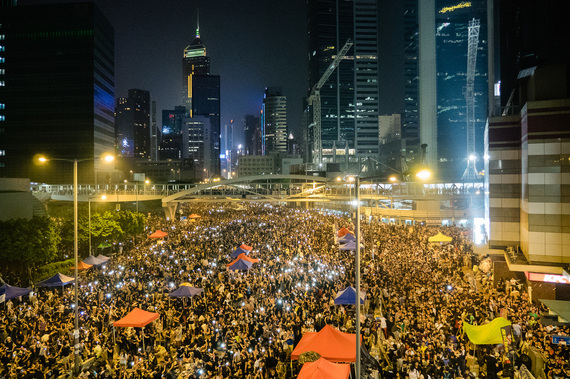 In September 2014, China's Central Government announced that it would not allow open nominations for Hong Kong's Chief Executive in 2017. China's express and direct efforts to limit open nominations in Hong Kong sparked a full-scale revolt, now referred to as Hong Kong's Umbrella Revolution, in which Hong Kong police had to resort to violent measures to control mobs, such as tear gas and attacks on protesters. The protests quietly ended in December 2014. This event was noteworthy as it stressed the delicate balance that has been forged between China and Hong Kong and bodes the potential for change in that delicate relationship in the near future. Until this event, although Hong Kong was technically governed under China, Hong Kong maintained a high level of independence for most issues outside of national defense. Furthermore, Hong Kong maintains separate legislation that differs significantly, and operates separately, from that of the Mainland. Therefore, it was surprising that China decided to impose such overt and material limitation on Hong Kong's governance and then have such a violent reaction to the ensuing protests. It will be interesting to see the evolution of the relationship between China and Hong Kong in the wake of this event.
1. Xi Jinping

The Chinese president has had quite a year and one of his most significant policies was the expansion of his Anti-Corruption campaign, which has garnered the attention of Chinese and international media in addition to the Chinese people. Since Xi Jinping rose to power, this Anti-Corruption campaign has been at the heart of his policies, targeted at restoring the moral authority and legitimacy of the Communist Party by combating corruption at every level of Chinese society. Xi Jinping has carried out this campaign by limiting funds for official banquets, cars, and meals; pursuing well-known figures in the media, the government, the military, and the private sector; and dramatically increasing the number of pursued corruption cases. One of the more noteworthy examples of the campaign occurred in late 2014 with the arrest of the former Chinese security chief and standing politburo member, Zhou Yongkang. Mr. Zhou will become the most senior official in the history of China's Communist Party to face criminal charges in a corruption case. Corruption is indeed a serious issue to the Chinese people that is deeply ingrained in China's social and political systems. Cases have been brought against all classes of society, from politburo members to hospitals employees. To improve the legitimacy of the party and tackle an issue that will greatly impact China's internal political and business affairs, President Xi Jinping is well focused to address corruption. He has promised zero tolerance of corruption among party officials, warning that he is going after "both the tigers and the flies" (i.e., officials from the top to the bottom of the system).
_________
Andrew Retallick is a recent graduate from the College of the Holy Cross currently studying at the National Taiwan University. Contact him at [email protected]
This article also appears in China Hands.
Source: Huff Post