Do you kiss your kid on the lips?
A friend of mine from college — a single dad who puckers up for his three boys — recently posed this question on Facebook (the place for life debates). His ex-wife tried to make him feel like he was Christian-Grey-crazy with a cringe-worthy fetish. Responses to his post were more 50 Shades of Grey than I anticipated. I was shocked …and not in a Hillary-Clinton-running-for-president kind of way.
Consensual:
"As a Dad of four boys, lips is love!"
"Yep. If by chance I kiss my child on the cheek, he'll ask me why I kissed his cheek. Still my baby boy."
"Lips! We were in public the other day and my 2-year-old wouldn't stop kissing me. I thought it was adorable but some may have considered it borderline disturbing since it looked like he was trying to make out with me. LOL."
Dominant:
"Cheeks with my girls! Forehead when they're not feeling well. I don't do lips."
"I kiss my kids on their cheeks or forehead. As far as my wife, I kiss her on her ass. The married life, ugh!" (Sidebar: This comment is, by far, my favorite.)
Freak:
"Never lips. Awkward."
"Nooooooooooooo. That's just weird and wrong."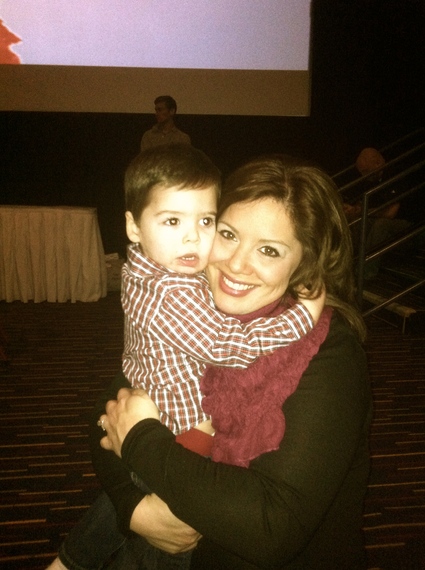 I had no idea parents didn't kiss their kids on the lips! I just assumed. To me, it's the most natural thing in the world. My son runs across the room when I pick him up from school, jumps into my arms, and — lipstick be damned — goes right in for a kiss. What am I supposed to do? Turn my cheek like I would on a date gone bad? He's my baby.
Pretty soon my son will turn bright red from embarrassment if I dare ask him for a fist bump in front of his friends. I am no fool. I know my kiss on the lips days are numbered. He could very well deny my existence tomorrow given how fast he's growing up. Until that day — which will be devastating enough to warrant wine and ice cream, I am going to enjoy each and every display of affection from my son. Judge me all you want!
How do you feel about parents who kiss their kids on the lips? Do you do it?
— This feed and its contents are the property of The Huffington Post, and use is subject to our terms. It may be used for personal consumption, but may not be distributed on a website.
Source: Huff Post