After struggling to conceive for years, Carlos and Erica Morales were overjoyed (albeit a bit overwhelmed) to learn that they were expecting quadruplets. But tragedy struck when Erica passed away in January, just hours after giving birth to their four babies.
In an interview with People magazine, Carlos described welcoming their son and three daughters as "the best day of [his] life." But roughly five hours later came "the worst day of [his] life," he added. Shortly after delivering her babies via C-section, Erica went into hypovolemic shock, an emergency condition characterized by severe fluid loss, and ultimately, her heart stopped.
When doctors told Carlos the news, "I was shocked," he recalled in the People interview. "I was devastated." After a short time in the NICU, two of the quadruplets — Tracey and Carlos Jr. — got to go home. Babies Paisley and Erica joined them on March 11.
Carlos appeared on the "TODAY" show this week, along with Erica's mother Sondra Bridges, to discuss life at home with the new babies. Holding the quads in their arms, they explained that they're taking things day by day. "We're just doing our best," Carlos said, adding that the babies are healthy and growing every day.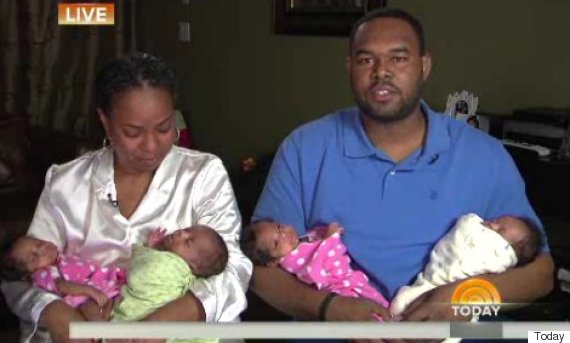 Carols Morales and mother-in-law Sondra Bridges on "TODAY"
As a warehouse supervisor, the dad was concerned about his ability to provide for four new babies on his income alone, so Erica's best friend Nicole Todman set up a Facebook and GoFundMe page to help cover some of their expenses and share updates about the quadruplets. To date, the page has raised over $350,000 from friends, family, community members, and total strangers who were moved by the Morales' tragic story.
Carlos told "TODAY" that he is "grateful" to everyone who donated to his family. Expressing her gratitude, mother-in-law Sondra added, "It's funny how things turn out. Bittersweet, but at the same time, thanks to God, and the outpouring support of the public, it's been phenomenal."
While the road ahead will undoubtedly be difficult for the Morales family, Carlos is committed to being a good father to his children. As he told People, "These babies don't know yet what blessings they have given me. They have given me four reasons to live."
H/T Today
@media only screen and (min-width : 500px) {.ethanmobile { display: none; }}
Like Us On Facebook |

Follow Us On Twitter |

Contact HuffPost Parents
Source: Huff Post