Despite the fact that it's Friday the 13th, creativity, innovation, inspiration, and good fortune buzz throughout the air in Austin on this notoriously ominous day. Today marks the first day of the 22nd Annual South by Southwest (SXSW) Interactive festival, where 72,000+ arts, entertainment and marketing registrants hail the streets of the hipster-laden Texas town.
Each year, SXSW Interactive plays host to the brightest minds in marketing, advertising, design and technology. Today through March 17, innovators from around the country experience presentations and panels, networking events, trade shows, product demos, and parties galore.
The vibe is virtually transcendental among locals and visitors. "The city is filled with anticipation and the streets are teeming with tech-heads looking for the best whole in the wall to grab a bite or to listen to some live music, seeking to experience the weirdness that Austin is so famous for," said Ricardo Casas CEO of Austin-based digital agency Fahrenheit.io.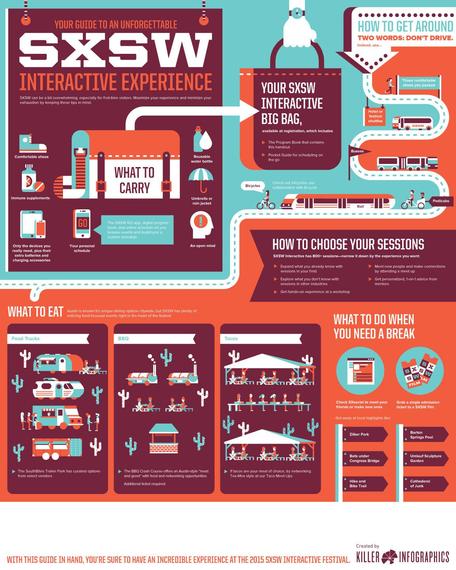 Whether you're physically there or tuning in virtually, here is what you need to know about this creative consortium…
If You're There:
Plan ahead: It's easy to get overwhelmed with the multitude of presentations and events available. To avoid scrambling, use your downtime to plan out your day. Hit the presentations your passionate about and map out where the sessions are located.
Take advantage of networking: Trade conferences are arguably the best places to network; and SXSW is no exception. "Networking is a big and in my opinion, the best part of the experience," notes Casas. "SXSW is the conversion of all things creative in one place. The best in their field are here to meet their piers and look for new opportunities and enterprises."

Startup founders looking for investors, interactive marketers looking for creative inspiration, technology solutions looking to boost their business — whatever your case — plan who you want to meet and make it a priority to network with them. Whether you're meeting over beers or in more formal setting, making connections is key.

Defer to Twitter to find out what's hot: Conference packets can only go so far… Search the hashtags "SXSW" and "SXSW2015" and you'll gain great insight into who's hosting what, and when.
Eat your way through the city: Equally known for its quirk and food scene, Austin is an unpretentious culinary destination. Follow your appetite to The Nom Nom, where SXSW's favorite artists share top local eateries.
If You're Tuning In From Afar:
It doesn't take physical presence to take advantage of SXSW's offerings… Tune in from your couch to SXSW Live, a live-stream of performances, interviews, and exclusive sessions from artists, digital creatives and industry stars.
SXSW also streams events and marquee speakers on YouTube. If you're not interested in watching full-length video, use Twitter to source real-time session annotations and sound bites.
At SXSW Interactive, it's all about community and innovation. It undoubtedly stands up to the self-proclamation as "the place to preview the technology of tomorrow today".
Image source: Killer Infographics
Source: Huff Post