100 Ways to Celebrate Miami Beach's 100th Birthday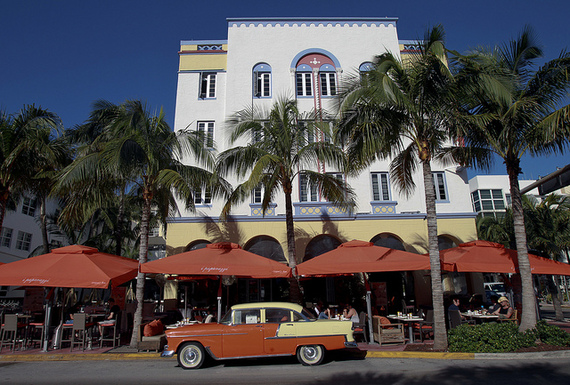 The Edison hotel in Miami Beach opened in 1935 and is a landmark in the Art Deco district. Photo by Patrick Farrell for VISIT FLORIDA
Miami Beach turns 100 in 2015 and the centennial year is the perfect time to explore "America's Riviera." To help you get the party started, we present this list of 100 things to do on your visit. Want to add your favorite Miami Beach vista, venue or experience to the list? Tell us about it in the Conversations section below!
1. Start the party early with mimosas and drag queens at The Palace's famous drag show brunch.
2. Take a narrated Historic Art Deco District tour by foot or bike. See stunning architectural landmarks from the 1920s and beyond and hear the interesting stories behind them.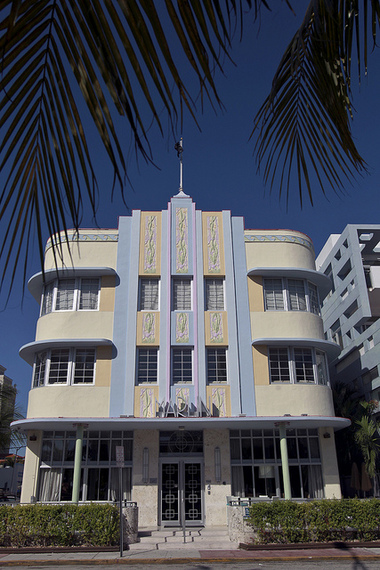 Tour the Historic Art Deco District and see architectural landmarks like the Marlin Hotel, built in 1939 by famed Florida architect Lawrence Murray Dixon. Patrick Farrell for VISIT FLORIDA
3. Crack open some fresh claws at the 100-year-old Joe's Stone Crab. You'll likely have to wait for a table but it'll be worth it.
4. Have breakfast at The Front Porch on Ocean Drive. Try the tasty challah French toast.
5. Watch the big game at the iconic Clevelander Hotel, but only if you don't mind the occasional go-go dancer distraction.
6. Dine on locally sourced vegetables and seafood at the elegant Floridian brasserie Seagrape, located at the Thompson Miami Beach hotel.
7. Watch the cruise ships sail away from the observation deck at South Pointe Park.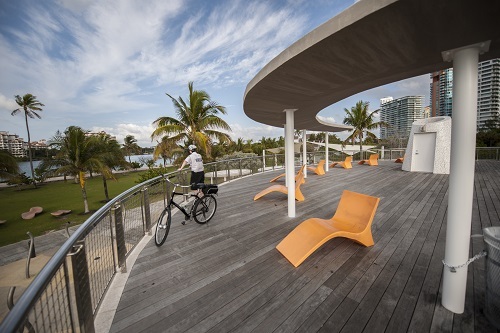 Catch the cruise ships as they head out to sea from the observation deck at South Pointe Park in Miami Beach. Photo courtesy of Greater Miami Convention & Visitors Bureau
8. Attend an outdoor audiovisual "wallcast" while listening to the New World Symphony at New World Center.
9. Start your evening with a drink on one of Miami Beach's many rooftop bars. Collins Avenue has quite a few.
10. Pick up a one-of-a-kind antique chair or vintage handbag at the Lincoln Road Antique and Collectible Market.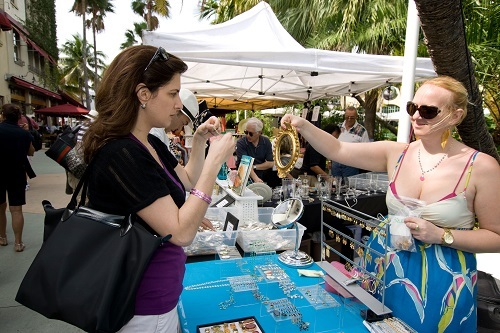 Find treasures at the Lincoln Road Antique & Collectible Market in Miami Beach. Photo courtesy of Greater Miami Convention & Visitors Bureau
11. Check out a concert or comedy show at The Fillmore at Jackie Gleason Theater, a historic landmark.
12. Find your inner Zen with some free poolside yoga (on certain weekends) at the Mondrian hotel.
13. Pretend you're at a Brazilian Carnivale at Mango's Tropical Café, known for its reggae music, salsa dancing and Caribbean-inspired cuisine.
14. Watch the Dalmatians frolic among the dachshunds at Pine Tree Park or Flamingo Bark Park.
15. Attend one of the weekly services at Temple Emanu-El, the oldest Conservative congregation on Miami Beach and one of America's most beautiful synagogues.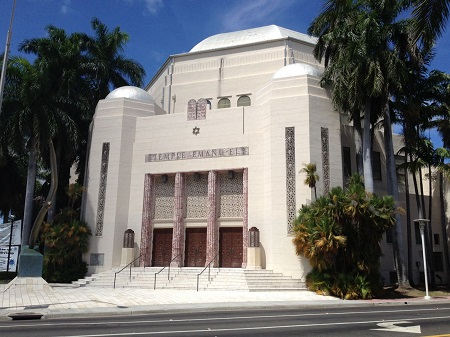 Temple Emanu-El on Miami Beach is considered one of America's most beautiful synagogues. Photo courtesy of Greater Miami Jewish Federation
16. Wake up early to collect the best seashells, sea glass, sharks' teeth and sand dollars at the north end of Miami Beach.
17. Order a croque monsieur and a salad with house specialty vinaigrette at La Sandwicherie, which some regard as the best sandwich shop in all of Florida.
18. Slip into a robe and get a milk and honey massage Club Essentia at the Delano.
19. Strip down and experience one of the only clothing-optional and most all-accepting beaches in the United States, the famous Haulover Beach.
20. Take A1A halfway between Miami Beach and Miami to Jungle Island, a small zoo open since 1936 that offers a slice of rainforest-like setting amid the city life.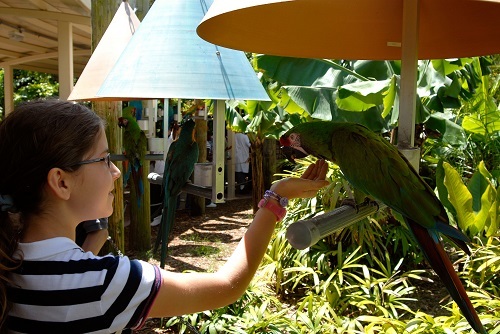 Make friends with a macaw at Jungle Island. Photo courtesy of Greater Miami Convention & Visitors Bureau
21. Cross parasailing off your bucket list and rent time in the air along the scenic Miami Beach shoreline.
22. Try some of the world's most unconventional hot dogs at La Perrada de Edgar. If you really want to go all out, order the Super Edgar topped with cheese, shrimp, crab, potato sticks and a special sauce.
23. Bring your wild side and sense of humor (and possibly a date) to the World Erotic Art Museum, filled with paintings by famous artists, sculptures, pop culture props and other fun miscellany.
24. Brush up on your French by reading through an issue of Le Monde or flip through a Brazilian fashion magazine at the News Café, conveniently open 24 hours a day.
25. Bowl with the cool kids at Lucky Strike Bowling Alley, a Hollywood-themed restaurant that has 14 bowling lanes, big screen TVs and billiards.
26. Have an eye-opening Irish coffee or Bloody Mary at Mac's Club Deuce, billed as Miami's oldest bar and quirkiest dive. It's also the only bar in town that opens at 8 a.m.
27. Dance the night away with the beautiful people at the uber-trendy, high-energy Liv nightclub inside the Fontainebleau hotel and nightlife complex.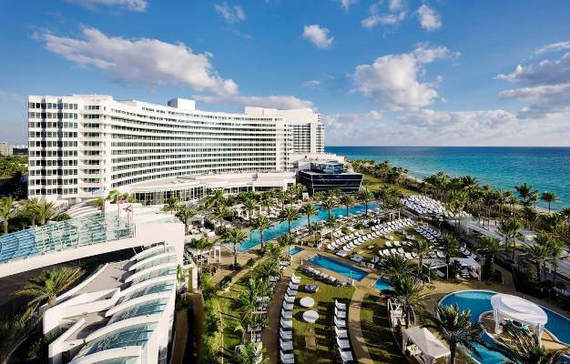 By day, the Fontainebleau is an architectural icon; by night, its nightclub complex is an uber-trendy destination. Photo courtesy of Greater Miami Convention & Visitors Bureau
28. Share some authentic seafood paella and tapas and admire the eclectic Spanish décor and wall paraphernalia at Tapas y Tintos on Espanola Way.
29. Pay a visit to the SLS Hotel, the tallest art deco building in South Beach, restored and revamped from its original 1939 state into a towering, glittery palace with gorgeous bars and restaurants.
30. Sip one of the finest handcrafted cocktails in town at Radio Bar, a hipster's paradise of indie music, pricey bourbons served alongside Pabst Blue Ribbon, a lamp-lit billiard room and comfy chairs.
31. Rent a stand-up paddleboard and take a sunset "neon tour" through the Sunset Island channels.
32. Attend one of the weekly wine tastings and try fine pinot noirs and champagnes from all over the world at WD 555. The industrial ambience has a cool vibe, too.
33. Lounge year-round at one of the three infinity azure pools, all temperature-controlled, at the Setai Hotel.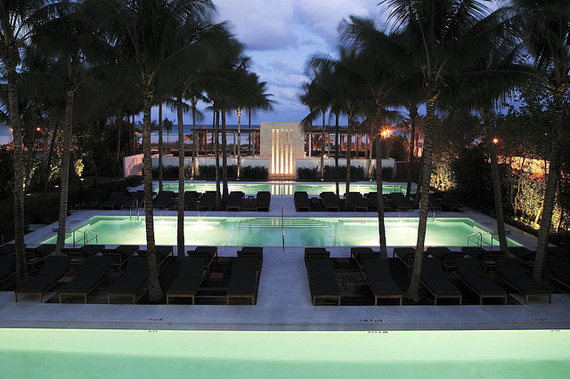 Float into infinity at the luxurious Setai Hotel. Photo courtesy of the Setai
34. Snack on fresh oysters and truffle fries at the Local House Raw Bar & Grill, a highly rated but down-to-earth restaurant and bar that has an extensive menu for both food and drinks.
35. Rent some chairs and mingle with the singles at South Beach's 12th Street Beach, the most popular gay beach in Miami for men, some women and lots of curious tourists. Just look for the rainbow flags.
36. Cool down with some kosher key lime sorbet or rich cappuccino chip ice cream, made fresh daily with premium juices, candies, chocolate, butterfat and other creative ingredients at The Frieze.
37. Splurge on an oceanfront view room at Eden Roc. If lounging on the balcony chairs doesn't make you feel like royalty, the attentive staff serving those at the pool and beach will.
38. Try some authentic Brazilian cuisine such as shrimp cooked in coconut milk, tilapia stew over yucca puree or mixed grilled meats on skewers at Little Brazil.
39. Unwind with a soothing Hamam mud bath, an acupuncture session or a sensual "sound shower" at The Standard spa.
40. Check out the brightly colored, unique structures that are the South Pointe beach lifeguard stands, which recently got facelifts and fresh coats of paint after years of weather, wear and tourist selfies.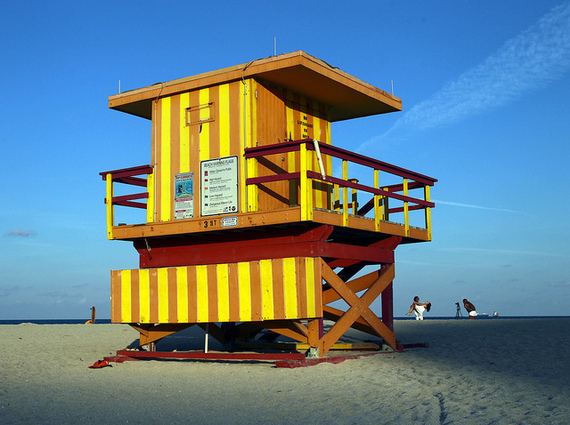 The colorful, unique lifeguard stands on Miami Beach have been jazzed up with fresh paint, the better to grace tourist selfies. Patrick Farrell for VISIT FLORIDA
41. Sway and swoon to the sounds of live jazz at Jazid, nestled along the Washington Avenue strip and featuring nightly live acts. It's a great little break from the pulsing dance music.
42. Pick up some hip menswear for clubbing or buy some flasks, belts or other testosterone-friendly gifts at Base.
43. Buy some fresh steaks or sausages from a nearby meat market and take it to the quiet North Shore Park for some outdoor grilling and picnicking.
44. Try a real Cuban sandwich, hot-pressed, or some tender ropa vieja with a side of plantains at the no-frills, diner-style Puerto Sagua.
45. Hop on a water taxi and get sightseeing tour as you commute to some of Miami Beach's most popular spots.
46. Admire the small but impressive collection of contemporary artwork Bass Museum of Art and stroll the grounds among the sculptures outside.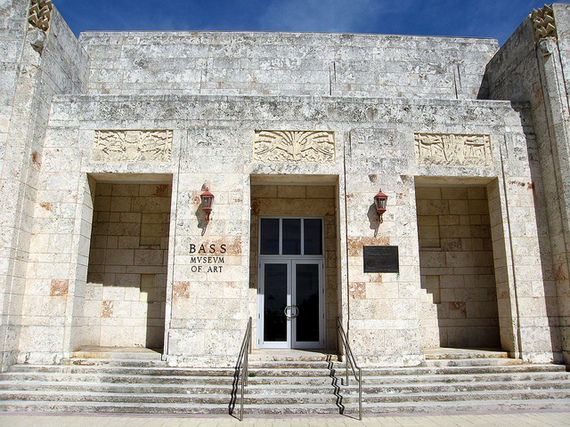 Ogle the art at the Bass Museum in Miami Beach. Photo by Kwong Yee Cheng
47. Gather your thoughts among the blooming exotic trees and Japanese-style landscaping with a red bridge and stone lanterns at the Miami Beach Botanical Garden.
48. Book a tee time at the lush and manicured Normandy Shores Golf Club. Bring the kids; they play for free.
49. Make some new friends at the Miami Beach Hostel, which sits only a block from the beach and offers live music in the lounge and free meals.
50. Pick out a bottle of wine from the vast stock at Portofino Wine Bank, which claims to have more than 1,000 labels of vino and more than 100 labels of champagne.
51. Feast on stewed goat, spicy conch ceviche and grouper in lime sauce at Tap Tap, a modest but deliciously authentic Haitian food restaurant.
52. Feast your eyes on the epitome of opulence known as the Versace Mansion on Ocean Drive, formerly one of America's most expensive homes owned by Gianni Versaci, with 11 bathrooms and a pool lined in mosaic tiles and 24k gold. It's now a boutique hotel known as The Villa by Barton G.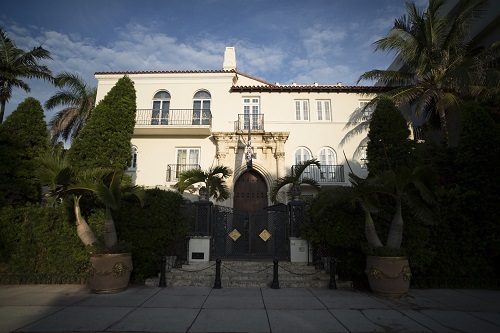 Gianni Versace's opulent mansion has been converted into a chi-chi boutique hotel. Photo courtesy of Greater Miami Convention & Visitors Bureau
53. Take the little ones to the clean and colorful Flamingo Park, which has a "tot lot" and playground for lots of climbing, running, shrieking and burning off energy.
54. Rent your own karaoke room and belt out the hits at Sing Sing Karaoke. With more than 120,000 songs in 13 languages, there's sure to be something for everyone.
55. Look like the locals and sport a spray tan before lying out on the beach.
56. Power up with a fresh and healthy smoothie, packed with organic ingredients like kale, chia seeds, cacao, coconut yogurt, hemp powder and other antioxidant-laden goods at one of two Jugofresh locations.
57. Pretend you're on the set of "Miami Vice" at one of the old show's most famous backdrops, Lummus Park.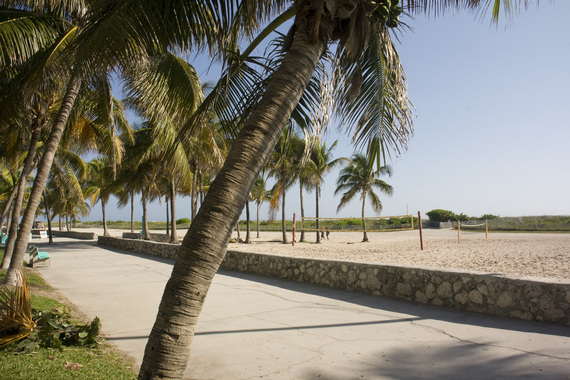 Summon the spirits of Crockett and Tubbs at Lummus Park, one of the most famous backdrops for the TV show 'Miami Vice.' Photo courtesy of Greater Miami Convention & Visitors Bureau
58. Smoke a hookah whole overlooking Collins Avenue from D'vine Hookah Lounge, a first of its kind for Miami Beach.
59. Pick up a breakfast arepa or sweet fruit tart at the family-owned, South America-inspired Charlotte Bakery.
60. Buy a one-of-a-kind print or sculpture, or buy a brightly designed tote bag, dish or puzzle bearing the artwork of Brazilian pop artist Romero Britto.
61. Stop by the quirky gift shop (think finger puppets of world leaders and First Lady paper dolls) at The Wolfsonian, which also has a great cafe for lunch.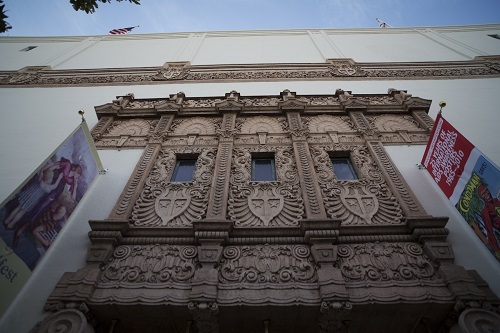 The Wolfsonian at Florida International University is an art and design museum with a quirky gift shop and a great café. Photo courtesy of Greater Miami Convention & Visitors Bureau
62. Indulge in a decadent raspberry chocolate mousse cake or streusel apple pie from Icebox Café, a restaurant in South Beach known for using fresh, seasonal ingredients. The salads are quite memorable as well.
63. Go ice skating year-round at the Scott Rakow Youth Center, which has a 12,885-square-foot rink and a pro shop that provides everything you need – skates, pads, leg warmers, gloves – for an afternoon of skating.
64. Try a healthier, creative version of the empanada at Go-Go Fresh Food, tucked away in a shopping center on 9th and Alton Road. Baked to order, the pastry pockets are filled with everything from dulce de leche and blackberries to shrimp scampi.
65. Take a break from the heat and slip into Habana Cuba Cigars, where you can select from a small but high-quality assortment of cigars from knowledgeable staff at good prices. You can smoke in the shop or take it with you.
66. Spice up your day at Kingston Delight with some real Jamaican jerk chicken, curry goat, oxtail and red beans and rice, served up by a warm and friendly staff.
67. Experience sunset at the beautiful Holocaust Memorial.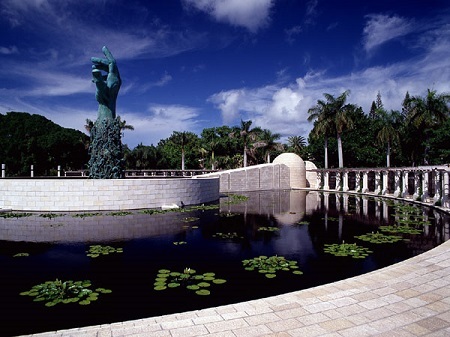 The powerful, moving Holocaust Memorial in Miami Beach is a great place to catch the sunset. Photo courtesy of Greater Miami Jewish Federation
68. Browse the works of Peter Lik, a fine art photographer who specializes in tranquil desert scenes and stunning snowcapped mountain shots taken from his adventures around the world.
69. Take surfing lessons or try your luck at kitesurfing and other water board sports with tips from the pros at Hirooka Surf and Sport.
70. Spend a day indulging in high-end retail therapy at the open-air Bal Harbour Shops, which offer everything from Chanel handbags to Bulgari jewels to Alexander McQueen clothing.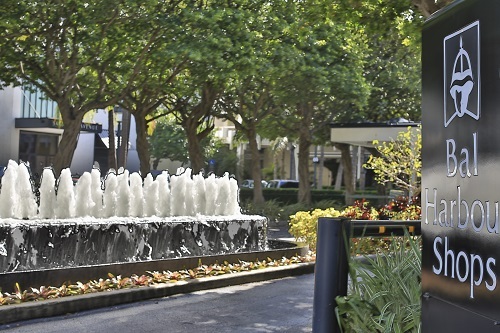 Shop till you drop – or max out your credit card – at Bal Harbour Shops. Photo courtesy of Greater Miami Convention & Visitors Bureau
71. Or for something more reasonably priced, check out the Lincoln Road Mall, which has all the staples such as Victoria's Secret, H&M and Swatch International.
72. Have a romantic dinner for two at Pied à Terre, a French restaurant known for its perfectly prepared fois gras and fabulous cheese plate.
73. Experience the intense flavors of Venezuelan-Argentinean cuisine at Cafe Charlotte in dishes such as tilapia in lime sauce and pabellon.
74. Take a walk through SoFi, the enclave South of Fifth Street and South Pointe Park known for its hip, international elite residents and multi-million-dollar penthouse suites. If you're going to run into a celebrity in Miami Beach, it will probably happen here.
75. Grab a Cuban coffee and do some people watching on the bustling Lincoln Road.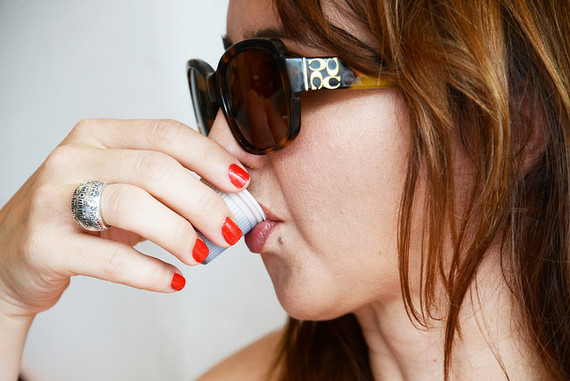 Get a jolt of java at a Cuban coffee stand and watch the people parade on Lincoln Road in Miami Beach. Peter W. Cross for VISIT FLORIDA
76. Rent beach scooters for your main mode of transportation for the weekend. You'll enjoy seeing the city from a bike and find parking a little easier.
77. Get the best gourmet burgers and beer at the aptly named Burger & Beer Joint. It also serves adult milkshakes.
78. Pay respects to the melody mastermind behind the Bee Gees at Maurice Gibb Memorial Park, which bears a bronze plaque bearing his name, surrounded by colored mosaic tiles.
79. Take a photo in front of the sleek, art deco-style Beach Patrol Headquarters, the quintessential Miami Beach vacation landmark at 10th Street and Ocean Drive. You can also pick up a beach wheelchair while you're there.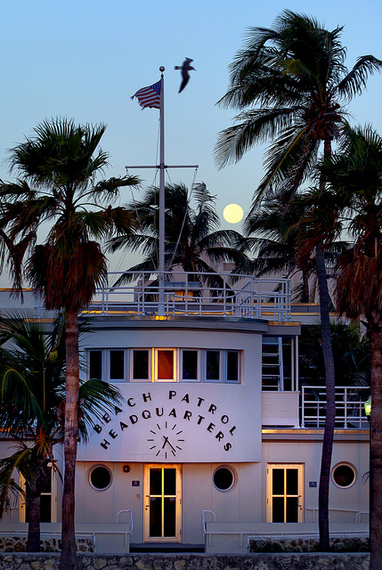 The Miami Beach Patrol Headquarters, which was built in 1934, is an Art Deco landmark. Patrick Farrell for VISIT FLORIDA
80. Work out any muscle tension and leave feeling as pliable as putty after a Thai massage or other deep tissue treatment from Miami Massage Therapy.
81. After a long night of partying, bring a group of friends to Russian &Turkish Baths and hang out in the aromatherapy steam room, ocean water Jacuzzi or ice cold plunge pool.
82.Nosh your way through a Jewish Food Walking Tour, sampling treats while learning about a two-mile stretch of Jewish-owned restaurants and businesses.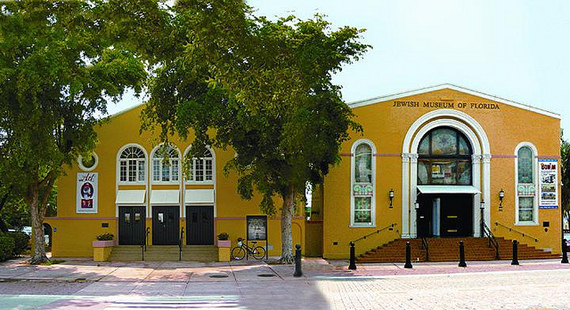 The Jewish Food Walking Tour offered by Florida International University take place twice a month and leave from the Jewish Museum of Florida at FIU. Photo courtesy of Jewish Museum of Florida-FIU
83. Groove out to some reggae at Purdy Lounge, a low-key dance club with some of Miami's best DJs spinning Caribbean music as well as old-school hip-hop.
84. Appease your vegan side at Under the Mango Tree, a juice shop that also serves bowls of organic fresh fruit and granola as well as selling eco-friendly gifts.
85. Check out the realistic-looking sea turtle sculptures at the shorefront Allison Park, located right along the beach at 6500 Collins Avenue.
86. Climb aboard a Miami Beach narrated duck tour and see the homes of the rich and famous and a spectacular view the local architecture while learning a bit of history. The tours are wheelchair-friendly.
87. Watch amateur and veteran drag queens duke it out for top tiara at Azucar's Drag Wars every Thursday night.
88. Navigate the streets and beachside walkways using Miami's bike share program.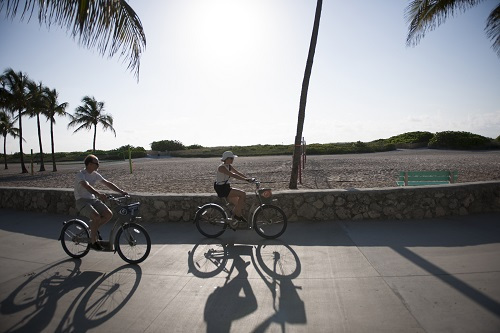 Cruise through Miami Beach on two wheels courtesy of Miami's bike share program. Photo courtesy of Greater Miami Convention & Visitors Bureau
89. Hit some of South Beach's hottest clubs with no lines or admission fees with an organized pub crawl.
90. Get served by top-notch bartenders and waitresses who also pull double duty as singers, comedians, dancer and musicians at the cozy, French-style Cabaret South Beach.
91. Hop on a Segway and wheel through all the best Miami Beach landmarks, or do a short tour at sunrise or sunset.
92. Spend a quiet afternoon at Books & Books, an independent bookstore with everything from classic hardcovers to poetry to specialty magazines. Then read your purchases at the outdoor café.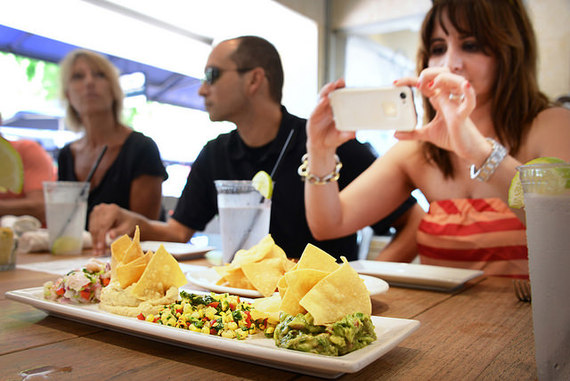 Have a leisurely literary lunch with food so good you'll want to take a picture of it at Books & Books in Miami Beach. Peter W. Cross for VISIT FLORIDA
93. Attend Sunday service at some of the prettiest and most welcoming churches in town, such as the Miami Beach Community Church or St. Patrick Catholic Church.
94. Refresh with some frozen daiquiris from Wet Willies. Be careful! They're stronger than they look.
95. Have the Sunday brunch of your life at Nikki Beach, which has a fresh crepe and Belgian waffle station, farm fresh eggs, sushi and more, all in a beautiful beach club setting.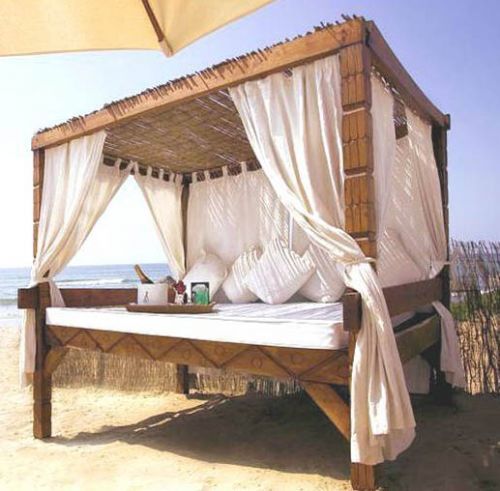 Have a beachy brunch in one of Nikki Beach's plush outdoor bedrooms. Photo courtesy of Nikki Beach
96. For an interesting and tasty dining experience, have a meal at Indomania Restaurant, owned by a Dutch couple who lived in Indonesia for several years and combine their love of both cultures in dishes like egg in curry sauce and eggplant stew.
97. Protect yourself by using one of the 50 new and free SPF 30 sunscreen dispensers, located at public swimming pools, parks and beach entrances near lifeguard stands.
98. Grab a coffee and snack and watch an indie flick at the Miami Beach Cinematheque & Gallery.
99.Support the arts and check out a mind-bending exhibit at the ArtCenter/South Florida which features both budding and established artists.
100. Go jogging on the Boardwalk, which stretches for 40 blocks with plenty of places to stop for a drink or a snack.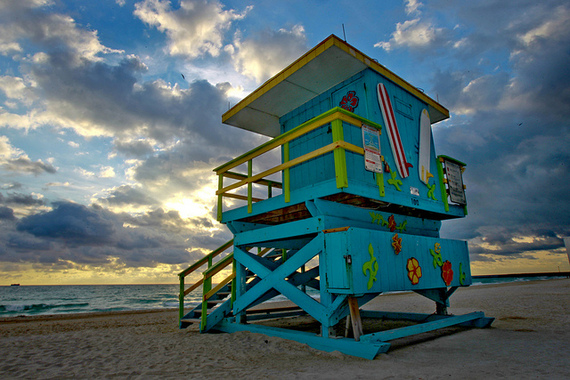 Before you say 'so long' to Miami Beach, be sure to wish 'America's Riviera' a happy centennial! Patrick Farrell for VISIT FLORIDA
— Story by Emily Nipps for VISIT FLORIDA
Source: Huff Post