20 Great Happy Hours on the Las Vegas Strip
If you've stepped foot on the Strip recently, you're familiar with the realities of modern Las Vegas: $8.50 draft beers, $20 hamburgers, the $40 buffet. The days of casinos using cheap food and drink as a lure to keep you at the tables are mostly gone, and if you ask them, we're to blame for not spending enough time stuffing quarters into the slot machines. Gaming revenue took a back seat to everything else years ago – today, the big resorts here aren't so different from resorts in other places. So, you know – enjoy your $19 club sandwich by the pool.
Or not! Lovers of a good deal will be pleased to discover that the Strip isn't entirely hopeless. Happy hours still abound, from Mandalay Bay on up to Stratosphere. Some are outstanding, others modestly useful if you happen to be nearby, some casinos have none or close to it, others have a wide range to choose from. Heading out? Consult this list first.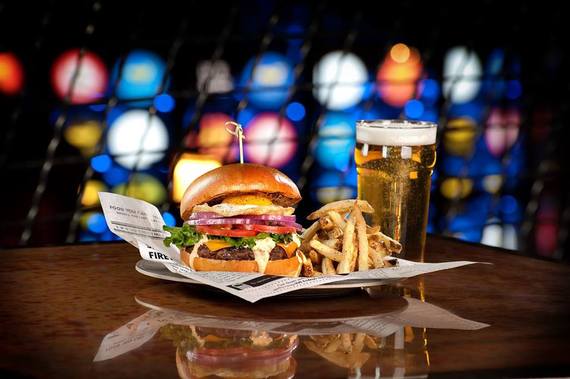 #1 The Pub Monte Carlo
When Mon-Fri 3-6
What $3 off all drafts (down from $6+), $3-$6 food
Why Decent sports bar with good food and one of the strip's better beer lists. Also, the price is right.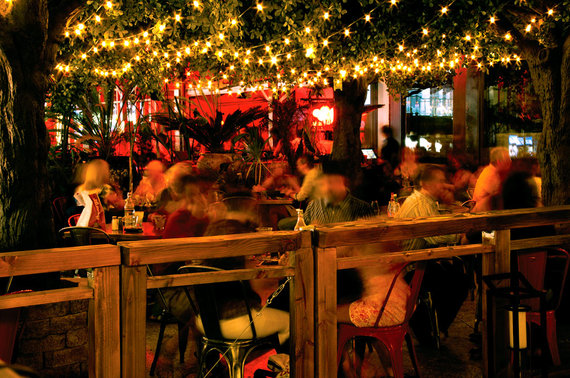 #2 El Segundo Sol Fashion Show Mall
When Daily 4-7
What $5 margs, $3 tequila shots, $4 sangria, $3-$4.25 beers, $3 tacos, $4-$5 quesadillas, $2.75 nachos and more decent deals.
Why This fun, modern Mexican joint is a handy refuge from high prices at Wynn/Encore, across the street.

#3 Milos Cosmopolitan
When Mon-Thu 5:30-7
What $10 small plates, $6 Greek beers, $11-$12 Greek wines
Why Get your foot in the door at one of the Strip's more serious restaurants for less. Also, the food (bottarga, tartares, saganaki, etcetera) is better than most on this list.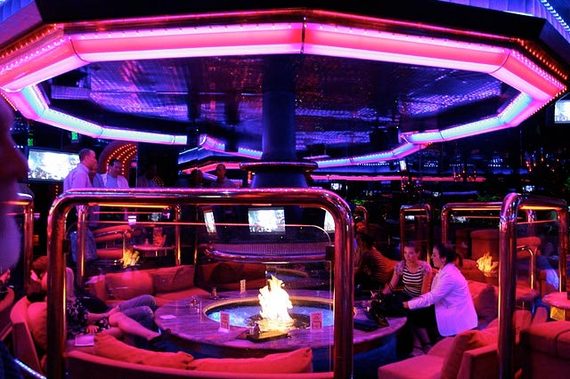 #4 Peppermill Lounge North Strip
When Daily 3-6, 9-11
What 50% off well drinks, wine and beer, $4.50 martinis, $5.50 mozzarella sticks.
Why Classic Vegas – everyone should go here, deal or no deal. A short walk from Wynncore, SLS, Circus Circus and more.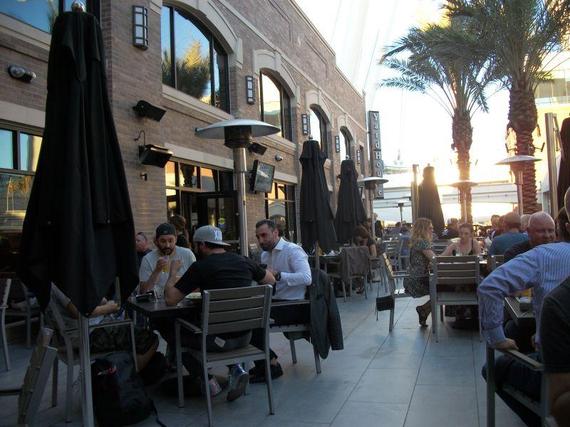 #5 Yard House The Linq
When Mon-Fri 3-6
What $1 off domestic pints and other drink deals, decent food menu ($5-$8)
Why Besides beer, beer and more beer, great for hungry types on a budget.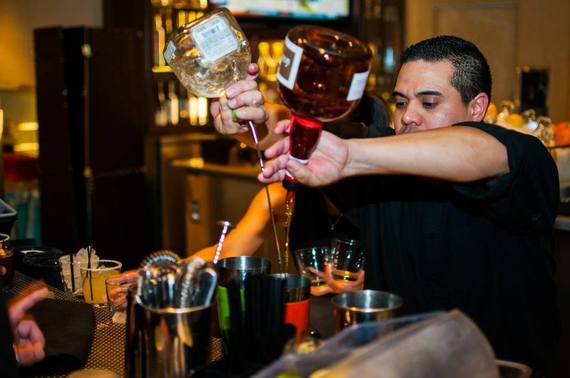 #6 Taqueria Canonita The Venetian
When Daily 3-6, 9-close
What $3 drafts, $5 margaritas and cocktails, $5 wines
Why A great deal in prime people-watching territory on the Grand Canal.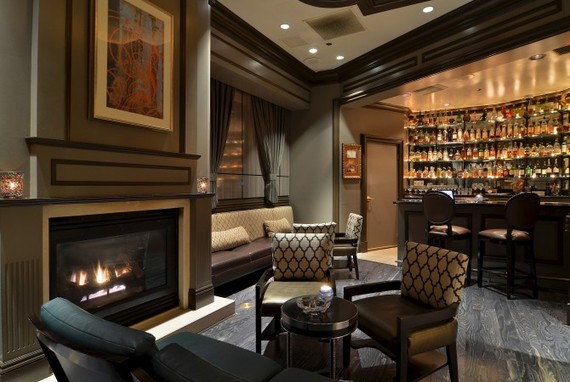 #7 Andre's Monte Carlo
When Tue-Sun 5-7
What $5 beers, $6 cocktails, $7 small plates (stuffed dates, roquefort sliders, charcuterie and more)
Why Great cocktails at great prices in a swank spot.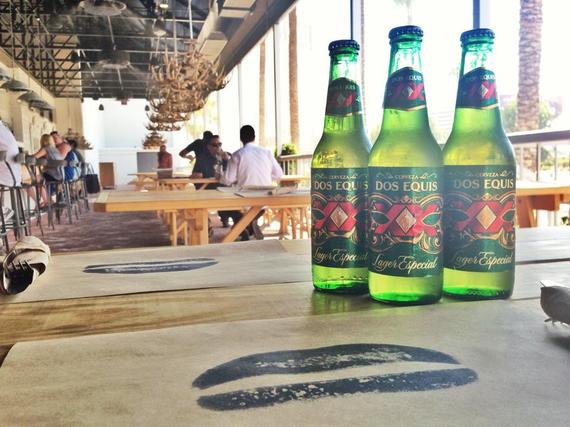 #8 Beer Garden SLS Las Vegas
When Daily 9-close
What Drafts, call drinks and Umami fries for $5
Why A beer garden and sports book powered by Los Angeles fave Umami Burger? Yes, please.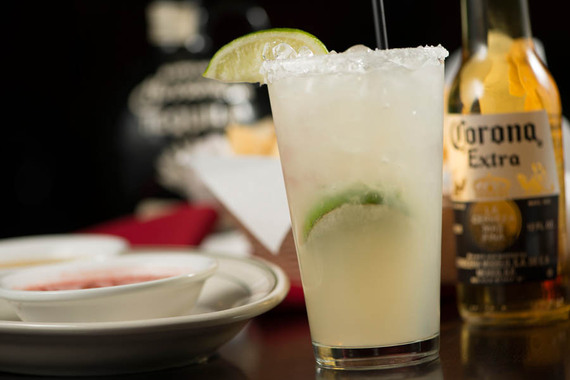 #9 Hussong's Cantina Mandalay Place
When Mon-Thu 3-6
What 50% off selected apps, margaritas, cocktails, draft beers – $3 tacos, too.
Why Unpretentious, cheerful cousin (distant) of the Ensenada bar where the margarita was invented. Very convenient to Luxor and Mandalay Bay.

#10 db Brasserie The Venetian
When Daily 3-6
What Daniel Boulud's burgers, small plates and bites from $8.
Why One of the hottest high-end spots on the Strip right now – for less. Mind those drink prices, though.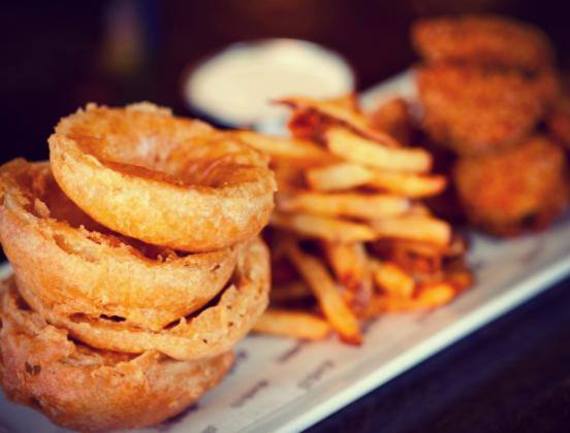 #11 Stripburger Fashion Show Mall
When Daily 4-7
What PBR, Bud Light and Coors Light on draft for $2
Why $2 PBR + Threesome (onion strings, fries and fried pickles, $7.95) + across the street from Wynn = perfect.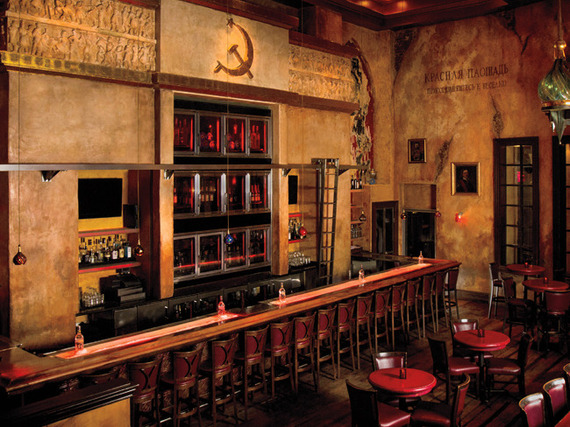 #12 Red Square Mandalay Bay
When Daily 4-7 10-close
What Complimentary vodka tastings, $5 beers, $7 wine, $11 cocktails, app specials
Why The famous ice bar – has it been here forever, because it feels that way – is still a lot of fun. Did we mention the vodka tastings?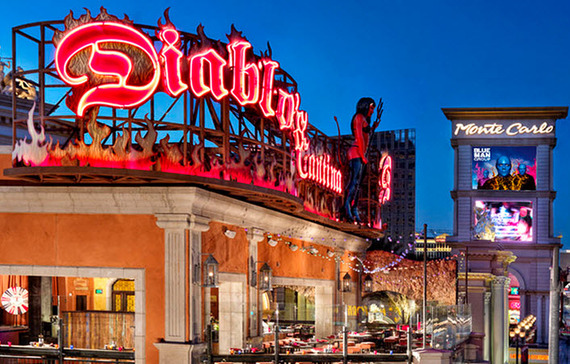 #13 Diablo's Cantina Monte Carlo
When Daily 3-7
What $5 drafts, margaritas, well drinks, $4 tacos
Why Decent deal for Strip-side drinking (and taco having).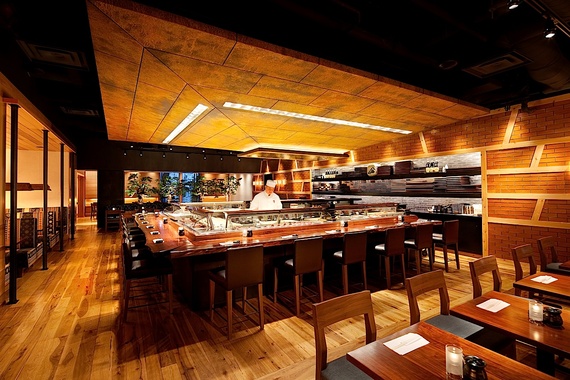 #14 Blue Ribbon Cosmopolitan
When Mon-Thu 5:30-7
What $7 rolls and $7 Hitachino draft selection
Why A good deal on some of the Strip's better sushi. Great room, too.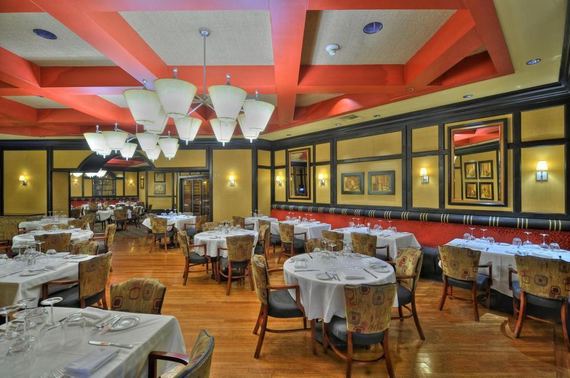 #15 Phil's Italian Steak House Treasure Island
When Daily 4-6
What $7 appetizers, cocktails and wine
Why A civilized spot for a civilized cocktail where you'd least expect it.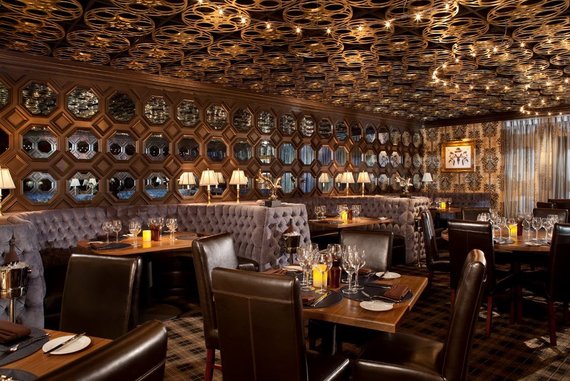 #16 The Barrymore The Royal Resort
When Daily, 5-7
What $5 cocktails, wines and beer, oysters, bone marrow, grilled octopus and other serious eats for $7-$8. 50% off select bottles of wine.
Why Escape Strip madness and hang with locals at this appealing hideout, steps away from Encore and the Convention Center.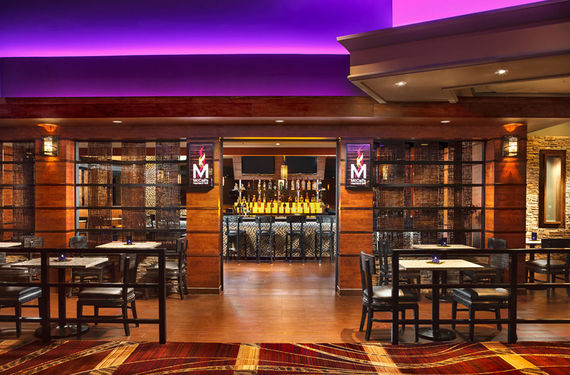 #17 McCall's Heartland Grill Stratosphere
When Daily 3-7
What $2 bubbly, $3 well drinks and drafts, 50 cent wings, $2 tacos and more.
Why Cheap wings and champagne? We'll be right there. Even if there is the Stratosfailure.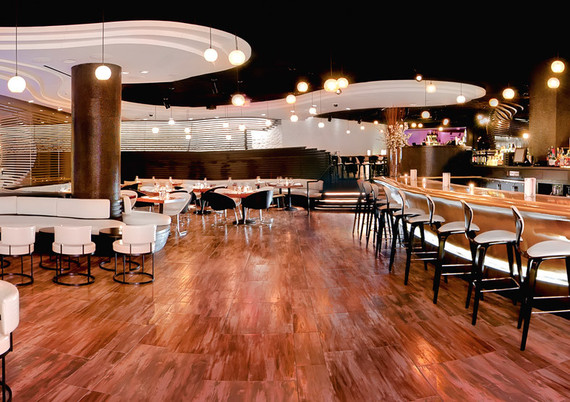 #18 STK Cosmopolitan
When Mon-Thu 5:30-7
What $10 food, $5 beers, $8 vodka cocktails
Why Wagyu sliders with truffle fries for $10 in a sexytime setting.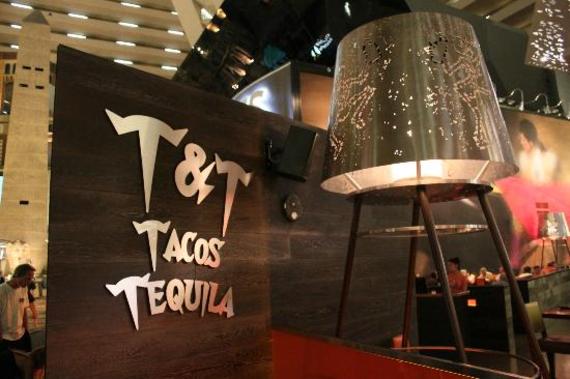 #19 Tacos & Tequila Luxor
When Mon-Fri, 11-6
What $5 apps and drinks
Why If you are at Luxor and would like to forget that you're at Luxor. Ask about their bucket of beers special.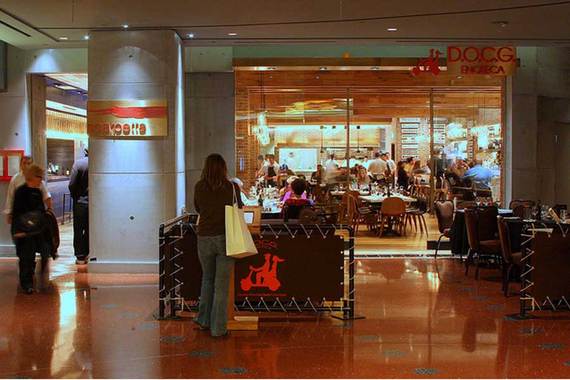 #20 Scarpetta Cosmopolitan
When Mon-Thu 5:30-7
What $7 small plates and cocktails
Why Sample Scott Conant's short rib and bone marrow agnolotti for $7, plus Scarpetta's signature San Remo cocktail, also for $7. The end. Or, maybe not – Next door, Conant's D.O.C.G. has its own $7 + $7 menu – if you're quick, you can try both.
Headed to Vegas? Click here for the lowest available airfares.
Source: Huff Post