Story by: Lauren Gambino in WashingtonThe Guardian
House Republicans faced a reckoning on Wednesday as leaders in the US House of Representatives confronted calls to punish two prominent congresswomen who represent clashing visions for a party struggling to chart a path forward since Donald Trump left the White House.
Liz Cheney, the third-most powerful Republican in the House of Representatives, easily beat back an effort by far-right conservatives to oust her from her leadership post as payback for her vote last month to impeach Donald Trump.
At the same time, the Republican House minority leader, Kevin McCarthy, declined to take any action against the Georgia congresswoman Marjorie Taylor Greene, who has a record of embracing extremist views and conspiracy theories, and who tomorrow will face a vote that could strip her of her committee assignments.
"It's just an example: this Republican party is a very big tent," McCarthy told reporters after the tense, hours-long meeting on Wednesday night, which culminated in a secret ballot vote to retain Cheney. "Everybody is invited in."
According to several accounts of the marathon House Republican meeting, billed as a "family discussion", dozens of Republicans took turns admonishing Cheney for her impeachment vote. By contrast, Greene, a devotee of the antisemitic conspiracy theory QAnon, who, prior to her election, indicated support for executing Democratic politicians, received a standing ovation from some members after a brief speech, in which she apologized for her past remarks.
Despite her apparent contrition, Greene has remained unapologetic in public.
Many Republicans were furious with Cheney not only for her vote, but for her unsparing denunciation of Trump, which Democrats have repeatedly cited to make their case for convicting the former president ahead of his Senate trial next week.
Cheney, according to reports, explained her decision to release a statement on the eve of the House impeachment vote last month but did not apologize for it. During the meeting, McCarthy said he rose to Cheney's defense, pleading with his party to unify against Democrats rather than each other.
"Liz has a right to vote her conscience," he told reporters during a break.
Though the Republican leaders insisted they emerged from the meeting "stronger" and more unified, their next test was just hours away. During a floor vote on Thursday, Republicans will be forced to decided whether to punish or defend the Georgia lawmaker, who holds significant sway among the party's base and maintains the enthusiastic support of the former president.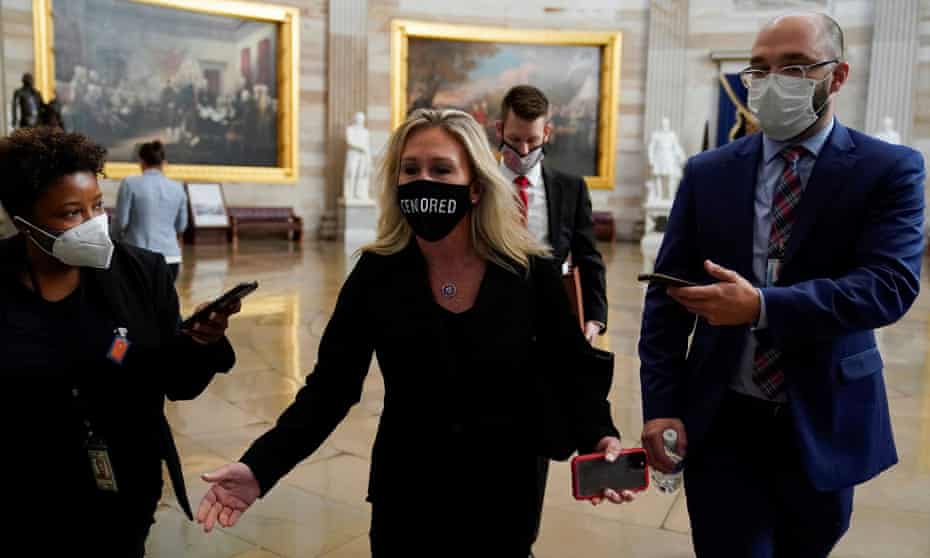 Earlier on Wednesday, the House majority leader, Steny Hoyer, announced that Democrats would proceed with a resolution to remove Greene from her two congressional panels the following day.
The decision came after McCarthy spoke to Hoyer by phone on Wednesday morning in an effort to stave off a politically difficult floor vote.
On the call, McCarthy said he proposed removing Greene from one but not both of her committee seats. Hoyer rejected the offer, saying Democrats were left with "no alternative" but to press ahead with their resolution – a rare move by the majority to target a member of the opposing party.
"I have been in the Congress for 40 years," he said. "I can't remember – and I've thought about it – any situation that I believe is analogous to what Ms Greene has done before – and after – her being elected to the Congress of the United States."
Before the GOP meeting on Wednesday, McCarthy issued a statement that condemned Greene's past remarks "unequivocally" but accused Democrats of a "partisan power grab" in their drive to sanction a member of the opposing party.
Drawing a distinction between comments she made as a private citizen, the Republican leader acknowledged that Greene's comments had "caused deep wounds" and said suggested she had committed to holding herself to a higher standard now that she was an elected official.
His stance effectively ruled out the possibility that Republicans might punish Greene before the House vote on Thursday.
"In the end," McCarthy wrote, "this resolution continues to distract Congress."
During a meeting of the House rules committee, the Democratic chairman, Jim McGovern, said failing to take action against Greene would send an "awful message".
"If this is not the bottom, I don't know what the hell is," he added.
It remains unclear how many Republicans will support the resolution on Thursday. Several Republicans have attempted to bypass the issue of Greene's conduct, arguing instead that members should not face punishment for actions taken before they were elected, and that allowing one party to discipline a member of another party sets a dangerous precedent.
As Republicans struggle with how to confront rising extremism among their party's base, Democrats are seizing on the turmoil.
In a scathing statement, the House speaker, Nancy Pelosi, assailed McCarthy for his "cowardly refusal" to remove Greene from her committee assignments.
"McCarthy's failure to lead his party effectively hands the keys over to Greene – an antisemite, QAnon adherent and 9/11 Truther," she wrote, identifying the Republican leader's party and state affiliation as "Q-CA", rather than "R-CA", a reference QAnon.
Democrats are far from alone in condemning the Georgia lawmaker. Earlier this week, the Senate minority leader, Mitch McConnell, assailed Greene's embrace of what he termed "loony lies and conspiracy theories," calling her views a "cancer for the Republican party".
But McCarthy, a staunch ally of Trump who voted to overturn the election results in two states based on spurious allegations of voter fraud in the hours after the deadly insurrection at the US Capitol by Trump supporters on 6 January, has been far more circumspect.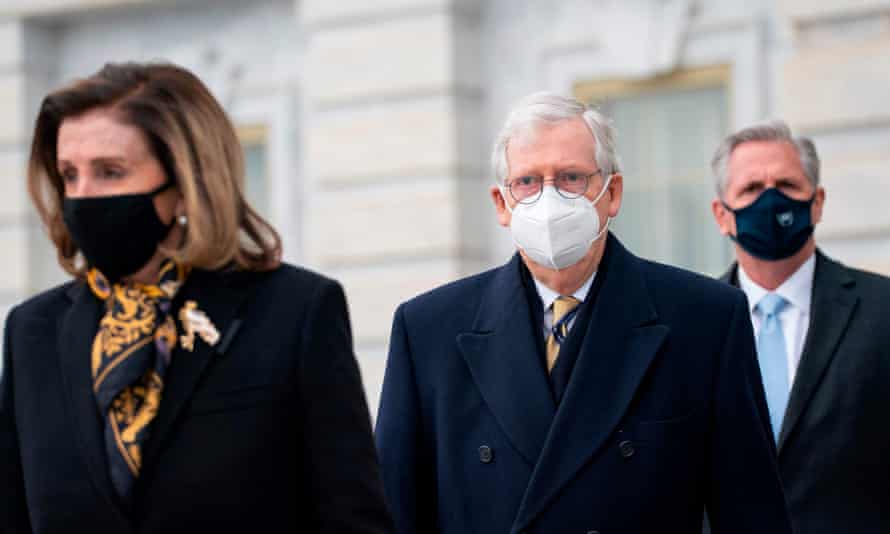 Greene was elected in 2020 after Trump branded her a "future Republican star". Savvy on social media, the congressman continues to enjoy support from Trump, whom she said would soon meet with at his Mar-a-Lago resort in Florida, where he has been holed up since leaving Washington on 20 January without attending election victor Joe Biden's inauguration.
The resolution, introduced by Democrats, states that Greene should be removed from her seats "in light of conduct she has exhibited", a reference to her social media posts that include support for an array of conspiracy theories.
Greene has defended herself on Twitter, claiming that Democrats' efforts to remove her from the House labor and education committee are an attack on her identity as a "White, Woman, Wife, Mother, Christian, Conservative, Business Owner".
But her appointment to the education committee was particularly problematic after it was revealed that she had wrongly claimed the 2018 deadly school shooting in Parkland, Florida, was a "false flag" event staged by those opposing lax gun rights. She has also publicly harassed a survivor of that massacre in person.
Greene also serves on the House budget committee.
It is unusual but not unprecedented for party leaders to remove members from their committee assignments. In 2019, McCarthy stripped Steve King, a Republican from Iowa with a long public record of racist remarks, of his committee seats after he gave an interview to the New York Times questioning why white supremacy was offensive. King lost the Republican primary for his seat in 2020.
Cheney, the daughter of former vice-president Dick Cheney and a Republican representative for the family's home state of Wyoming, has faced sharp backlash from Trump's allies, including his son, Donald Trump Jr, who has encouraged a primary challenge against her. Yet she has also received support from Republican leaders, including McConnell, who called her a "leader with deep convictions and the courage to act on them".
In the end, according to the South Carolina congresswoman Nancy Mace, the vote "wasn't even close".
The showdown over the political fates of the two congresswomen underscore the deep internal tensions within the Republican party as it grapples with the aftershocks of Trump's presidency.
The only president in American history to be impeached twice, Trump maintains strong support among the Republican faithful even after being de-platformed on social media for whipping up supporters who led the deadly Capitol insurrection.
Yet in a sign of how emboldened the radical right has become since Trump's election, Greene said she has raised more than $1.6m since calls began to mount for her removal from the committee assignments.
In response to Democrats' push to hold Greene accountable, a band of conservative lawmakers are attempting to turn the tables by pushing a long-short resolution that would instead strip the Democratic congresswoman Ilhan Omar of her committee assignments over comments she made in 2019 that members in both parties condemned as antisemitic.
In his statement on Wednesday, McCarthy accused Democrats of refusing to police their own, and included Omar among a trio of lawmakers he suggested should be expelled from their committee seats.
Democrats have risen to Omar's defense, assailing Republicans for attempting to draw a false equivalency and avoid the political risk of disciplining one of their own. Before running for office, Greene repeatedly targeted Omar, attacking her faith and suggesting Muslims do not belong in government.
"There's no comparison to be made, there's no parallel situation," Hoyer told reporters on Wednesday, calling it an attempt to "rationalize terrible behavior".
"It's getting really scary to serve with…
Story continues…
Source References:The Guardian
The post 2021-02-04 03:40:17 | Republicans take no action against Cheney or extremist Greene after vote | Republicans
appeared first on http://justlatestnews.com