Good morning, Matilda Boseley here to bring you all the important news this beautiful Monday morning (although as we shall see, it's probably more beautiful if you don't live in Sydney or Melbourne).
If you see anything that you think I should be aware of or should be in the blog send me a message on Twitter on @MatildaBoseley or email me on [email protected].
So first up, I hate to break it to you but we have some Covid-19 cases:
A hotel quarantine worker at the Holiday Inn near Melbourne airport has tested positive, raising further concerns over whether this system is fit for purpose now the highly contagious Covid variants are spreading around the world.
The woman worked at the hotel on Sunday morning before developing systems. She was quickly tested and returned a positive result.
This came after already testing negative at the end of her shift on Thursday.
Other workers at the hotel and a number of close contacts have been quarantined and a number of exposure site alerts have been issued.
This comes just a few days after a worker at the Grand Hyatt, which housed quarantine tennis players and staff, tested positive for Covid-19, prompting the reintroduction of a number of restrictions.
Melbourne is set to host the first day of the Australian Open today, so safe to say the stakes are pretty high.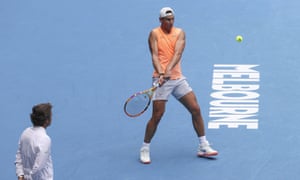 And in NSW authorities have introduced non-compulsory "day 16" testing for overseas travellers after someone tested positive for Covid after their two-week quarantine period.
A health alert has been issued for a Sydney cafe and venues in the Illawarra, including a cafe at Brighton Le Sands in Sydney's south, a hotel and a beach in Wollongong and the Illawarra – I'll bring you the full list soon.
NSW Health says anyone who visited the venues around the same time should get tested immediately and self-isolate.
The person tested positive on the 16th day after returning to Australia and returned two negative tests during two weeks in hotel quarantine.
A statement released by NSW Health overnight said the person had a low level of infection.



Investigations to date suggest the infection was likely acquired overseas and there is no indication at this stage that there was transmission in the hotel quarantine setting.
I'll bring you all the updates on these cases (and coverage of the inevitable press conferences) here this morning so stick around.
OK, let's jump into the day.