Two years ago today, on the night of Pope Francis' election, he stepped out onto a balcony overlooking a packed St. Peter's Square. Since then, the world has been watching him, tweeting about him and drawing conclusions from his every word.
There was much talk during his first year of a "Francis effect," a new tone that was revitalizing the Vatican's bureaucracy and energizing the world's Catholics. But two years in, it seems some of that buoyant enthusiasm has deflated. Even the pope's most loyal fans are realizing that real change takes time, and that some much-needed shifts may not even happen during the 78-year-old Francis' papacy.
We've gotten accustomed to stories about Francis' incredible gestures of humility and his desire to be close to his flock — evidence that he's sticking to his roots as a former parish priest. But there's more to the pope's record than the cold calls and the fabulous selfies. Here are three ways Pope Francis has delighted and disappointed us at the same time.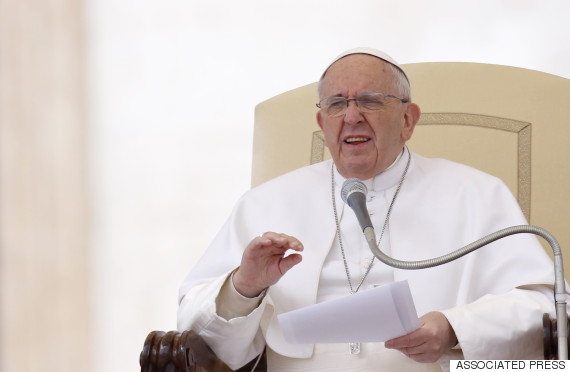 Pope Francis delivers his speech during the weekly general audience in St. Peter's Square, at the Vatican.
1. Pope Francis Delighted Us By Being Brave Enough To Criticize His Own Church …
Francis has no qualms about pointing out problems within the Catholic Church. In fact, he was blasting the church's "theological narcissism" even before he was elected pope. Francis has been particularly critical of the Curia, the Vatican's elite court of senior-level cardinals, bishops and priests. In December 2014, he issued a blistering 15-point critique of the group, accusing the assembled men of everything from suffering from "spiritual Alzheimer's" to being gossipy "lords of the manor" who lived hypocritical double lives.
Francis is also making strides to help the church heal from the clergy sex abuse scandal. He met with abuse victims last July and has set up a special commission to address the issue. In addition, the pope recently sent a letter to Catholic bishops worldwide, ordering them to cooperate with the commission and making it clear that it is never acceptable to cover for sex abusers.
… But He Disappointed Us When His Critiques Didn't Hasten Much-Needed Reforms.
We get it. Cleaning up a centuries-old institution is a tough job, and doing it well takes time. But we can't help feeling just a bit disappointed about the slow pace of these reforms. Take the sex abuse scandal, for instance. It took the Vatican until December of Francis' first year to announce that it was even planning to create a commission to address the issue. The commission members' names weren't announced until the spring of 2014. In December of that year, Francis added more members to the commission to make sure that it included survivors and women leaders and was geographically diverse. It wasn't until February 2015 that the full commission met in person at the Vatican.
The commission is working on developing a system that will hold bishops accountable if they covered up for sexually abusive priests. But nothing has been announced yet, and it doesn't appear that much has changed in recent months. Moreover, in January, Francis sent mixed signals by appointing a bishop who has been accused of protecting an abusive priest as the new leader of a Chilean diocese. Catholics in the region were upset with the pope's choice, and have launched protests against the appointment.
Marie Collins, one of the sexual abuse survivors appointed to the commission, praised Francis for what he's accomplished so far, saying that "in church terms," he was moving quickly. But as a layperson exposed to the inner workings of the Vatican for the first time, she says she found the pace of the process "frustrating."
"It's a shock to the system really how slowly they move," she said. "I would definitely like to see things moving more quickly."
Fr. Thomas Reese, a senior analyst for the National Catholic Reporter, has similarly critiqued the pace of the movement to reform the Roman Curia. "That it took the Council of Cardinals two years to come up with this reshuffling of boxes on the organizational chart simply shows they really don't know what they are doing," he writes. "It should have taken two months to develop this plan, not two years. At this pace, Pope Francis will be dead before real reform hits the Curia."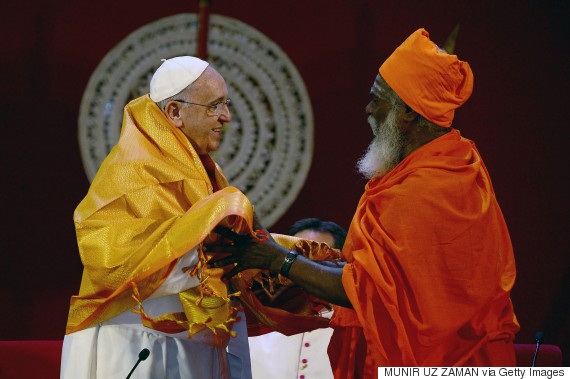 Pope Francis (L) receives a shawl as a gift from Sri Lankan Hindu priest Kurukkal SivaSri T Mahadeva during an inter-religious meeting in the Bandaranaike Memorial International Conference Hall in Colombo, Sri Lanka, on January 13, 2015.
2. Pope Francis Delighted Us When He Embraced People Of Other Faiths — And No Faith At All …
Just one month after he was elected, Pope Francis knelt down to kiss and wash the feet of a Muslim man on Maundy Thursday. Since then, he's made it clear that he's willing to engage with people of other faiths.
He's reached out to the world's Orthodox Christians, to Hindus and Buddhists and even to atheists. He's silently prayed inside Turkey's Blue Mosque, saying soon after that it was wrong to equate Islam with violence.
It's true that Francis doesn't believe that non-Christians can attain salvation. Still, his efforts to find common ground with other faiths have been remarkable.
… But He Disappointed Us When He Said "Who I Am To Judge?" And Then Judged Anyway.
While he's willing to reach out to people of other faiths, Pope Francis still hasn't extended a wholehearted welcome to lesbian, gay, bisexual and transgender members of his own church. On the flight back from a trip to Brazil in 2013, Pope Francis spoke the words that LGBT Catholics around the world would immediately take up as a rallying cry.
"If a person is gay and seeks God and has good will, who am I to judge?" he said.
But since then, lesbian and gay members of the church have come to realize that this change in tone did not necessarily signal a change in doctrine.
Last October, Pope Francis gathered Catholic bishops together to talk about family-related issues and to produce a document with recommendations. A first draft of the report from this conference extended an extraordinary welcome to LGBT people — but that section was later edited. Francis' bishops couldn't muster the two-thirds majority needed to keep even the watered-down welcome in the final report.
To his credit, the pope was willing to include the controversial paragraphs in the next round of discussions, showing he's open to continuing the dialogue. He's also said that the Catholic church should help parents stand with their gay children. But that doesn't mean that LGBT Catholics in committed same-sex relationships will be welcomed into the fold anytime soon. Francis continues to champion a "love the sinner, hate the sin" approach. He has criticized gay marriage, even showing support for efforts to block marriage and adoption rights for gay couples.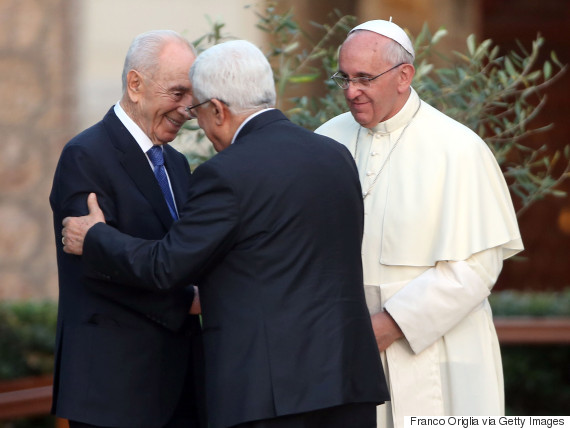 Pope Francis (R) meets Israeli President Shimon Peres and Palestinian President Mahmoud Abbas for a peace invocation prayer at the Vatican Gardens on June 8, 2014, in Vatican City.
3. Pope Francis Delighted Us When He Encouraged Open Debate And Conversations …
Francis has been doggedly enthusiastic about creating spaces for open dialogue — both within the Catholic Church and outside it. Within the church, he's circumvented tradition by reaching out to the peripheries of the Catholic world for new cardinals and for advice. Last year, he asked the world's bishops to survey their local congregations on controversial topics like gay marriage, divorce and birth control to get a clearer picture of what today's Catholics believe.
According to RNS, Francis has "reinvigorated the synod system, calling regular meetings of bishops from around the world to debate issues and set the agenda; previous popes discouraged debate and had the Curia carry out their orders."
Outside the Catholic Church, Francis has had an impact as well. He brought together Israeli and Palestinian leaders for a special prayer summit for peace. He also played a key role in urging President Barack Obama to normalize relations between the U.S. and Cuba and securing the release of American subcontractor and longtime prisoner Alan Gross.
… But He Disappointed Us When He Refused To Have A Conversation About Women's Ordination.

The pope is clearly interested in dialogue. But when the topic drifts to the ordination of women to the priesthood, he firmly agrees with his predecessors in saying, "that door is closed."
In fact, Francis' remarks about women can seem patronizing at times — like the time he referred to female theologians as "strawberries on the cake."
He has said that the church must give women greater responsibility and visibility so that they "will not feel like guests but as full participants in various social and church environments." But the "freedom of choice" he claims to offer women is counterbalanced by what he calls the "irreplaceable role" of women as mothers in the home. In the past, he's firmly shot down proposals to invite lay female members into the College of Cardinals. John Allen Jr., a journalist who focuses on the Catholic Church, explains Francis' reluctance this way:
In [Francis'] mind, conceding that the only way to elevate the role of women is to make them clergy feeds the mistaken notion that clerics are what's most important about Catholicism, when he sees his mission instead as exalting the role of the laity. When he talks about a "deeper theology" of women, this is likely part of what he has in mind—a sort of Copernican revolution in Catholic consciousness, with laity and women the real protagonists of the Church's mission in the world and the clergy a supporting cast.
Still, for a pope who appears willing to engage in so many other debates, it is disappointing that Francis is so firmly opposed to even considering the idea of women as priests.
How do you think Pope Francis did during the first two years of his papacy? Tell us in the comments below.
Source: Huff Post