If there are two things you wouldn't typically associate with a hummus recipe, it's the addition of cheese and the color green. And yet, this cheesy green hummus is strangely delicious, making it especially perfect for St. Patrick's Day — not to mention a unique, healthy snack year-round.
Cheesy Green Hummus
Recipe by Catherine McCord of Weelicious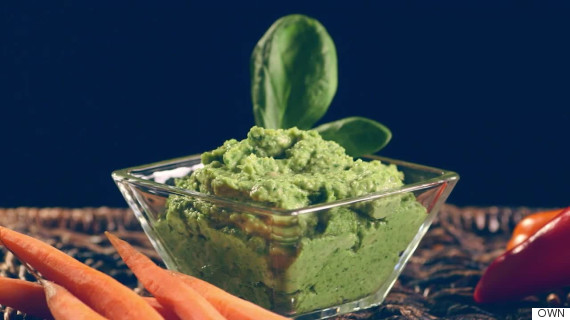 Ingredients
1 can (15 oz.) garbanzo beans
2 Tbsp. tahini paste
1 garlic clove
1 Tbsp. lemon juice
1/2 tsp. salt
2 Tbsp. Parmesan cheese, grated or shredded
1 c. fresh spinach
1/4 c. olive oil
Directions
Place all of the ingredients in a food processor and pulse until smooth.
Pour hummus into a bowl and serve with pita chips or fresh vegetables.
Companion recipe: These simple spiced pita chips are ready to eat in less than 15 minutes.
@media only screen and (min-width : 500px) {.ethanmobile { display: none; }
}
Like Us On Facebook |

Follow Us On Twitter
Source: Huff Post