Posted on behalf of Christos Stylianides – the EU's Commissioner for Humanitarian Aid and Crisis Management
The Syrian conflict, which this month enters its fifth year, shows no sign of easing. Since the start of the crisis in 2011, more than eleven million – half of the population – have been forced to flee the fighting and are now displaced inside the country, or have fled Syria to seek refuge in neighbouring countries. Four years of conflict have set the country's development back for forty years.
A staggering 12.2 million people are in need of humanitarian assistance inside Syria, nearly half of whom are children and reaching these people is a constant challenge – violence, denial of access to people in need, and administrative blockages mean aid workers are simply not able to get close to populations who need their help.
Some 5,000 schools have been destroyed, occupied or targeted by parties to the conflict in gross violation of International Humanitarian Law. With 2.4 million children out of school and unable to learn, there is a risk that an entire generation will be lost.
Health needs in Syria are acute, with more people dying of curable or chronic diseases than as a direct result of the violence. Diseases once thought to have been eradicated, like polio, tuberculosis and typhoid are resurging, and there are fears that the country is being thrown back into the medical dark ages. There are widespread shortages in medical staff, as they have become increasingly and explicitly targeted by armed groups, and many have fled the country. The supply of medicines can hardly keep up with the demands and in some areas obstetrics, gynaecological and paediatric services are simply unavailable.
The Syria crisis is testing the hosting capacities of neighbouring countries and their hospitality is at breaking point. When I visited Turkey, Jordan and Lebanon during the past three months, I heard from many refugees about the struggles they faced, the difficulties in finding jobs, paying rent, medical bills, or sending their children to school. With their meagre savings now exhausted, restrictions on refugees working in most of the host countries makes it almost impossible to support themselves and their families.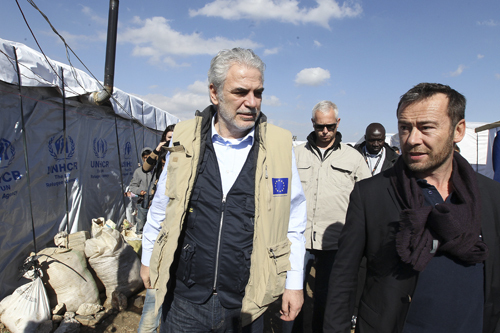 Christos Stylianides (left) visits informal tented settlement housing Syrian refugees in Bekaa Valley, Lebanon, 3 Jan 2015 – Photo credit/European Union
Schools in host countries have struggled, many creating double-shifts in an attempt to accommodate new students; health services are creaking under the weight of higher case-loads; there have been water and electricity shortages because of the increase in demand and rents have sky-rocketed.
A deteriorating security situation means borders are policed more tightly, and arrivals from Syria are viewed with greater suspicion. I have conveyed to the host governments the message that their concerns are well-understood, but urged them to abide by International Humanitarian Law and ensure that refugees are protected.
Against this backdrop, humanitarian funding for the crisis is still struggling to keep up with the scale of ever-increasing populations' needs.
The European Union remains committed to provide continued support – both for refugees and to Syria's neighbours who are so generously hosting them. The European Commission and its Member States are among the largest humanitarian donors for the Syria crisis, having so far contributed more than 3.35 billion Euros. This is a strong sign that Europe cares, that we stand in solidarity with the people of Syria, who have suffered so much.
During my visit to the Bekaa Valley in Lebanon I saw what difference a joint approach across the various European instruments can make, where funding as well as expertise from the European Union's different branches – humanitarian aid, development assistance and resilience – are positively impacting the lives of Syrian refugees who have already lost so much.
But this is not enough. It is time for the international community to step up its support. With no end in sight to the crisis, there's a need, more than ever, for humanitarian donors, agencies and governments to work even more closely in order to maintain protection, access and help when needs are growing. With the annual Syria pledging conference coming up at the end of the month in Kuwait, it is time for the international community to live up to its obligations and deliver.
We need to take a fresh look at the delivery of assistance, and ensure the best use of limited resources, planning further ahead, and shifting from crisis response to crisis management. We also need to link up with the development community, given the protracted nature of the crisis and its long-term effects, which will be felt for generations to come.
In the face of such overwhelming needs it is now clear more than ever, that humanitarian aid can only mitigate the human suffering. In parallel, we support all efforts to halt the fighting and ultimately bring about a political solution to the crisis.
These are huge challenges. We have no choice but to tackle them head-on. History is watching us.
Source: Huff Post