Do you feel that? There is a subtle change in the air. Yes, certain annual signs of spring are in fact starting to peek through: slightly warmer temperatures, longer days and an athletic competition with no seasonal equal: March Madness, people!
By now you've hopefully started to fill out your bracket(s) and entered some office pools. And while some friendly inter-colleague wagering may be easy to pass through the bureaucracies of your office, actually watching all 67 games may not be a simple. … Or is it?!
The four first round games tip off in Dayton, Ohio, on Tuesday, March 17, and Wednesday, March 18, on truTV at 6:40 p.m. and 9:10 p.m. ET, with the second round starting on Thursday, so take this time to get your game plan in order.
1. Get the full schedule.
The NCAA, naturally, has a helpful schedule of times and networks of when and where the first and second of games will air. But it might also be helpful to print, bookmark or whatever this handy lineup from CBS.
2. Find the games online.
First and foremost, you can head over to the NCAA's March Madness Live site. A cross platform app, March Madness Live provides TV subscribers with unlimited access to games and coverage.


A look at the March Madness Live app for iPhones. (Source: Apple)
If you have a cable TV provider, lucky you, because that earns you unlimited and uninterrupted access to all of the games. Just enter your information and watch any game's live broadcast on any device you so choose. The app is available via Amazon App Store, Apple App Store, Google Play and the Windows Store.
Of course, there's always good old-fashion live television-watching.
3. Download a quick-hide button.
The real challenge comes for those daytime games, when your work schedule may not be as forgiving to your college basketball consumption schedule.
But fear not, intrepid sports fan, because the NCAA has you covered for that as well. It once again is partnering with Boss Button. With the click of the Boss Button a page with appear either with what looks like a Q1 presentation, class notes, or a general Internet search page.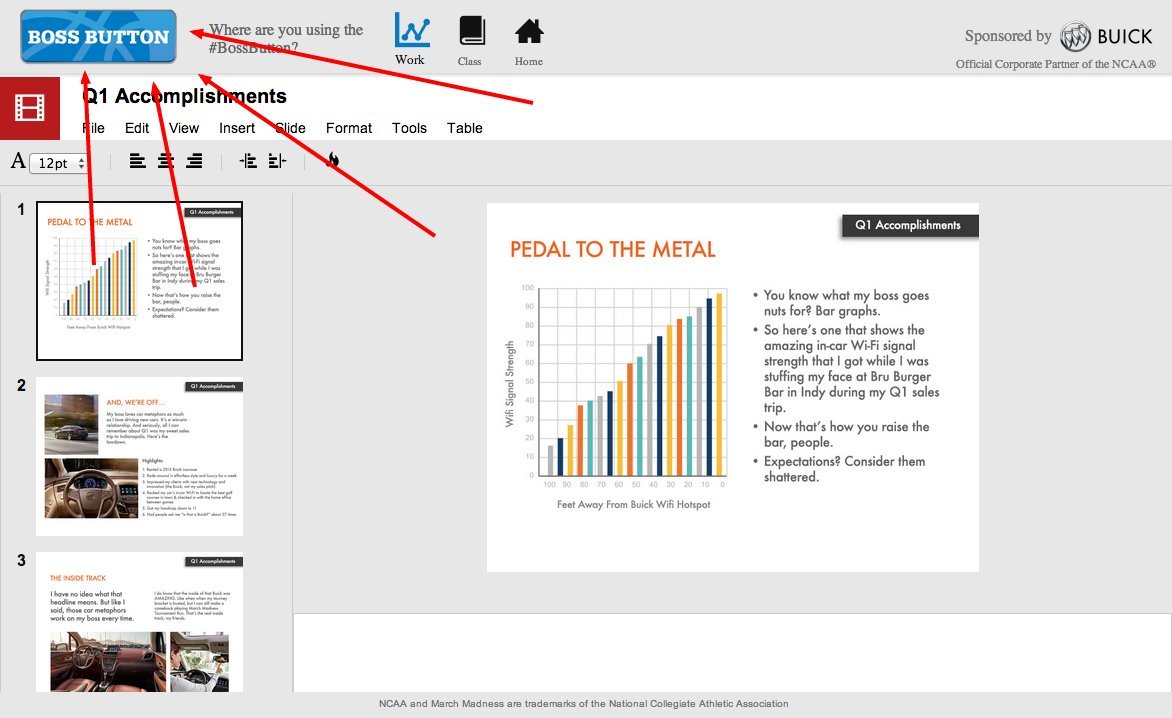 Boss Button. Or, your new best friend (Source: ncaa.com)
But we recommend getting familiar with your computer or laptop shortcut keys, for last-minute navigating away from a livestreaming game, to whatever task you should actually be focusing on. And worst comes to worst, assign Jimmy from marketing as your lookout for supervisors walking by.
Godspeed, and we'll see you on the other side of March!
Source: Huff Post