3 Magical Greek Islands That Tourists Don't Know About
by Lindsay Talbot, Condé Nast Traveler
The secret's out on Mykonos, Santorini, and even Patmos–but on the lesser-known islands of Antiparos, Paros, and Pano Koufonisi, the beaches are unspoiled, the tavernas are rustic, and the pace of life is blissfully slow.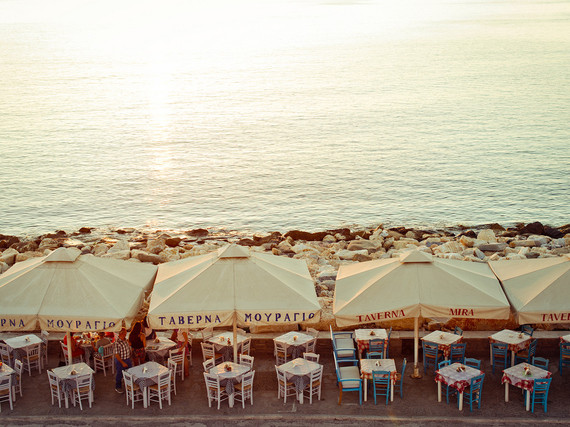 Photography by Gabriela Herman
I have been an islomaniac since birth, but I am a picky one. My islands need to have all the right proportions. I like them rugged and remote. They shouldn't try too hard, but they should have enough to keep you from growing bored. The first time I visited the 220-island-strong Cyclades–the most frequented and most famous of the Greek archipelago's seven island groups–I traced the tourist's trilogy of Mykonos, Delos, and Santorini, spending a few nights among the crowded bars and beaches of Mykonos; a day walking around the sacred ruins of Delos; and another few lounging by the infinity pool overlooking the caldera and the dizzying jumble of cliffs on Santorini. All three were islands whose charms, I found, revealed themselves rather quickly–and perhaps a bit too generously.
But in 2008, I made my first trip to the lesser-known (at least to Americans) central Cyclades–including Paros, Antiparos, Naxos, and Pano Koufonisi. Here were islands that surrendered themselves much more slowly. There were hardly any nightclubs, boisterous restaurants, or high-end shops–and yet there seemed to be no end of whitewashed hillside towns and hidden swimming caves to discover and explore. Each island is a swimmer's paradise; I've now been to about 30 beaches on Paros alone. They come in endless varieties: There's Kolymbithres, on the northern tip of the island, famous for bizarre rock formations rubbed so smooth by the sand that they're almost lunar; or the windsurfing meccas at Chrissi Akti, on the southeastern side, where kiteboarders' colorful sails fly across the sky in arching swoops. Many have little tabernacles, bamboo-thatched umbrellas, and sleepy tavernas where roasting spits of souvlaki slowly pirouette.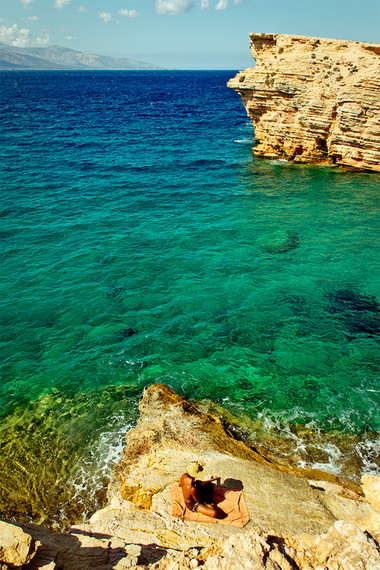 Photography by Gabriela Herman
Like its neighbors, Paros has never been entirely dependent on tourism: While its ports draw summer crowds, it's largely been the protectorate of a population of European families and ex-pats who maintain summer homes outside its four main villages–Naoussa, Parikia, Lefkes, and Marpissa. There are mostly just quaint bed-and-breakfasts on the island, and a stately high-end hotel or two dotting each end. But recently, a handful of boutique hotels–like the Greek-owned Beach House on nearby Antiparos, which opened last summer–along with a flashier kind of visitor (Tom Hanks, Madonna) are shining the spotlight on these central Cycladic isles. The fashion set have even been trading Patmos (an airportless island in the north Dodecanese that's an eight-hour trip from Athens by ferry) for Antiparos–which can be reached by ferry in about four hours from Athens or 30 minutes from the Paros airport.
In fact, it seems that tiny Antiparos is becoming the new Patmos in that it's the anti-Patmos: While Patmos in August has the distinct see-and-be- seen social whirl of New York Fashion Week–an exhausting, ceaseless scene, teeming with it girls (self-anointed or not) and interior and fashion designers–Antiparos is a place for those who seek and require no society but their own. On Antiparos, old men sit beneath ancient oak trees play- ing backgammon, while the hippies who washed up here in the 1970s still run nudist campgrounds. Though you might bump into Bruce Springsteen at The Doors, a local bar where the owner gives free ouzo to anyone who can sing all the lyrics of Bob Dylan's "Hurricane," you'll otherwise be left alone. And in summertime in Greece, that is the rarest, most precious thing of all.
And yet for all the rediscovery, the truth is that these isles have been drawing writers and artists seeking escape for centuries. In the early 1800s, Lord Byron inscribed his signature in a cave at the southern end of Antiparos, a place where millennia-old stalactites and stalagmites spiral, corkscrew-like, into the darkness. Truman Capote, having just finished Breakfast at Tiffany's, spent the summer of 1958 on Paros. Throughout his long stay in Parikia, he worked on the text for Richard Avedon's Observations, the photographer's first book of portraits, and read Proust and Chandler. He also began writing Answered Prayers, his final–and famously unfinished–novel.
Even today, it is easy to imagine how Capote must have found here a refuge from all the things which by that point had come to define and, equally, oppress him: New York society, the literary world, and even his own persona. On Paros, there was none of that–there was only sun, sea, and serenity. "We have not seen a newspaper since we arrived on the island," wrote photographer Cecil Beaton, while staying with Capote at the Meltemi Hotel in Parikia. "We have lived in a timeless haze of repetition. Life is nothing but sleep, swim, eat, and read. One day merges soothingly into another without incident. Each day is a pattern."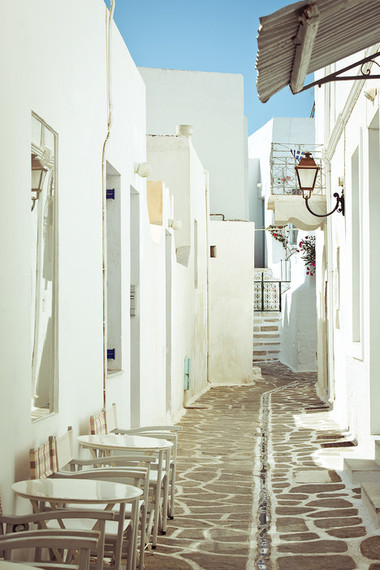 Photography by Gabriela Herman
And like Beaton's, my days on Paros–a week or two almost every August for the past eight years–are also a pattern. I find myself immediately in the island's lull, falling into its idle routine. Its alchemy is restorative, cathartic, elemental–swimming every day in the sea, driving through the amber pastures of arid farmlands, eating the same simple Greek dishes you find at every little taverna. Time slows, as if running counterclockwise.
Toward the end of my stay, I always make a day-trip to the Caribbean-blue waters around Pano Koufonisi–a small island just off Naxos that's so undeveloped it may have been what Paros looked like when Capote and Beaton visited. Its low coastline looks almost porous–so pocked with natural swimming pools and cavernous cliffs that it resembles a slice of Swiss cheese.
But the rest of my time is spent on Paros, and whenever I return, I notice, as if for the first time, how in the rosy satin dusk, everything is electrified by the white candescence of the sinking Mediterranean sun; I watch the town's domed churches, Frankish castles, and Venetian palaces gild in the late-afternoon light. The island burns on like a piece of Murano glass. The final day of my trip each year, I sit in a spectacular cove at the foot of a plunging ravine, one flanked by wind-swept olive trees that look like they belong in a Dr. Seuss storybook. In the distance is a funky campground with tie-dyed tents, neon-bright dune buggies, and a pirate flag flapping in the breeze. The beach is wide and, but for one family, deserted. There are no umbrellas or chaises–just a stretch of pale smooth stones, palm trees, and turquoise water. A small taverna sits above the beach, its terrace shaded by grapevines. Plates of vivid-red stuffed tomatoes and clouds of feta mixed with olives and onion cover the rickety little tables, while octopus dries outside in glass display cases. The restaurant is run by an old sea captain with a mop of yellowed curls weathered by the sun and salty air. He wears a navy-blue wool sailor's cap and could pass for a Homeric sea god.
A donkey roams on a hill in the distance, and the outline of a motorized skiff from Antiparos starts to appear. As lunch arrives, I begin talking to a sun-kissed Englishman who used to work in publishing. I ask him how long he's been on the island. "Ten years ago I came over for a week to clear my head," he says. "I never left."
I realize then that it's time for me to pack up–before the island captures me as well.
More from Condé Nast Traveler:
These Are The Best Cities in the World
15 Places You Won't Believe Exist
The World's Most Dangerous Trips
Private Islands That Cost Less Than an NYC Apartment
How Not to Look Like a Tourist In Paris
10 Most Underrated American Cities
Source: Huff Post