Email engagement can be a major problem for brands in an oversaturated digital world. So, it's no surprise that less than 60% of marketers believe their campaigns are successful, according to Smart Insights. But the main issue doesn't appear to be the content of their emails. Instead, it seems to stem from outdated email frameworks and communication tactics.
"Part of the problem is that inboxes are overflowing," said Matt Harris, co-founder, and CEO of email builder Dyspatch, in his session at our MarTech conference. "People are getting more emails than ever before, so it's an increasing challenge for you to compete in the inbox, let alone get that engagement you need."
Full inboxes only account for one aspect of poor engagement; the other element is non-interactive media.
"The other part of the problem has to do with the evolution of technology," he said.
Harris asked viewers to consider how people use phones today, highlighting how they differ from traditional email formats. "We've evolved to a point where people use their phones more than a desktop computer. We use apps, we use gestures like swiping — clicking to expand and zoom in — which is an active, engaging experience. In contrast, email is still a static medium and hasn't evolved much since the introduction of HTML."
"You have to change the email experience; make it un-static and app-like by bringing the same kind of interactivity people are used to into the inbox," he added.
To that end, Harris provided some helpful ways marketers can transform their customers' inbox experiences using the latest email technologies.
Interactive loan sliders, mortgage calculators, or quizzes
One of the most important things modern email lacks is interactive elements. These features can help brands introduce that app-like quality to their communications, fostering deeper engagement.
Online lending marketplace LendingTree introduced interactive sliders into their email campaign; Harris pointed out how this changed revolutionized their customer experience: "They use AMP to share an interactive personal loan slider right in an email. This is a next-level engagement technique — it's hard to resist trying this out in the email. The users can see exactly what their loan would look like without ever leaving the inbox."
He added, "With that experience, they [LendingTree] saw an 86% increase in click-through rate, so we know that using AMP delivered results for them.
Harris recommends marketers apply this interactivity principle to a variety of email applications, whether they use AMP or another technology.
Personalized upsells
New email technologies can help marketers sell more products to customers by recommending similar items to those they've viewed. When applied to email, brands have the opportunity to add a personalized touch to consumer messages.
"You could apply it to your emails today by sharing personalized suggestions based on what's in their cart right at that moment," said Harris.
Existing customers are 50% more likely to try new products on average, so it would be unwise to neglect these upsell opportunities. Email can help brands work to generate personalized upsells before, during, and after purchasing.
Live shipping notification emails
Instead of sending a slew up shipping update emails — which could lead to customer disengagement — new technologies allow marketers to update these messages in real time, in one email.
"You wouldn't have to send multiple shipping notification emails anymore," Harris said. "You can send just one and it would update to show the latest status of a parcel. Every time a user opens the email, they wouldn't have to click through multiple pages to see an update."
"Email engagement has been steadily declining the past few years," he added. "To remain relevant in the inbox and continue to see high ROI, brands need to reimagine email as an interactive app-like experience."
He added, "Implementing these emails will help your brand stand out in these saturated inboxes and increase engagement."
Watch the rest of this presentation at the MarTech conference here (free registration required).
About The Author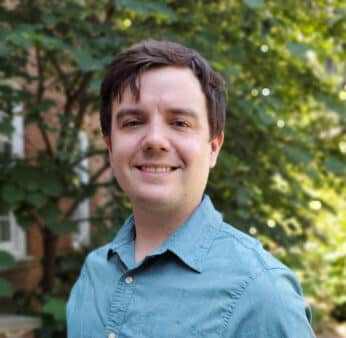 Corey Patterson is an Editor for MarTech and Search Engine Land. With a background in SEO, content marketing, and journalism, he covers SEO and PPC to help marketers improve their campaigns.