Just like a fierce tube of red lipstick, a great pair of sunglasses have the power to transform your entire look by simply slipping them on your face.
You've noticed that more and more of our favorite celebrities and street style stars are wearing such amazing sunnies that we hardly notice their clothes. No shade.
It's amazing what a big impression such a small accessory can make. And thanks to designers like Karen Walker and Linda Farrow and trendy e-commerce sites like ASOS, there is no shortage of head-turning frames to covet.
We've rounded up a selection of stunners that will stylishly serve you well this spring and summer. Take a look and let us know which ones catch your eye in the comment section below.
Mirrored
These reflective lenses will definitely draw stares and not just because the admirers can see themselves in your gaze. Thanks to a variety of colors and shapes, mirrored shades are one of the most versatile eyewear trends.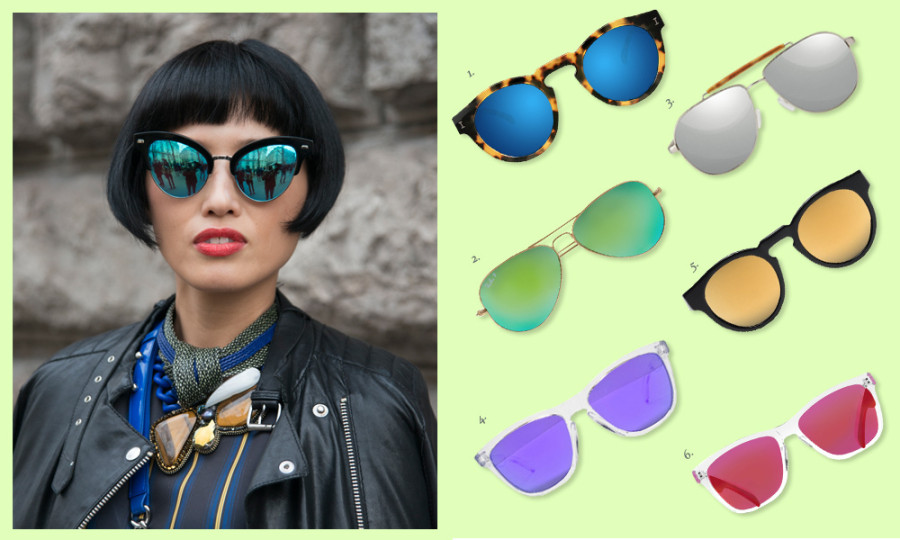 1. Illesteva "Leonard" sunglasses, $177; 2. Ray-Ban sunglasses, $200; 3. TOMS "Booker" sunglasses, $139; 4. Oakley "Frogskins" sunglasses, $100; 5. Westward Leaning "Voyager 1" sunglasses, $195; 6. SUNSKI "Originals" sunglasses, $48
Round
By now you've probably got the memo that the '70s are back! But if you're not quite ready to go full-on Foxy Brown, in bell bottoms and fringe, then a round pair of sunglasses are enough to give you retro chic look.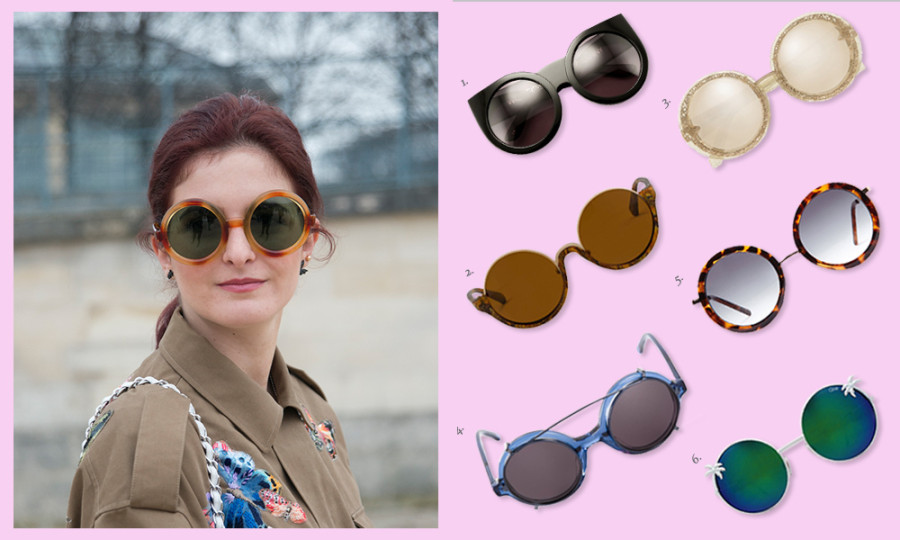 1. Wildfox "Granny" sunglasses, $179; 2. 3.1 Phillip Lim "70" sunglasses, $297; 3. Karen Walker "Orbit" sunglasses, $349; 4. Chandler x Selma Optique, $225; 5. Forever21 sunglasses, $6; 6. Quay "Coco" sunglasses, $50
Flat Tops
Opt for this geometric frame if your face is on the rounder side. The juxtaposition of the severe line and rounded bottom will help elongate your face. And since they are similar to the classic wayfarers, you're almost guaranteed to look cool!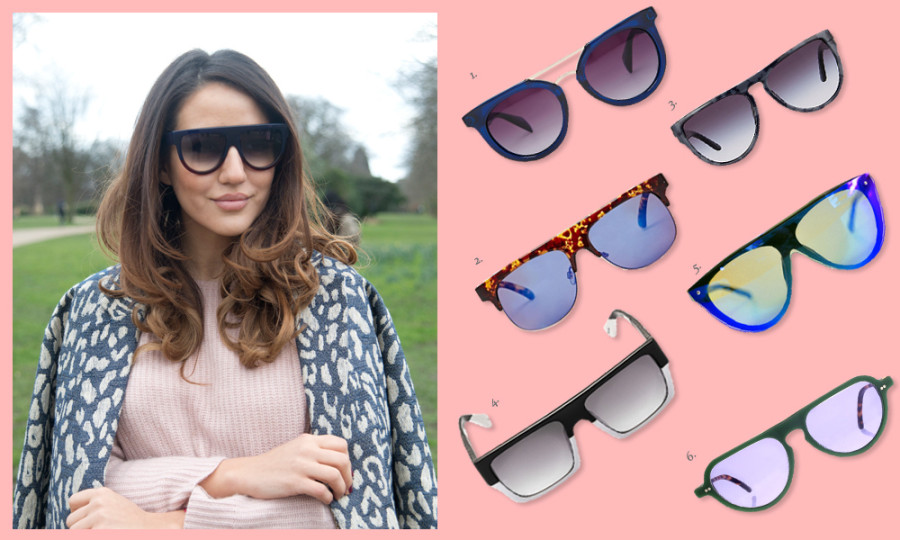 1. Jeepers Peepers sunglasses, $43; 2. ASOS "Flatbrow Clubmaster" sunglasses, $22; 3. Stella McCartney sunglasses, $119; 4. Sunday Somewhere "MVP" sunglasses, $260; 5. 3.1 Phillip Lim "Flat-Top" aviators, $270; 6. RVS "Leisure" sunglasses, $375
Colorblock
Sometimes two hues are better than one. Colorblocked shades are the easiest way to add dimension and a whole lot of fun to your ensemble — whether you go the high contrast route in black-and-white or more punchy in teal-and-white.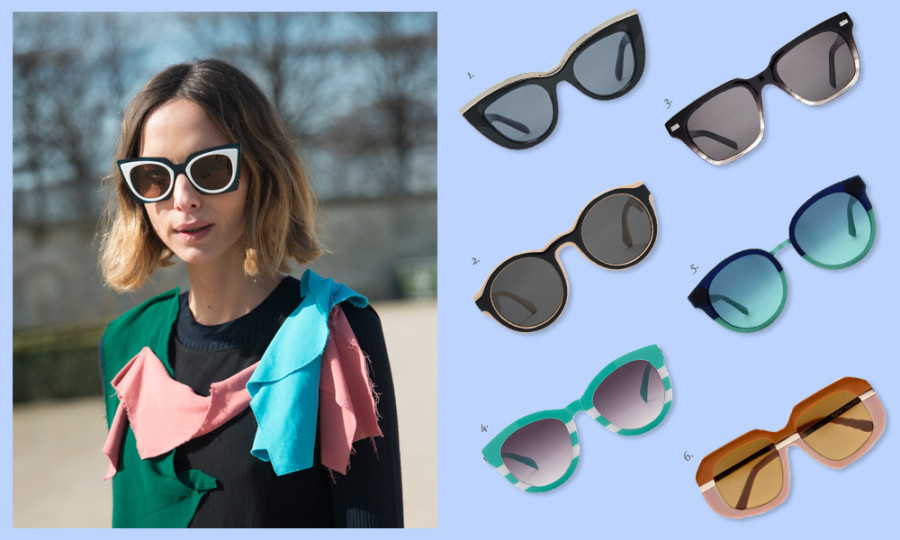 1. ASOS "Half Frame" cat eye sunglasses, $22; 2. Mykita x Maison Margiela sunglasses, Price upon request; 3. Warby Parker "Winston" sunglasses, $95; 4. No Photos sunglasses, $41; 5. Tory Burch sunglasses, $195; 6. Karen Walker "Creeper" sunglasses, $329
The Showstoppers
These sunnies hardly need an explanation. Their eye-catching designs speak louder than words.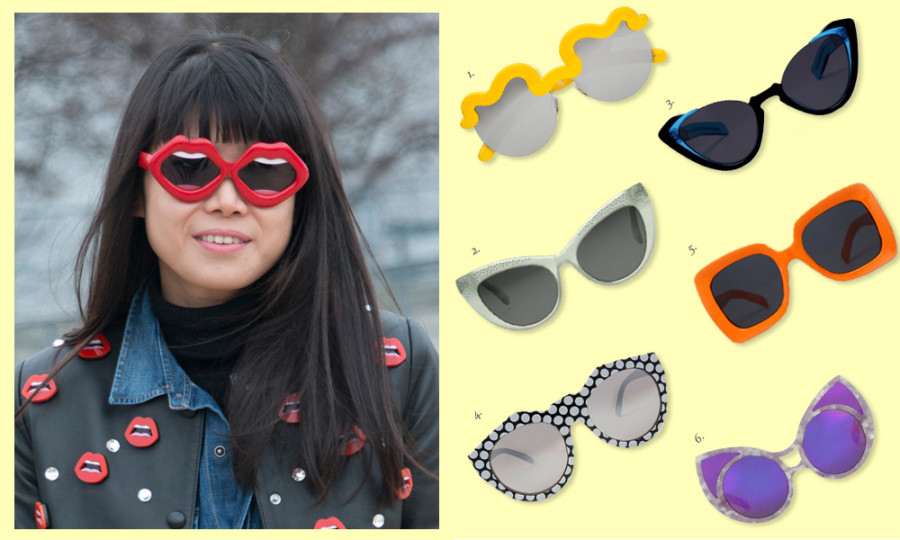 1. Le Specs "Hi-Brow" sunglasses, $90; 2. BonLook "Keiko" sunglasses, $69; 3. Grey Ant "Sail" sunglasses, $270; 4. Le Specs "Neo Noir" sunglasses, $56; 5. Quay "OMG Pinch Me" sunglasses, $45; 6. Khaleda Rajab + Fahad Almarzouq sunglasses, $339
Art by: Gabriela Landazuri Saltos/HPMG
Source: Huff Post