With the Oval Office at stake, the final price tag on next year's election will be sky high. It's predicted to total $5 billion. Politicians are talking to funders over constituents, listening to Big Money over voters. It's no wonder that for years the interests of regular Americans have been collecting dust in the halls of Washington. Our government should be representing the will of the people, not the will of a few billionaires. It's time we unite and wield the collective influence of people-power in order to unshackle our politicians from Big Money's venomous grip. This movement is about grassroots action; here are six ways you can help fight back.
1. Turn your money into media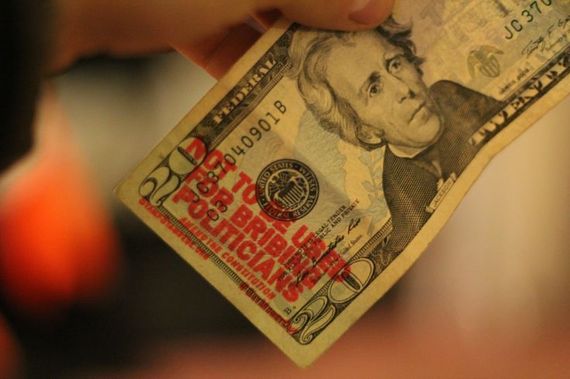 Join StampStampede.org, a grassroots, viral tactic that demonstrates the demand to stamp out big money's corruptive influence in Washington. We do it by rubber-stamping dollars with messages like "Not To Be Used For Buying Elections." All across America, over 30,000 people and growing have joined the Stampede's campaign. With this simple (and legal!) act of stamping your cash, the average bill is seen by 875 people whilst in circulation. With thousands of people converting their bucks into miniature billboards, we're putting the message in front of millions of eyeballs. It's a petition on steroids.
2. Ask President Obama to issue an Executive Order
Sign a petition that will be sent to the White House demanding an end to secretive campaign spending. Only a fourth of the largest government contractors disclose their political contributions. Meanwhile, the businesses who spend millions of dollars on political expenditures seem to be the ones securing the biggest, most lucrative federal contracts. It's simple: Federal contracts should not be a form of political repayment to rich donors. Forty groups have already gathered hundreds of thousands of signatures encouraging President Obama to issue an Executive Order requiring federal contractors to promptly disclose their political spending. The petition will be delivered to the White House in a few days, but there's still time to put your name on the list.
3. Pass local anti-corruption laws
Roll up your sleeves and volunteer to root out corruption locally. In the last midterm, Represent.Us worked side-by-side with local volunteers of all political leanings in Tallahassee, Florida; they reached out to voters who successfully approved the Anti-Corruption Act, mandating full transparency of campaign spending in Tallahassee. You can lead a campaign to pass the Anti-Corruption Act in your city or get involved with a local chapter of Move to Amend and their efforts to overturn the Supreme Court's terrible Citizens United ruling, which opened the floodgates to wealthy groups' unlimited election spending.
4. Take action in your state
Sixteen states have already passed resolutions in support of a Constitutional amendment to get Big Money out of elections and Free Speech for People needs your help getting more states on board. The Maine Citizens for Clean Elections is an excellent model of people-power on the state level with citizens empowering fellow citizens to update their first-in-the-nation publicly funded elections. Together Mainers recently collected enough signatures to obtain a ballot initiative improving their campaign disclosure laws.
5. Ask the question
In the first-primary state of New Hampshire, members of the NH Rebellion and American Friends Service Committee are recruiting and training people statewide to ask presidential hopefuls the question: "What specific reforms will you advance to end the corrupting influence of money in politics?" This is how we'll vet candidates who are serious about shutting the door on corruption in Washington. The next step is up to voters. People need to get to their polling stations on Election Day and stop the power grab of candidates who will likely roll out the red carpet for Big Money if they win.
6. Protest
This April 2nd will mark the one-year anniversary of the Supreme Court's McCutcheon v. FEC decision, which removed restrictions on how much individuals can overall donate to candidates and party committees. Now 1-percenters can give up to $5.9 million to political campaigns in one election cycle. There will be over 45 rallies all over the country protesting secret money in politics leading up to this crucial date — find one near you!
As gobs and gobs of money in the form of campaign contributions keep congesting our elections, "We the People of the United States" are forced out of this crucial political process. If we want to reclaim our seats at the decision-making table — one way or another — we're going to have to stamp out Big Money.
Source: Huff Post