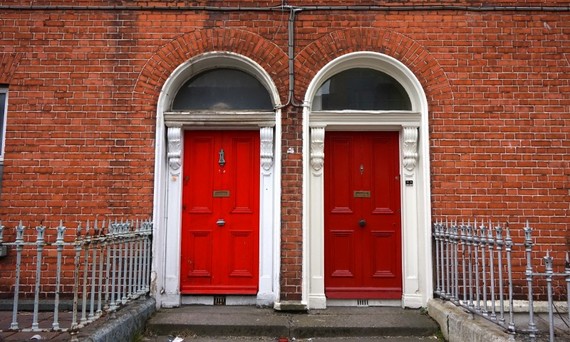 I didn't realize how excitable I can really get about the simplest things until I went to Ireland. One of my favorite sights-and there's plenty of them-are Dublin's colorful architectural collection of doors sprawling throughout the city. I could have easily spent hours getting lost, peeking in between streets and peeling back every corner of public buildings and private residences to find a door in every color. A door scavenger hunt would have been the perfect addition to our itinerary if there was more time. I would have definitely been on board for that one. Eyes wide with camera in tow. I took notice pretty quickly of the multi-colored entryways early on from a distance during my taxi ride from the airport and then up close and personal during our strolls around the city. Bright red doors. Turquoise doors. Emerald green. Electric Yellow. Royal Blue. Doors with intricate doorknobs. Yes. Yes. And yes. More please! You really couldn't miss them even if you tried. Amazed that no two adjacent doors were the exact color, I frequently stopped to snap photos and then had to run to catch up with the rest of my group. "I just love a good door!" was my key phrase each time I passed a picture worthy one and needed to pull out my camera. The only problem was that they were all picture worthy in their own unique way. Should I plan a trip back to Dublin just to discover more doors?!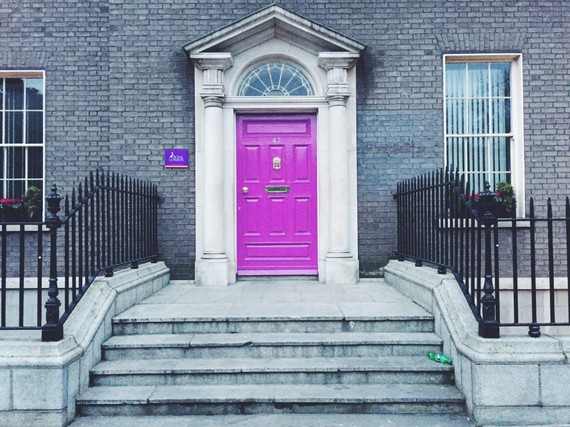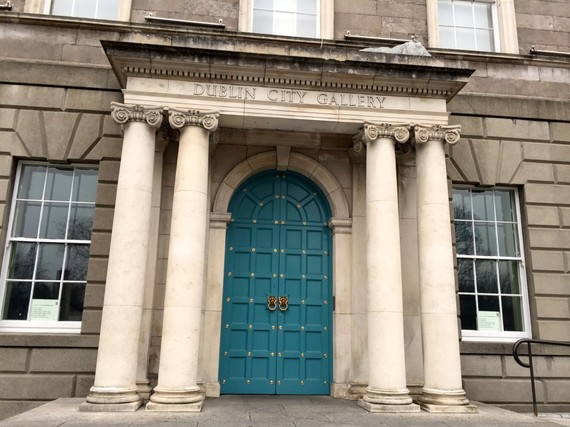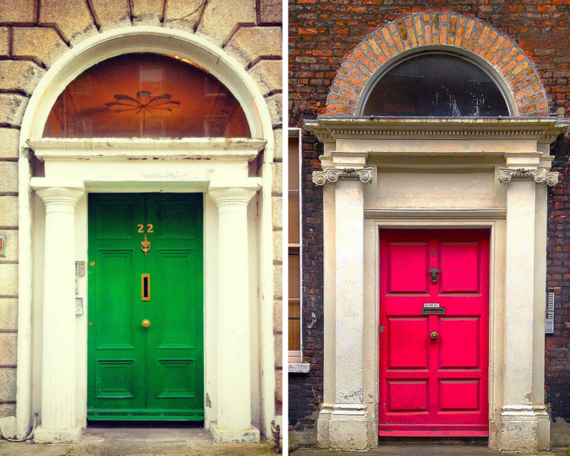 The history behind the Georgian Doors
The story of how these doors ended up splashed with rich colors, bringing the perfect dose of effervescence to Dublin's street scenes is an intriguing one in and of itself and one that really resonates with what I'm a big believer in-individuality. Dating all the way back to the 1700's during the Georgian Dublin time period (1714-1830), an era that describes the architectural style of the city's buildings and also marks the beginning reign of King George I to the death of King George IV, Dublin became very prosperous while also rising to become the largest city in the British Empire after London. As the city's affluence built, so did its elegant style of architecture. New chic Georgian homes were being developed beyond the medieval town and initially were given strict architectural guidelines. At that time, each building maintained the same uniform look and lacked any originality. Eventually, to break away from the strict structural rules, residents began adding their own personal flair to their doors. Colorful painted doors with ornate knockers and elegant fanlights above the door was a result of this push for individuality.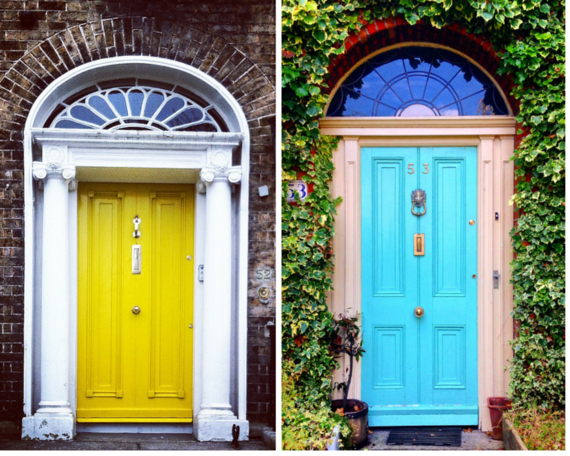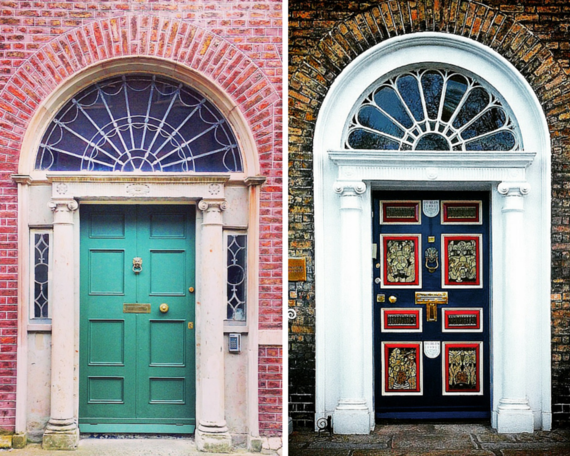 Best places to spot the prettiest doors
While I definitely didn't even hit the tip of the iceberg with my own door discovery, I've done quite a bit of digging to find some key locations I'll want to explore the next time I visit Dublin to continue my search for more:
Merrion Square– Considered one of the city's finest surviving squares and located on the southside of Dublin city center
Fitzwilliam Square-located in the south of Central Dublin and the last of the five Georgian squares built
Baggot Street– Runs from Merrion Row to Pembroke Road and is divided into two sections; Lower Baggot Street is where the Georgian architecture can be found while Upper Baggot boasts mainly Victorian architecture
Leeson Street-Located near Central Dublin and is also divided into two parts (by the Grand Canal), Lower and Upper Leeson
Search on my friends. Search on for more doors!
Have you ever been to Dublin? Where did you spot some of the best doors?
Photo Credit: all collages provided by Discover Dublin Doors
This post originally appeared on Jaimee's blog, This Way North
For more travel stories check out:
Postcards From Dublin: St. Patrick's Day in the Georgian City
That Time I Slept in a Treehouse and Went Ziplining (Video)
Exploring [and Surviving] the Cave at Enchanted Rock
Source: Huff Post