This is the second post in a series written by Jaclyn Mullen entitled, "She Shall Overcome." Each post will profile how everyday women are turning their obstacles into opportunities.
"I never thought I'd be an entrepreneur at this age," Yiqing "Pocket" Sun told me recently while we chatted by phone to talk about her impending female entrepreneur event, the SoGal Summit, in Los Angeles. Born and raised in China, Pocket often heard her father often say, "Create jobs for people, instead of waiting to get a job from them." And while female entrepreneurship has become more visible in China these days — female entrepreneur Zhnag Yan made the Forbes 30 under 30 list in 2013 — entrepreneurship wasn't a path Pocket wanted to pursue as a twenty-something in China, much less as a twenty-something living abroad in the United States.
A trip overseas for college took Pocket from being a resident in the world's populous country to becoming a resident in a town of 15,167 people: Williamsburg, Virginia to be exact, a town where 5.7% of the population is Asian. "When I first came to the U.S., I didn't know how to deal with this system," Pocket shared. "I didn't understand jokes or slang, but I was willing to learn. I didn't want to isolate myself with people from my culture and background. I wanted to find my voice, I wanted to speak up. It's safe to say getting an education in the U.S. where I was an outsider gave me a different personality than I wouldn't have gotten had I gone to college in China."
Post graduation from William and Mary, Pocket's journey continued with another move, this time to Chicago, Illinois — where an internship and work visa opportunity awaited her. Just like any other millennial, Pocket handled the pressures of adjusting to life after college: balancing a checkbook, working a 9-to-5 and making sure to collaborate and climb the corporate ladder. However, as an international millennial who studied and moved away from her homeland, she never knew how long she'd be in the U.S.. Contrary to college, where her time was a definite four-year commitment, no matter how hard Pocket worked, or how good of a job she did, her future was out of her hands and into the hands of computer generated lotteries for work visas.
Nonetheless, the future certainly looked bright as Pocket obtained steady, fun jobs with Louis Vuitton, Motorola and a few PR firms in Chicago. Both corporate America and living in America seemed to agree with her. Until one day in April 2014 when the luck of the draw was literally not on her side. The application cap of 85,000 visa's was well over capacity and Pocket was left with two choices: return back to China or find a way to stay in the United States. Frantic for a solution, Pocket decided to apply to graduate school so she could earn a student visa once again. However, the enrollment period for many programs across the country had already closed at the end of May. With another hurdle to jump, Pocket's optimism was coming in short and scarce supply.
As she discovered a new program centered around entrepreneurship at the University of Southern California, Pocket says, "I recalled the words of my father and thought, it boils down to potential. Maybe I should start my own business now instead of waiting to start a business when I'm thirty."
She applied to USC, got accepted and began another move across the country to Los Angeles, California, her third move in six years. As if that wasn't enough change, within a matter of mere weeks, Pocket went from professional to graduate student to founder of GirlsUp, a membership-based organization supporting young female entrepreneurs with mentoring, resources and events.
"I ultimately chose this program because USC provided a scholarship. I thought I would finish the program, move back to Chicago and start another corporate America job. But my life in LA completely changed my plans and made me want to explore and pursue entrepreneurship." With her first SoGal Summit approaching, I asked Pocket what was important to her about her legacy as an "accidental" female entrepreneur.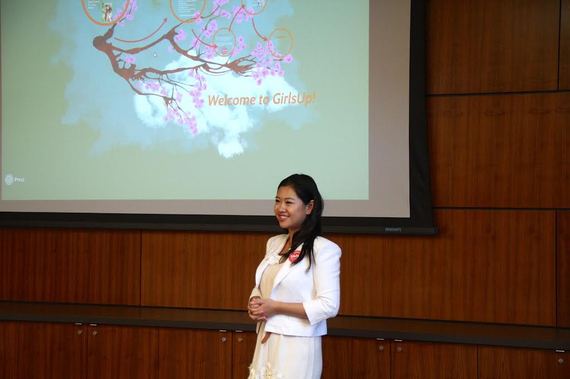 "To me, when I first started grad school, I saw a problem and an opportunity. Not only were women underrepresented in the business and entrepreneurial space but also, Chinese women here in the U.S. were underrepresented too. While my organization is inclusive of all female entrepreneurs, it makes me really happy to see other Chinese female students encouraged and empowered by what I am doing. It has not been easy. I cried before my first B-school presentation and now I can speak comfortably in front all my members. I never hosted any event before November 2014, but now I'm producing one of the most cool conferences for women! SoGal has grown so much faster than I expected. But the fact that other female Chinese students see me doing it, they start to acknowledge and become confident in their potential, too."
Pocket's SoGal Summit, said to be the largest student-led female entrepreneur conference in Southern California, will bring together 300+ students, entrepreneurs, investors and influencers under one roof for a fun filled, interactive, informative day. "There should be more girls breaking down myths about entrepreneurship that you aren't taught at school," Pocket said. "And I want the SoGal Summit to help spread a positive message to more girls around me."
That message? It boils down to potential.
So the next time an obstacle, (or two or three present themselves), remember Pocket's story, her advice and these words: it boils down to potential.
Source: Huff Post