BSDHT's Diane Rochford says: "Age is not just a number"
A hundred years ago people expected and accepted the idea of wearing full dentures in later life. Today, the majority of people aged over 65 retain at least some of their natural teeth. However, the provision of dental care for older people has become more complex.
Periodontitis exists to some degree in most older adults and globally, high levels of tooth loss, dental caries, xerostomia and mouth cancer are evident. It now requires increased attention to manage and maintain the oral health and well-being of our ageing population.
According to Age UK there are almost 12 million people aged 65 and above in the UK. Health conditions within this demographic include hearing loss, cataracts, osteoarthritis, chronic obstructive pulmonary disease, diabetes, depression and dementia.
Many older adults are likely to experience one or more chronic health conditions and more than half of adults aged 65-74 take prescribed medication. The most common side-effect of the most widely prescribed medicines is xerostomia, or 'dry mouth'. With a reduction of saliva and its natural anti-microbial properties, this poses an increased risk of dental decay and oral disease.
The mouth is one of the first areas that can become neglected by people with infirmities in old age. People with mobility difficulties or poor manual dexterity can have problems managing an effective oral hygiene routine, preparing meals, and eating a healthy, balanced diet.
Pain caused by dental issues can result in problems sleeping or eating properly, and sufferers might become reluctant to speak, smile or socialise. And there's more, added to the higher risk of dental caries, periodontal disease and tooth loss, poor oral health has wider implications on general health, well-being and quality of life.
There is a recognised association between poor oral health and systemic conditions including cardiovascular disease, diabetes and respiratory problems. Conversely, while evidence suggests that diabetes heightens the chances of developing periodontal disease and increased periodontal destruction, periodontal infection can adversely impact a diabetic's blood glucose levels.
Poor oral health has also been linked with frailty, as defined by at least three of the following characteristics – low grip strength, low energy, slowed walking speed, low physical activity, and/or unintentional weight loss. Tooth loss, denture related problems and dry mouth can all influence eating, chewing and swallowing functions which in turn, can affect nutritional status.
A systematic review indicated that periodontitis may be linked to a greater chance of developing cognitive impairment. The relationship between periodontitis and cognitive decline may be attributed to three possible mechanisms – direct process through the bloodstream; an indirect process through inflammatory mediators or platelet aggregation proteins.
People suffering from cognitive decline may have difficulty with self-care and oral hygiene, which could explain a higher incidence of periodontal disease in these individuals. However, research conducted in 2019 showed that proteins produced by the pathogen Porphyromonas gingivalis (a keystone pathogen in chronic periodontitis) are highly concentrated in the brains of people with Alzheimer's disease.
Members of the British Society of Dental Hygiene and Therapy (BSDHT) realise that oral health is generally under-recognised in the assessment and care of older adults. Yet, as dental professionals, we believe it may provide useful markers for conditions such as frailty and cognitive decline, and offer a valuable addition to the health screening of individuals in later life.
Good oral health is an essential element of the healthy ageing process. It means a life free from pain and embarrassment, providing the elderly with the functionality they need to enjoy a balanced, nutritious diet to help support their mental well-being and an improved quality of life.
Author: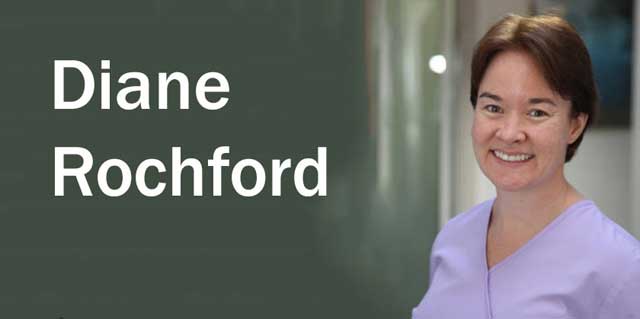 Diane Rochford is an experienced dental hygienist and President of the BSDHT. For more information about the Society, visit www.bsdht.org.uk, call 01788 575050 or email This email address is being protected from spambots. You need JavaScript enabled to view it.
The post "Age is About More Than Time"
appeared first on https://arcadiadental.info/