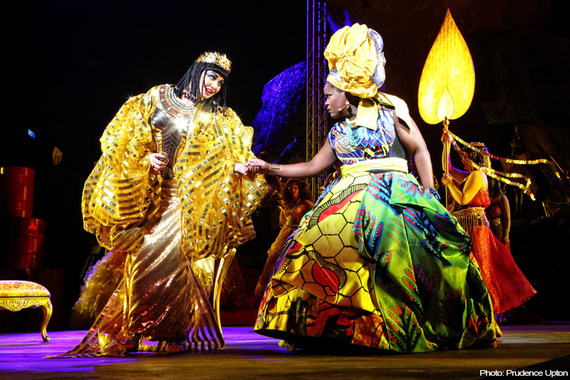 A 60-foot head of Nefertiti dominates the floating outdoor stage. Aida is an opera that demands scale, and the 15-ton sculpture that remains in place throughout this production provides that.
Nefertiti's head is large enough to all but obliterate the view beyond to Sydney's Harbor Bridge which might otherwise distract from an evocation of Egypt's desert sands.
This is the most lavish yet of Opera Australia's outdoor productions that have become such a much-anticipated annual event over the past four years.
But as the modern military generals who assess the terrain before them in the opening moments, it is clear that this production is more than an Orientalist fantasy of an exotic, long-vanished Egypt.
Antiquities and oil barrels share the stage, suggesting a land that has plundered and been plundered, a country that has been both a conquering force and a pawn of European empires.
Director Gale Edwards conjures images of Egypt's ancient and more recent past, like an archaeologist uncovering the layers of its complex history.
The first half of the production is a dazzling spectacle of sumptuous costumes, by designer Mark Thompson, that span a range of eras.
Gold is dominant among the Egyptian political and religious elite, but there are jackbooted brownshirts, crinoline-clad belles and, for the captured Ethiopians, bold African prints.
But just as the glitz threatens to overwhelm, Edwards injects a somber element. It comes amid one of opera's best known and at times cliched scenes, the Triumphal March.
As the glittering plunder of war is paraded in front of the stage, rows of black coffins are placed upstage, a reminder of the human cost of military triumph for victors and vanquished.
As white lilies are laid on each coffin, the scene eloquently undercuts the preening victory parade.
The production's second half is more restrained and allows the love story to clearly unfold. Despite the display of military might, it is the conflict within the human heart and a bitter love triangle that is at the center of Aida.
In the title role, American soprano Latonia Moore (pictured above, right) is a passionate, dramatic presence, vocally and visually.
She brings strength and vulnerability to the role of the captured Ethiopian slave girl/princess torn between her love for her homeland and father and for the Egyptian military hero, Radamès
Her heartbreaking delivery of O patria mia was a musical high point of an evening that belonged to Moore.
Moore previously sang Aida in the Sydney Opera House in 2012 when she stepped in at short notice, just as she did at the Met in New York earlier that year.
For both she gained glowing reviews and she is being justly hailed as one of the most compelling Aida's on the international stage.
As the scheming, jealous Egyptian princess Amneris, Milijana Nikolic (pictured above, left) is a worthy rival for Radamès who nonetheless manages to evoke sympathy as she pleads for the life of the man who scorns her.
Disappointing as Radamès was Italian tenor Walter Fraccaro, who lacked presence, although not vocal strength, in the role of the military chief.
The tragedy of the doomed love between Radamès and Aida, and her ultimate sacrifice — was not helped by a final scene that failed to fully evoke their entombment.
With the orchestra invisible beneath the raised stage, conductor Brian Castles-Onion set a brisk pace that still allowed Verdi's sublime music to swirl and soar.
Opening night was marred by unbalanced sound and over amplification of singers, especially in the first half. This was far more problematic than in previous years. It is to be hoped this will be promptly addressed over the course of the season run which has this year been extended from three to four weeks.
Opera on Sydney Harbor is a key part of the opera company's strategy to broaden its audience base at a time when opera around the world is facing difficulties.
Opera Australia's other innovation this year has targeted a younger audience, transforming Shaun Tan's picture book The Rabbits into an opera by classically trained indie pop singer/composer Kate Miller-Heidke. Such moves may not appeal to the purists, but they do breathe life into a struggling art form.
Aida on Sydney Harbor continues in Sydney, Australia until April 26, 2015.
Source: Huff Post