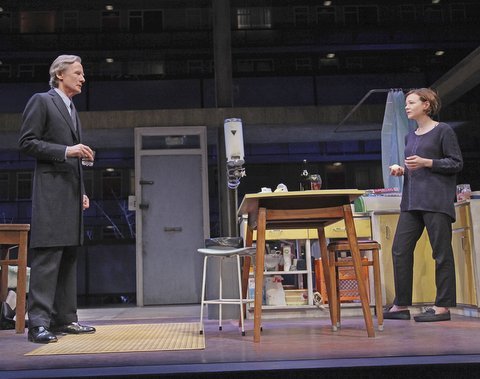 Bill Nighy and Carey Mulligan in David Hare's Skylight. Photo: John Haynes
Broadway's April Madness starts tonight, with 14 plays and musicals racing to open over the next twenty-two days — and that count doesn't include worthy non-Broadway offerings. We cannot at this point state that the Stephen Daldry revival of Skylight will be the finest of the group, no, but it is likely to be near the top of the list. This is a smashingly good production of what might be David Hare's finest play, with two of the season's most striking performances from Bill Nighy and Carey Mulligan.
Skylight premiered in 1995 at the National, following the playwright's larger-scale Plenty, Pravda and Racing Demon. This time Hare worked on a smaller canvas; a one-set, three-character dissection of a relationship. Tom (Nighy) is a Thatcher-era self-made millionaire, who started with nothing and turned a couple of low-class restaurants into an empire. Among his conquests was Kyra (Mulligan), a middle-class lass who walked in one day as a young-but-capable 18-year-old waitress and quickly became a key part of the operation.
After six years of living with the family, Kyra fled when Tom's wife discovered that the two were having an affair. Three years later, the wife has died. Over the course of one frigid night in Kyra's underheated flat in a dilapidated housing project, Tom's teenaged son Edward tracks Kyra down and pleads with her to return home to help bring his father out of a depression. No sooner has he left than Tom himself shows up and invites himself to dinner, to bed, and to a round of vicious intellectual battles. After he retreats, Edward returns at dawn bearing scrambled eggs, croissants, and a silver pot of steaming coffee.
What makes Skylight so gripping is not the plot but the characters Hare has drawn. The playwright unravels them slowly and provocatively, as if he is in the kitchen peeling a couple of plump and juicy onions layer by layer. (The play's restaurant backstory is reflected by Kyra chopping, dicing, and sautéing a spaghetti dinner during the first act. This is heightened by Tom's attempts at restraining himself from flying across the kitchen and doing it the right way.)
A domestic story on its surface, yes. This is Hare, though, so you can trust that the battle represents the haves and the have-nots; the 1% and the unwashed 99; or, more precisely, a cry of protest from the Thatcher years. It is to Hare's credit that what was smart, slashing and topical in 1995 is just as relevant today, and perhaps more.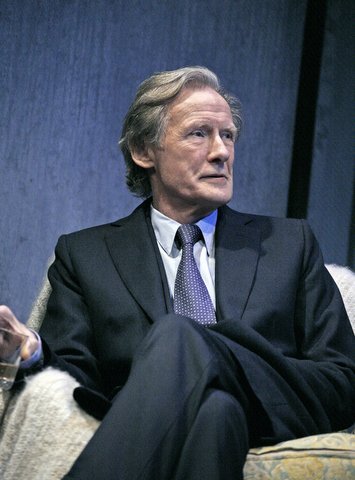 Bill Nighy in David Hare's Skylight. Photo: John Haynes
Skylight was the first of Hare's plays that this viewer found enjoyable, and the entertainment value in this new production–which originated last June in London at Wyndham's Theatre–is increased. The great Michael Gambon, who created the role at the National and brought it to Broadway in 1996, was mesmerizing: a blustery bull in a china shop, with the china shop representing not only Kyra's digs but society as a whole. Mr. Nighy (of "The Best Exotic Marigold Hotel" and "Pride") is more insidious; he flits around the flat like that blood-lusting mosquito you can never quite catch, meticulously correcting the placement of the silverware or stirring the pot–both actual and metaphoric–while rearranging the furniture with lanky karate-kicks. Nighy works in slow motion, mostly, until he pounces. A veteran Hare actor–he played the role in a 1997 West End production, and made his Broadway debut with a memorable performance in the 2006 world premiere of The Vertical Hour–Nighy is a marvel to watch and not to be missed.
Mulligan, too, does masterfully well. An intriguing young actress with screen credits including "The Great Gatsby" and "Inside Llewyn Davis," Broadway audiences might remember her as the radiant Nina in the Kristin Scott Thomas-headed Seagull that visited the Kerr in 2008. Mulligan perfectly counterbalances Nighy, and it's a shame that future stage opportunities will likely by overshadowed by her film activity. Matthew Beard, as the teenaged Edward, plays two short but important scenes, especially brightening and bringing hope to the play's final moments.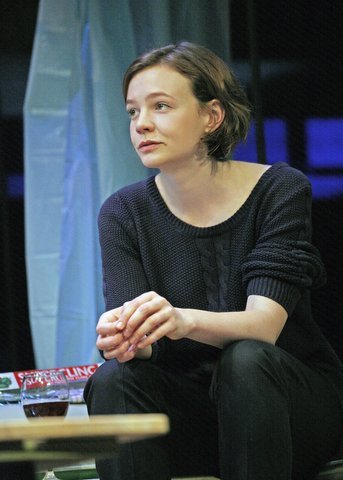 Carey Mulligan in David Hare's Skylight. Photo: John Haynes
Director Daldry–of Billy Elliot and Helen Mirren's current Audience, two doors down–keeps the pot bubbling with a mixture of tension, passion (emotional and sexual), and abundant humor. The masterful designer Bob Crowley has placed his small, cramped apartment set against a teeming back wall of neighboring flats. This only accentuates the squalor of Kyra's life, as does the tenement soundscape by Paul Arditti. Natasha Katz, who memorably worked with Crowley on Once and The Glass Menagerie, once again etches the evening in light.
Some theatergoers get tied up comparing revivals with original productions, which is beside the point; present-day viewers, after all, do not have the opportunity to see any version other than the one currently on offer. In this case, though, it is relevant to note that I found Skylight an excellent night's entertainment at the Royale (Jacobs) in 1996, and even more so now at the Golden.
.
Skylight, by David Hare, opened April 2, 2015 and continues through June 21 at the Golden Theatre
Source: Huff Post