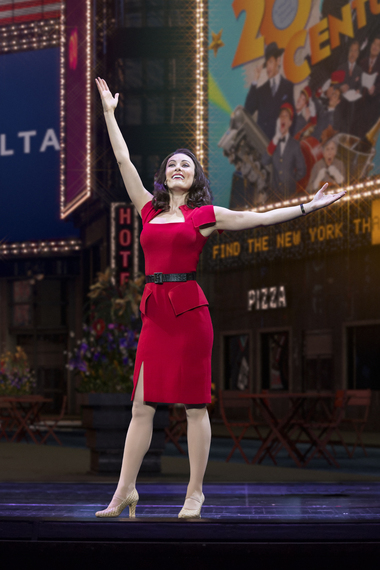 Laura Benanti in Radio City Music Hall's New York Spring Spectacular . Photo: Madison Square Garden Entertainment
Radio City Music Hall has been presenting so-called "Spring Spectaculars" since 1933, four months after the 6,000-seat venue opened during Christmas week of 1932. Through good times and dire–the place practically shuttered altogether in the late 1970s–the Eastertime show has been a marquee attraction. Since the place was reborn in 1979 under the direction of the new Radio City Musical Hall Productions, the Spring Spectacular has been reliably perky, friendly, and leaning towards mass-market bland.
This year, the Music Hall folks–which is to say, Madison Square Garden Entertainment–seem to have gone all out to turn the show into something more. . . well, spectacular. They enlisted Broadway director/choreographer Warren Carlyle (of Hugh Jackman: Back on Broadway and A Christmas Story) and writer Joshua Harmon (of the wickedly funny off-Broadway hit, Bad Jews) along with creative directors Diane Paulus (Pippin) and Randy Weiner (Sleep No More). All these, plus the indomitable Harvey Weinstein as producer.
Madison Square Garden's aim was presumably to please the tried & true Radio City Music Hall fans–who will presumably go to see the annual Spring and Christmas Spectaculars, no matter what–while making the show more "Broadway." The resulting New York Spring Spectacular is a slick affair featuring the Easter Bunny, the Rockettes, high-tech views of Manhattan and repeated hearings of Kander & Ebb's "New York, New York." It is done with a Broadway wink of the eye, but not enough of one. After a while, it nearly turns into an infomercial for New York landmarks and Madison Square Entertainment. There are star turns for scenic representations of both the Garden and Music Hall, as well as the company-owned Rangers and Knicks; they even catapult Knicks t-shirts into the house.
Happily, the creators have imported a key player: Broadway's own Laura Benanti. Benanti–a Tony Award-winner for Gypsy, with an increasing television presence–sparkles as much as all that synchronized robotic LED pixel technology; she even scores when they place her in the middle of the Rockettes kick line. The big fan draw here, though, is not Benanti; it is "Dancing with the Stars" choreographer/dancer Derek Hough. Mr. Hough is clearly an audience favorite, if unknown to this viewer, but he turns out to be an engaging performer.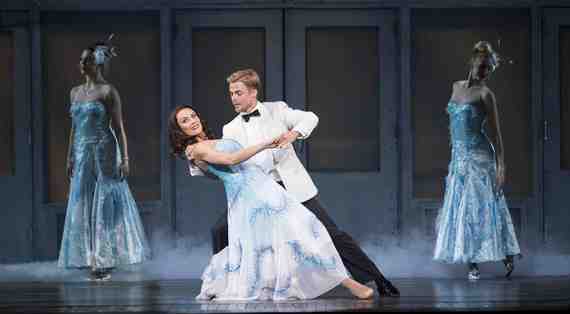 Laura Benanti and Derek Hough in Radio City Music Hall's New York Spring Spectacular . Photo: Madison Square Garden Entertainment
The razor-thin plot casts Hough as angel-in-waiting Jack, trying to earn his wings by doing a good deed on earth. (Sounds like one of those inspirational holiday movies that used to clean up at the Music Hall, doesn't it?) His assignment is to save kindly old New York tour guide Bernie (cuddly veteran Lenny Wolpe), whose firm has just been bought by graspingly steely megalo-magnate Jenna (Benanti). Hough convinces Benanti to let Wolpe take her on a tour of New York–welcome to Radio City!–and guess what happens in the end, after Benanti joins the kick line and smooches with Hough? The principals are accompanied by Jared Grimes, the phenomenal tap dancer who sparked Carlisle's After Midnight and several Encores! productions. He does so here, as well.
The narrative is filled with better-than-average jokes from playwright Harmon, although there is little he can do with the long infomercial stretches. The score combines a bunch of pop-and-show standards with five unimpressive new songs by Gary Barlow and Eliot Kennedy, who are elsewhere in previews at the Lunt (alongside Taymor and Weinstein) with Finding Neverland. The music department, otherwise, does a fine job, under the baton and supervision of Patrick Vaccariello (Cabaret) and a handful of Broadway's best orchestrators.
The production is what you might term an eyeful, from a team of scenic, video, projection and 3-D animation designers. The costumes stand out as well, from ESosa (Motown) as well as Rockette garb from fashion designers Diane von Furstenberg, Isaac Mizrahi and Zac Posen. The New York City tour includes on-screen interviews with the three designers–how much did they pay for the opportunity, you wonder?–and then moves onto a host of other New York celebs including sports stars from local teams and, needless to say, D. Trump.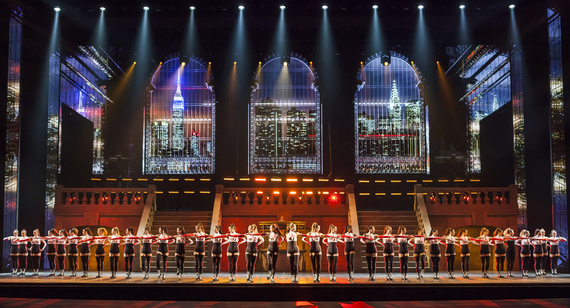 The Rockettes at Grand Central Terminal in Radio City Music Hall's New York Spring Spectacular . Photo: Madison Square Garden Entertainment
Of more interest are large-scale puppets–think 26 feet tall–of the Statue of Liberty, Central Park's Alice in Wonderland, and the New York Public Library lions. Liberty (voiced by Whoopi Goldberg) and the lions (Tina Fey and Amy Poehler) have the cleverest lines, and the best jokes, of the evening.
.
New York Spring Spectacular opened March 26, 2015 and continues through May 3 at Radio City Music Hall
Source: Huff Post